Gardens are some of the most beautiful spaces that we have to enjoy particularly a well planned garden that bursting full of color in late spring and all through the summer months.
The impressionists are responsible for some of the most colorful gardening paintings ever produced and their master of color and light is evident in the works below.
Many of these masterpieces were painted "en plein air" or outside. Prior to the impressionist art movement the majority of painting would have taken place in the artists studio, often with preparatory sketches made outdoors.
Great artist such as Monet realized that in order to truly capture natural light the artists had to be outdoors, especially in a garden filled with countless flowers, to remain indoors and work from memory would never equal the real thing.
Famous Garden Paintings
1. The Artist's Garden at Giverny – Claude Monet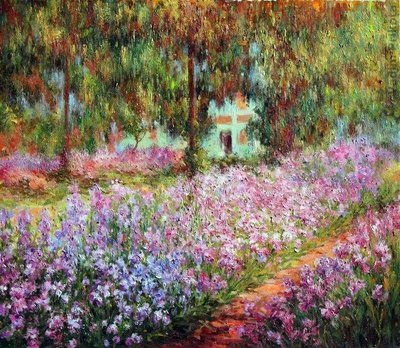 The Artist's Garden at Giverny by Claude Monet is an oil on canvas work that was completed in 1900 and is currently housed at the Musée d'Orsay in Paris.
It is one of several paintings of the artist's garden in Giverny that he created throughout the last thirty years of his life. Rows of irises in varying colors of purple and pink are positioned diagonally across the image plane in the artwork.
The flowers are beneath trees, which modify the tone of their hues by allowing dappled light to pass through. A sight of Monet's residence may be seen beyond the woods.
Monet was 60 years old when he finished this picture, and he had already created a massive body of work and unlike some of his peers had become quite successful while still alive.
In the year of this painting, 1900, he began two major projects: a series of the River Thames at London and another series of his water gardens in Giverny, which included some of his most renowned waterlily works, such as The Waterlily Pond (now in the Museum of Fine Arts Boston).
2. Woman with a Parasol in a Garden – Pierre-Auguste Renoir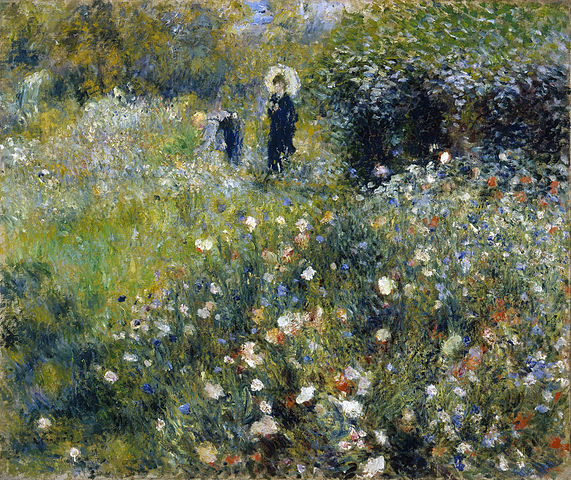 Renoir's style is entirely impressionistic in Woman with a Parasol in a Garden: in a situation without a discernible horizon, the flowers and bushes are formed with tiny dabs of color, producing a continual interweaving of textures surrounding the two little figures.
The lady, whose parasol protects her from the heat, approaches the guy as he bends down, maybe to pick a flower, implying a personal connection.
Contrary to popular belief, this painting was created in the yard of Renoir's new studio in Montmartre, not in the countryside.
3. The Garden of Earthly Delights – Hieronymus Bosch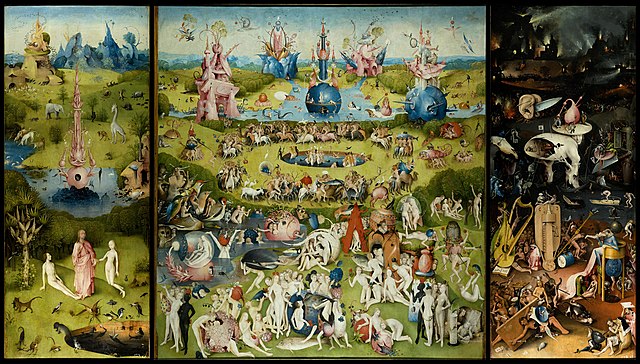 The Garden of Earthly Delights is the current title given to a triptych oil painting on oak panel made by the Early Netherlandish painter Hieronymus Bosch between 1490 and 1510, between the ages of 40 and 60. Since 1939, it has been kept in Madrid, Spain, in the Museo del Prado.
Because so little is known about Bosch's life or aims, interpretations of his meaning vary from an admonition of worldly fleshy indulgence to a terrible warning about the dangers of life's temptations to an evocative of ultimate sexual ecstasy.
The complexities of its symbolism, especially in the center panel, have resulted in a broad variety of academic interpretations throughout the years. Art historians of the twentieth century disagree on whether the triptych's center panel represents a moral admonition or a depiction of paradise gone.
4. Carnation, Lily, Lily, Rose – John Singer Sargent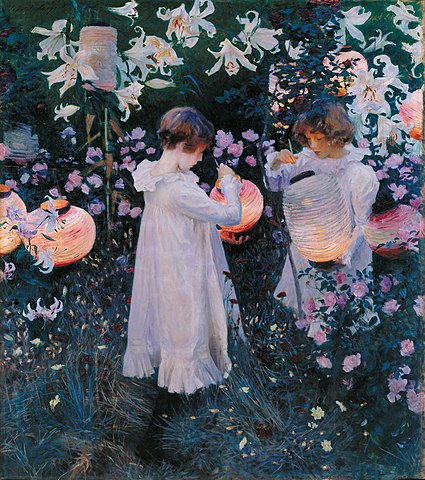 Carnation, Lily, Lily, Rose is an 1885–86 oil-on-canvas work by American painter John Singer Sargent.
Also Read: Famous Rose Paintings
The picture portrays two tiny children clothed in white lighting paper lanterns as the day fades to dark; they are in a garden surrounded by pink roses, yellow carnations, and tall white lilies.
The artwork is dominated by green vegetation, and there is no horizon or other horizontal line to provide depth.
The spectator seems to be on the same level as the youngsters while simultaneously gazing down on them. The painting's two protagonists are the illustrator Frederick Barnard's daughters.
The picture is situated in an English garden at Farnham House in Broadway, Cotswolds, where Sargent spent the summer of 1885 after fleeing to England from Paris to avoid the controversy surrounding his 1884 painting Portrait of Madame X.
Sargent was inspired by the words of novelist Robert Louis Stevenson, who stayed there while composing A Child's Garden of Verses.
5. The Garden at Les Lauves – Paul Cézanne
Cézanne erected a studio north of Aix, around twenty kilometers west of Mont Sainte-Victoire, in 1901.
This dominating setting, chosen for its panoramic perspective of his beloved Provence, was the focal point of Cézanne's work until his death in 1906.
He resorted to painting for spiritual sustenance as his health deteriorated and he became depressed.
The picture has structural strength and compositional harmony. It seems to be a condensed version of Cézanne's views on expressing visual space in a letter to Emile Bernard in 1906: "Lines parallel to the horizon create width, that is, a part of nature…. Lines perpendicular to the horizon give depth." Nature, on the other hand, has more depth than surface."
6. The Swing – Jean-Honoré Fragonard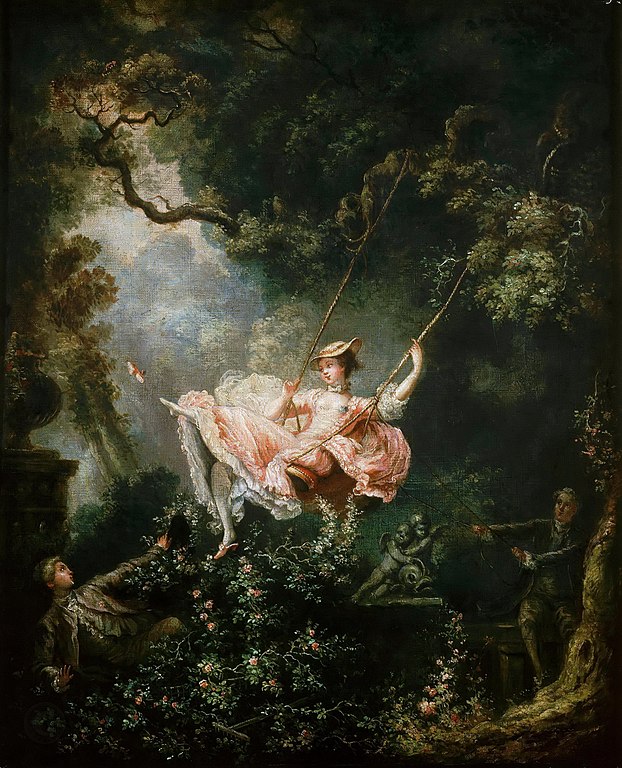 The Swing, also known as The Happy Accidents of the Swing, is an 18th-century oil painting by Jean-Honoré Fragonard that is housed at London's Wallace Collection. It is regarded as one of the Rococo era's masterpieces and is Fragonard's most well-known work.
According to the playwright Charles Collé's memoirs, a courtier initially commissioned Gabriel François Doyen to create this portrait of him and his lover. Doyen denied the commission and sent it on to Fragonard because he was uncomfortable with the frivolous nature of the piece.
The guy had asked Fragonard to create a painting of his lover reclining on a swing being pushed by a bishop, but Fragonard instead depicted a layman.
This "frivolous" painting style quickly became the focus of the Enlightenment thinkers, who sought a more serious art that reflected man's grandeur.
7. The Monet Family in Their Garden at Argenteuil – Édouard Manet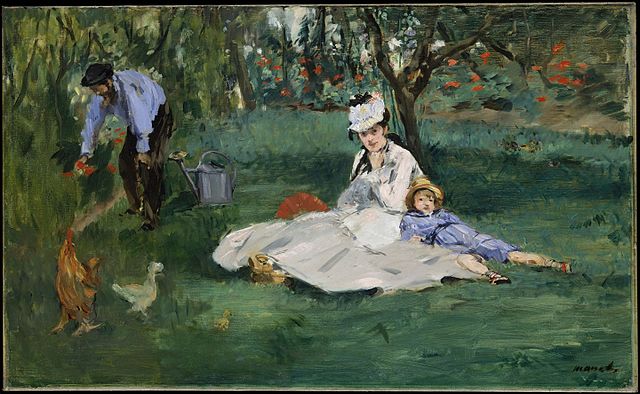 The Monet Family in Their Garden at Argenteuil is an Impressionist oil on canvas work by Édouard Manet that was completed in 1874. It is housed in New York's Metropolitan Museum of Art.
Manet spent the summer of 1874 at his family's home in Gennevilliers, which was directly over the Seine from Monet's home in Argenteuil. That summer, the two artists saw each other often, and on some occasions, Renoir joined them.
Manet was influenced by Monet's method of painting swiftly and outdoors, or 'en plein air,' as it became known.
This picture of the Monet family—Camille and Jean Monet, with Claude Monet gardening to the left—is one of Manet's most important studies in this new technique.
8. Jeanne Marguerite Lecadre in the Garden – Claude Monet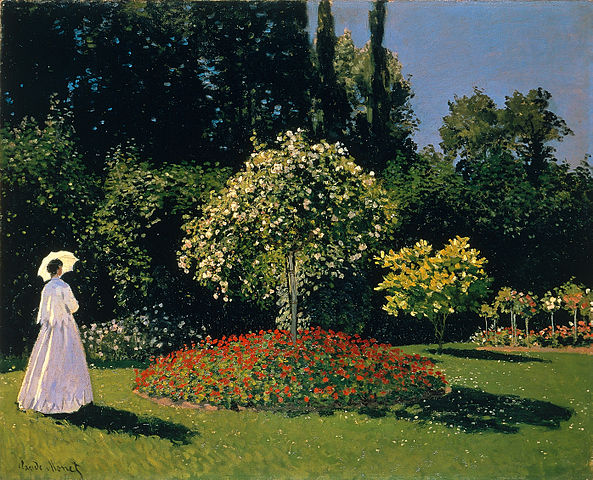 Woman in the Garden (or Jeanne-Marguerite Lecadre in the Garden) is a painting by Claude Monet, completed in 1866 when he was 26 years old.
The piece was created "en plein air" in oil on canvas and measures 82 by 101 cm. It is now in the collection of the Hermitage Museum in St Petersburg, Russia.
Jeanne-Marguerite Lecadre, the young wife of his well-to-do cousin Paul-Eugene Lecadre, is seen in the picture. The Lecadres resided in Le Havre and owned a country estate, Le Coteau, in neighboring Sainte-Adresse, in whose garden the picture was created on a brief visit.
X-ray investigation showed that it had been painted over an earlier image.
The painting's technique is highly structured and detailed, in contrast to the traditional impressionist works for which Monet was eventually recognized.
9. A Girl with a Watering Can – Pierre-Auguste Renoir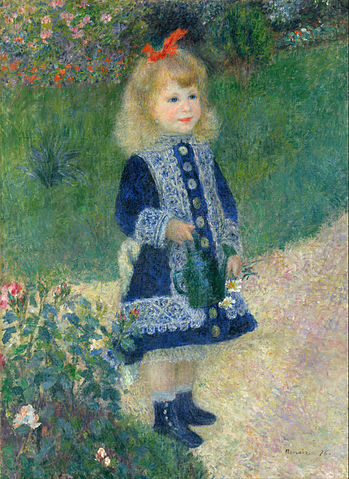 Pierre-Auguste Renoir's 1876 Impressionist painting A Girl with a Watering Can. The painting was probably done at Claude Monet's famed garden at Argenteuil, and it may depict one of Renoir's neighborhood girls in a blue dress carrying a watering can.
The picture is now on display in the National Gallery of Art in Washington, D.C.
Renoir started painting anecdotal representations of ladies and children in 1876, themes in which he excelled. A Girl with a Watering Can, characteristic of these works, demonstrates a mature impressionist technique suited to the special needs of figure painting.
Renoir's colors represent the impressionist palette's freshness and brilliance, but his technique is more controlled and regular than in his landscapes, with even brushstrokes applied in delicate touches, particularly in the girl's face.
10. The Olive Trees – Vincent van Gogh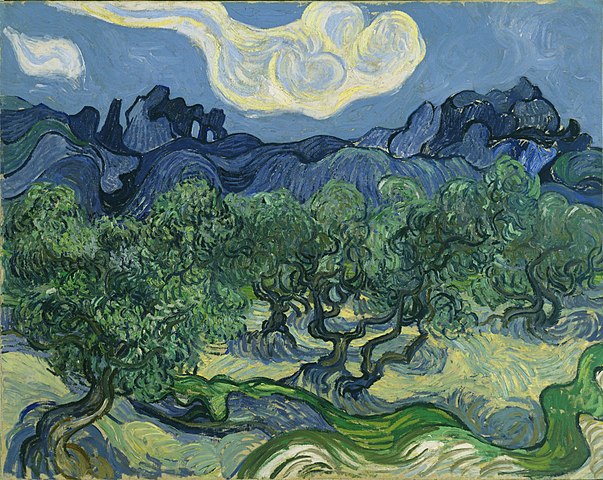 In 1889, Vincent van Gogh produced at least 15 paintings of olive trees, the majority of which were done in Saint-Rémy-de-Provence. From May 1889 until May 1890, he remained at an institution there at his own desire, painting the facility's gardens and, when permitted to walk beyond its boundaries, adjacent olive trees, cypresses, and wheat fields.
Van Gogh was particularly moved by the olive tree paintings. In May 1889, a group depicted life, the divine, and the circle of life, while those in November 1889 originated from his effort to portray his sentiments about Christ in Gethsemane.
His paintings of olive pickers show the interaction between man and environment by representing one of life's cycles, harvesting or death. They also demonstrate how humans might connect with the divine via connection with nature.
Interaction with nature provided Van Gogh with rest and solace. He was unwell and in mental distress when he created the series of olive tree paintings in 1889, yet the paintings are regarded to be among his best works.