Most of the famous American artists on this list for many will be household names in 20th century art as it is only in that century did American artists truly have an impact on the world stage.
Throughout the 18th century the majority of artists in American would have taken much of their inspiration and lead from their counterparts in England.
Landscape art and portraiture dominated the American art market.
During the 19th century there was more of a shift towards some of the newer art movements particularly the impressionists in France and some of the more notable European styles.
It is only in the 20th century did famous artists from the USA really start to flourish and with the advent of abstract expressionism did they finally get to form a truly distinct movement that they could call their own.
Famous American Artists
1.

Andy Warhol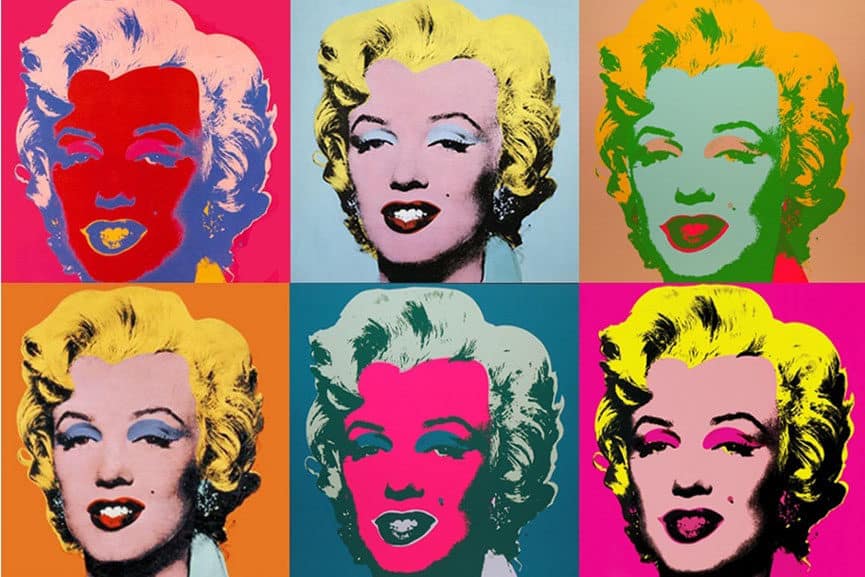 Andy Warhol grew up in Pittsburgh, Pennsylvania as the son of a construction worker. At the age of eight, he had a liver disease that would cause him to spasm.
During his childhood, his first art teacher was his mother. He would take his interest in art to study at Carnegie Melon University.
Soon after graduation, he moved to the Big Apple to pursue his art career. Over the next ten years, Andy would prove his talent by receiving awards and accolades for his work, but he then strived to be even more unique.
In 1961, Warhol decided to use mass-produced goods, as evident in his artwork of the Campbell Soup cans.
He was also known to use celebrities as subjects in his pieces, including Marilyn Monroe and Elizabeth Taylor.
He is best known as on of the leading pop art artists and leaves behind an iconic legacy in American culture, and artists of today still appreciate his originality.
2.

Jackson Pollock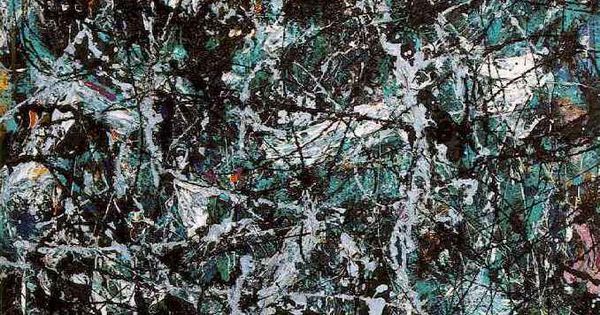 Jackson Pollock was born in 1812 in Cody, Wyoming. When he was 18, he decided to move to New York to study his interest in art. Shortly after, he began painting with a job through the New Deal.
In 1943, he would land a significant contract with a well-known art gallery. Throughout the 1950's he would continue to evolve his painting, and he would be one-man show behind his paintings that grew in popularity.
Jackson is synonymous with what is known as the "drip technique', which involved pouring or dripping paint onto a large canvas.
Jackson believed he was able to express his personality with this style of painting.
As an abstract expressionist artist, Pollock truly thought he could combine his feelings into his artwork.
Many of his abstract paintings have been reproduced in various forms and to even the most casual art lover are immediately recognizable as his.
Unfortunately, he died in a car accident in 1956, but he is still well-known today and is appreciated by other abstract artists.
3.

Georgia O'Keeffe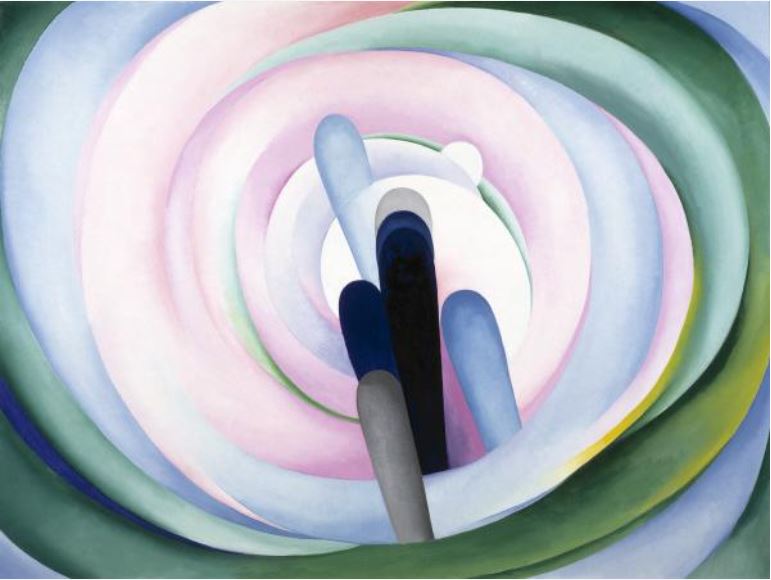 Georgia O'Keeffe was born in Sun Prairie, Wisconsin, in 1887. As Georgia was growing up, she was quite reserved and shy but was always fascinated with nature and beauty.
She knew very early in life that she wanted to be an artist. O'Keeffe would spend a portion of her life being an art teacher. In 1917, she would finally get the chance to show her artwork of the desert sky in her first exhibition.
Also Read: Famous American Landscape Painters
Her big break came when she returned to New York after contracting the flu in 1923. Hundreds of people came to see her variety of paintings ranging from charcoals to watercolors.
Georgia became famous for her paintings of vibrant, large flowers. She continued to produce vivid images of nature with high-paying clientele.
Georgia O'keeffe would live to be nearly 100 years old, and her work helped others appreciate the beauty of nature. She helped pave the way for many women as is widely regarded as one of the most famous female artists to have ever lived.
4.

Mark Rothko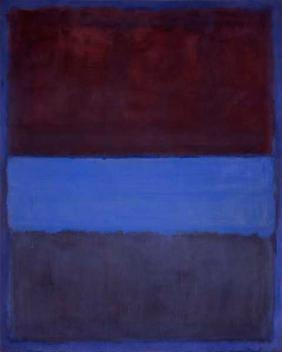 Originally from Russia, Mark Rothko was born in 1903. He moved to the United States when he was ten, and Rothko would ultimately attend Yale University in the early 1920s.
Despite his Russian origins he is still considered an American artist due to spending his formative years there.
He would settle in New York in 1925 and study painting at The Art Students League. A close friendship with Milton Avery in 1928 that began at a gallery in New York would influence his later artwork.
Also Read: Famous Canadian Artists
Near the latter half of the 1940s, Rothko would start his color field paintings, which he became famous for. His goal was for his viewers to get "lost" in his work, sincerely taking in the emotion of the painting.
Late in the 1960s, Rothko has heart concerns and sank into a depression that would eventually lead to suicide.
More than 800 pieces of his work became a centerpiece of a hard-fought legal battle. His famous artwork is displayed in different museums around the world.
5.

Edward Hopper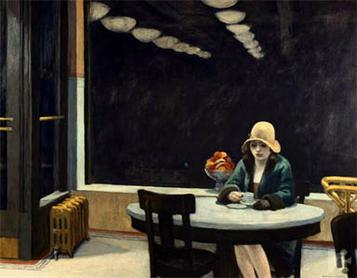 On July 22, 1882, Edward Hopper was born in New York. Hopper would go on to study at the New York School of Art. In 1924, he decided to make painting his full-time focus.
After studying under Robert Henri, nearly all of Hopper's work depicted everyday scenes in the city life. Some examples of his subjects would include the city streets, Victorian homes, and abandoned apartments.
Also Read: Famous American Architects
His work is known for creating a sense of loneliness but used bright colors to bring relevance to ordinary scenes of daily life. Some of his sought-after pieces include "Nighthawks" in 1942 and "Early Sunday Morning" in 1930.
Also Read: Artists from New York
Other noteworthy works can be found today at the Modern Museum of Art and The Art Institute of Chicago.
Hopper died in 1967, and his legacy continues from his most famous influencer, Robert Henri, who told his students to "make a stir in the world."
6.

Keith Haring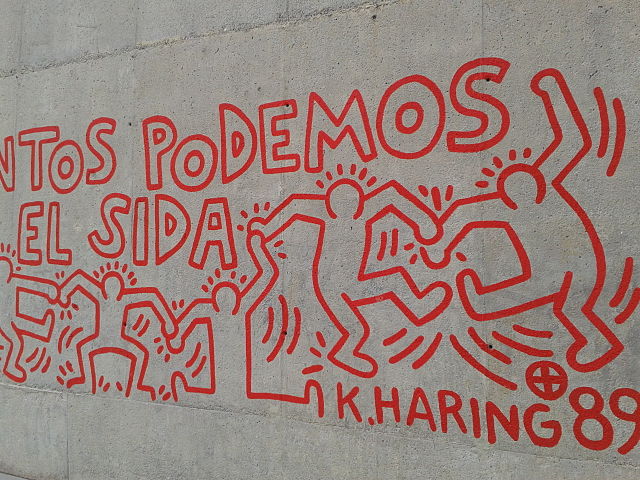 Keith Haring was born in 1958 in Reading, Pennsylvania. Much of his early influence came from Walt Disney, and he would spend hours drawing with his father.
As a result, Haring became more interested in pop art like cartoons and comics. His art career began in the 1980s in New York and became known as a "subway artist." Much of his work is known for having rhythmic lines that appear to make his drawings "come to life."
He always wanted his work to be accessible to the masses, so he opened his retail store in 1986, which would offer T-shirts, posters, and more.
His career would get cut short with an AIDS diagnosis in 1988. However, he left behind a legacy of bringing a simple approach to deep topics like love and death.
Haring also would support AIDS awareness by starting the Keith Haring Foundation in 1989 just one year before his death.
7.

Roy Lichtenstein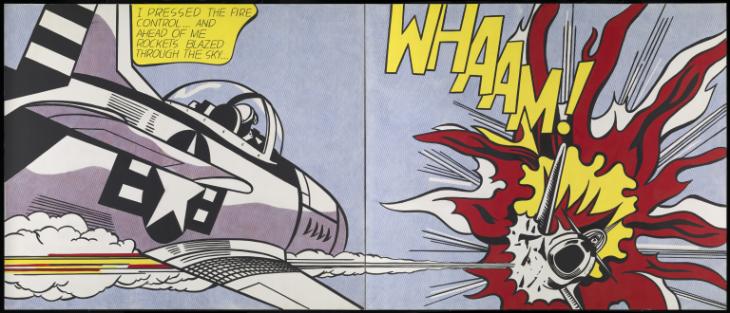 Roy Lichtenstein, born in 1923, has an interest in art in the early portion of his life even though his high school did not offer art classes.
After he finished high school, he attended Ohio State University and would soon begin teaching art classes following graduation.
He is known for combining commercial art with the outlines typically found in comic books. Thick lines were often used in his paintings, along with Ben-day Dots, which became the cornerstone of his work.
His pieces revolve around pop culture, getting ideas from magazines and other cartoons.
A combination of commercial and abstract artwork was masterfully integrated by Lichenstein, who would later be identified as one of the most influential 20th century artists.
He died in 1997 with complications he suffered from pneumonia. He leaves behind more than 5,000 pieces of different artwork.
8.

Norman Rockwell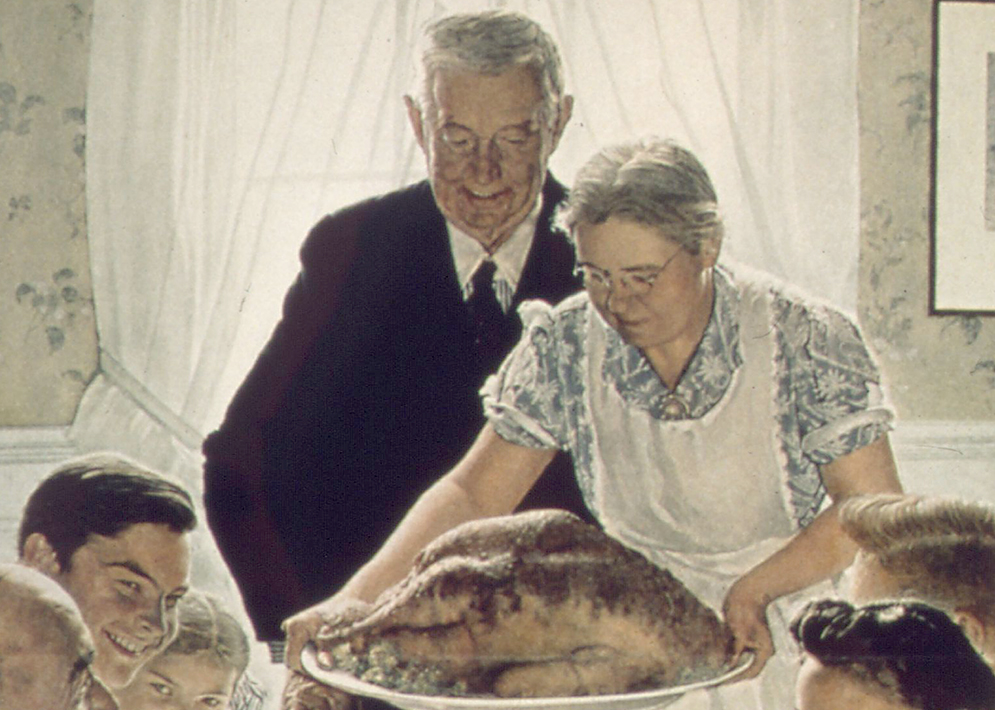 Norman Rockwell is an American artist who grew to fame with his 300+ Saturday Evening Post cover pages he compiled over a career of nearly 50 years.
He was born in New York City in 1894 and began art training in his teenage years at the National Academy of Design. At the time of World War II, Rockwell also began to work as an artist.
After his work with the Saturday Evening Post, he then started a new adventure with Look magazine. His American paintings focused on social issues like poverty and civil rights.
Interestingly, he would go on to paint portraits for presidents like Dwight Eisenhower and JFK. He honorably received The Presidential Medal of Freedom in 1977, one year before his death.
The star from the "Wizard of Oz", Judy Garland, would be Rockwell's last portraits before he passed away from emphysema.
9.

Jasper Johns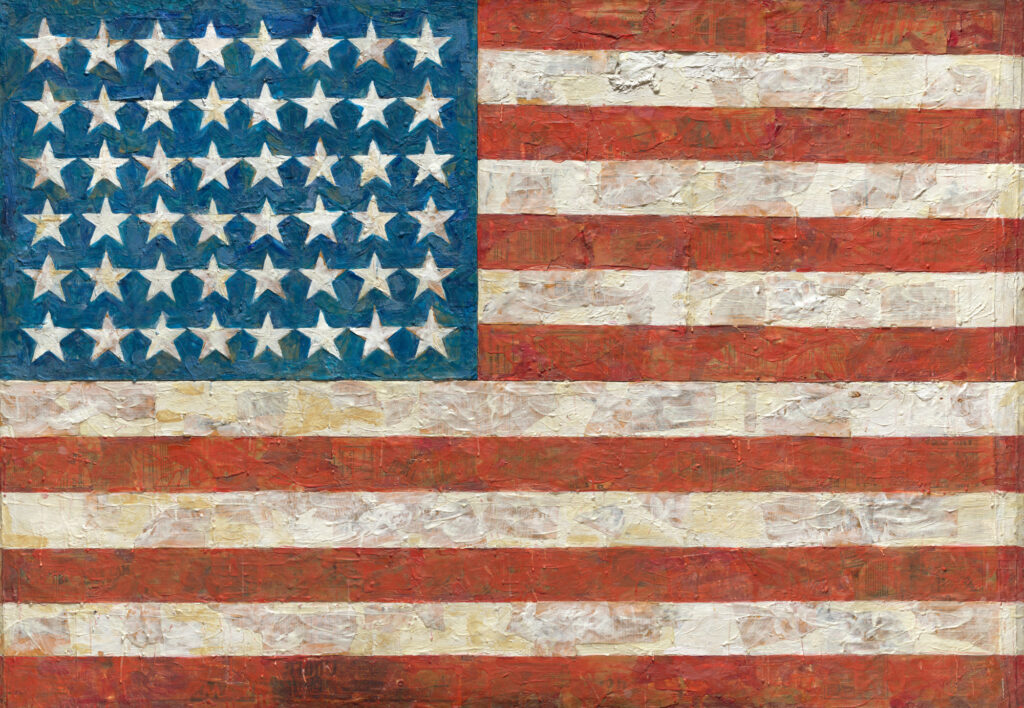 Born in Augusta, GA, Jasper Johns was an influential artist in the early portion of the twentieth century.
He grew up in a somewhat unstable life, but he knew early on that he wanted to be an artist. In 1951, Johns was drafted into the army to serve and came back to New York City two years later.
One of his first artistic successes came from a dream he had about painting the American Flag. He went on to produce creative "versions" on common objects like letters and numbers.
The goal of his work is for people to develop meaning for themselves, and had some collaboration with Andy Warhol.
Also Read: Famous American Sculptors
Later in his artistic life, he went on to produce sculptures and abstract work. He is still living today, and much of his work is displayed around the world.
Many of his most popular pieces like "Flag" and "False Start" have sold for millions at auctions.
10.

Jean-Michel Basquiat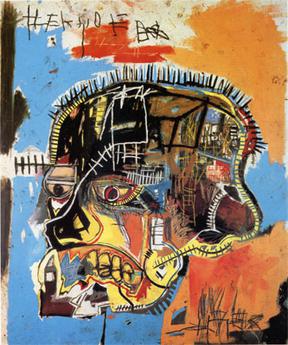 Jean-Michel Basquiat was born in 1960 in Brooklyn, New York. He was encouraged much from his mother for starting artistic interest, but unfortunately, his mother developed mental problems and Basquiat would leave home at 17.
It's interesting to note that Basquiat didn't have any specific training as an artist, but the ingenuity in his work combined a unique combination of graffiti and abstract expressionist paintings.
Often, he would make self-portraits that helped him deal with the anxiety he suffered. He also had a love of the African and Hispanic culture that he would show in his different projects.
Although he would only live to be 27 because of a drug overdose, he had much collaboration with the great Andy Warhol, and his raw style of painting will surely help other artists feel inspired.
He was featured on the cover of New York Times Magazine shortly before he passed away.
11. James Abbott McNeill Whistler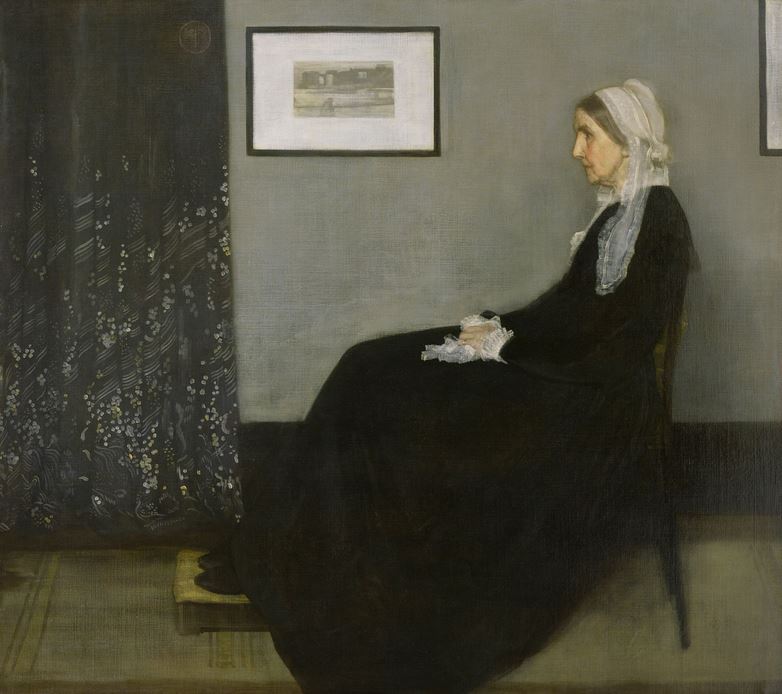 James Abbott McNeill Whistler RBA (July 11, 1834 – July 17, 1903) was an American painter who worked mostly in the United Kingdom during the American Gilded Age.
He rejected sentimentality and moral implication in his paintings and was a strong supporter of the philosophy "art for art's sake." His hallmark for his paintings was a stylised butterfly with a large stinger for a tail.
The emblem embodied both elements of his personality: his work is distinguished by exquisite delicacy, yet his public image was confrontational. He saw a connection between painting and music and termed several of his works "arrangements," "harmonies," and "nocturnes," underlining the importance of tonal harmony.
Arrangement in Grey and Black No. 1 (1871), often known as Whistler's Mother, is a beloved and much mocked image of motherhood. Whistler's beliefs and connections with other notable painters and authors affected the art industry and wider society of his period.
---
Whilst most of the names in this list of famous American artists hail predominantly from the 20th century into the 21st century America continues to have a heavy influence on the world of modern art.