Modern art defines the forms and ideas of art developed during the period approximately from the 1860s to the 1970s, and encompasses creative work made during that time period.
The word is most often linked with art in which old conventions have been abandoned in favor of innovation.
However, it should not be confused with the term "contemporary art".
Contemporary art is art created in the second part of the twentieth century or the twenty-first century. Contemporary artists operate in a world that is inspired by the world around them, is culturally varied, and is technologically advanced.
Also Read: Why was Modern Art Heavily Criticized?
Below is a list of works that are some of the most famous modern art paintings ever produced and span across multiple art movements and styles.
Famous Modern Art
1.

Les Demoiselles d'Avignon

– Pablo Picasso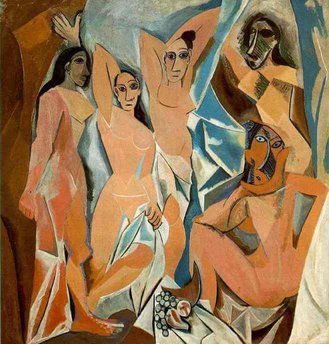 Paintings by Pablo Picasso, possibly the most renowned painter of the twentieth century, have garnered widespread acclaim. Many of his works are regarded masterpieces, particularly those in the cubist school of painting.
His artwork named Les Demoiselles d'Avignon, which was previously called as The Brothel of Avignon, is one of the most iconic paintings in the cubism style and is one of the most recognizable paintings in the world.
The startling picture of five nude ladies, on the other hand, was not likely to be well accepted in 1907 Spain, causing him to significantly modify the name of the painting to something more acceptable.
The piece includes five sharply angled portraits of women, each of whose visage seems to be eerily familiar to those who have seen African art before them. The painting's composition is nicely balanced, with a high degree of contrast between the brilliant red and blue hues on each side of the canvas on either side of the canvas.
Also Read: Types of Modern Art
Painting the human form in an irregular geometric shape was Picasso's method of portraying the human form, which was in stark contrast to the methods used by most other painters, who placed a strong emphasis on making paintings that were as realistic as possible.
In his day, his distinct style won him a solid reputation among art enthusiasts and critics, and it would take him down the road of further study in the new and enticing genre of cubism.
2.

Impression, Sunrise

– Claude Monet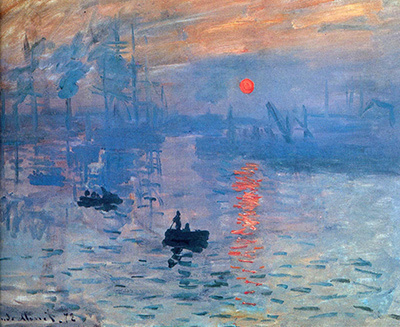 The most well-known impressionist picture, Impression Sunrise by Claude Monet, is credited for the term "Impressionism."
Monet created six distinct paintings of the harbor of Le Havre, France, his hometown.
Impression Sunrise is the most well-known of the series, and it was shown with works by other painters in 1874, when this new type of art drew a lot of criticism.
The group of impressionist painters in question were turned down by the Paris Salon, prompting them to organize their own exhibition to present their work.
The piece exemplified the new art trend. Its name has become associated with the aesthetic.
It lacks a lot of the flair of other impressionist artworks due to its restricted use of color and brush strokes.
This painting was completed in 1872 and depicts a seascape scene from Le Havre, France, where Monet is claimed to have spent a significant amount of time throughout his life.
The picture is notable for its delicate, but seductive hues, which show a peaceful daybreak over the busy port city at the time Monet painted it. The bigger ships and barges are scarcely visible as they vanish into the early mist.
A few lone boats are prominently displayed in the middle of the picture, indicating a feeling of simplicity that Monet either recognized or wished for.
It was shown with a number of other works by lesser-known painters at the time, but it managed to pique the curiosity of everyone in attendance.
3.

Le Déjeuner sur l'Herbe

– Édouard Manet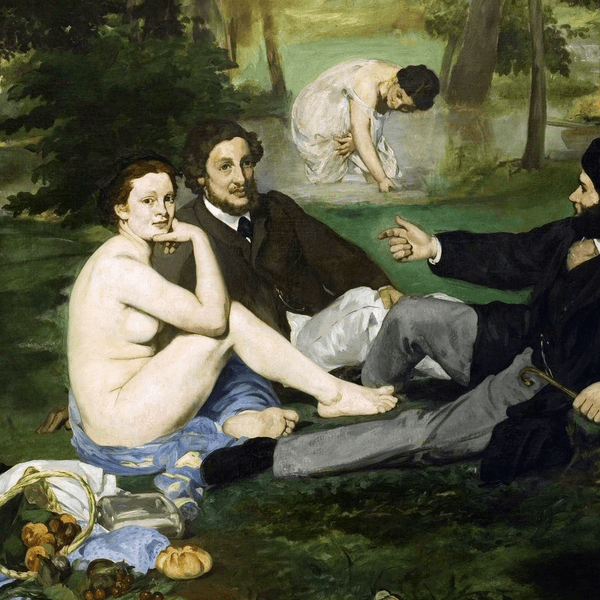 Edouard Manet is regarded as a one-of-a-kind artist of the nineteenth century, bridging the gap between Realism and Impressionism with his works.
He often painted the feminine figure in a natural context, and his piece Dejeuner sur l'Herbe, or The Bath, was originally named Luncheon on the Grass. Manet's painting, which was completed in 1863, drew a lot of criticism from art critics at the time due to what they perceived to be the work's filthy character.
The picture depicts a naked lady resting with two fully dressed males in a forested forest, with another woman swimming in the distance.
Its contentious character may be one of the reasons it has remained a fundamental work of French art and one of the most renowned paintings of the age.
4.

Le Bonheur de Vivre

– Henri Matisse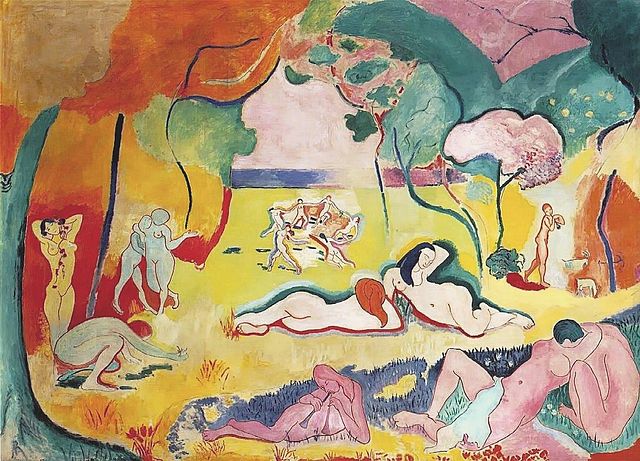 Henri Matisse's artwork Le Bonheur de Vivre (The Joy of Life) along with Picasso's Les Demoiselles d'Avignon above, is recognized as one of the foundations of early modernism. The massive work was initially shown at the Salon des Indépendants in 1906, when its cadmium hues and spatial distortions elicited popular fury and outcry.
In the picture, naked ladies and men frolic, play music, and dance in a vibrantly colored countryside. A group of individuals in the piece's middle backdrop is comparable to the group portrayed in his painting The Dance.
It was critically panned when it was shown at the Salon des Indépendants in 1906 due to its confusing topic and lack of aesthetic consistency. Some commentators even predicted the death of French art.
However, by the 1920s, the painting had been recognized as a contemporary masterpiece. Matisse regarded it to be one of his most significant works.
5.

Drowning Girl

– Roy Lichtenstein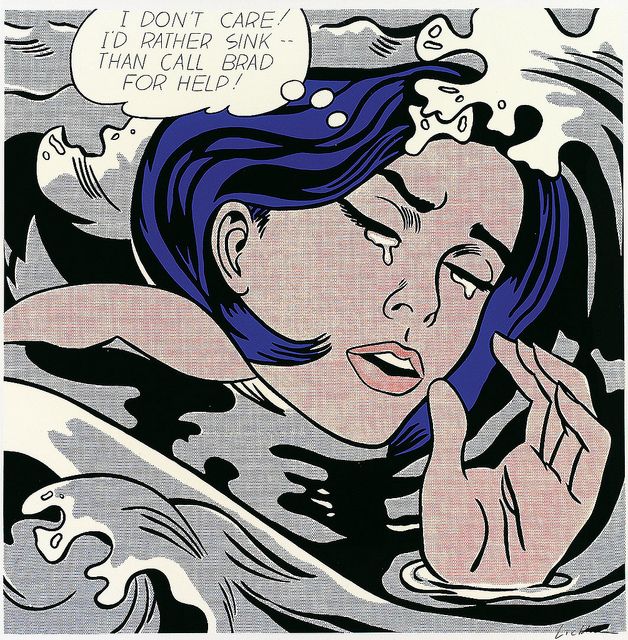 With his famous Drowning Girl, American pop artist Roy Lichtenstein produced one of the 1960s' most memorable paintings.
This piece was inspired by a classic DC Comics book named Secret Love #83, which showed a dramatic scenario in which the heroine drowns recklessly in front of her boyfriend.
In this painting, Lichtenstein expressed his joy in focusing on the extremely emotive, but distant landscape of sorrow. The girl's perilous condition is highlighted by swirling water encircling her head as she slips under the waves.
Lichtenstein's talent was in capturing and expounding on a heartbreaking moment from something as commercialized as a comic book.
6.

Broadway Boogie-Woogie

– Piet Mondrian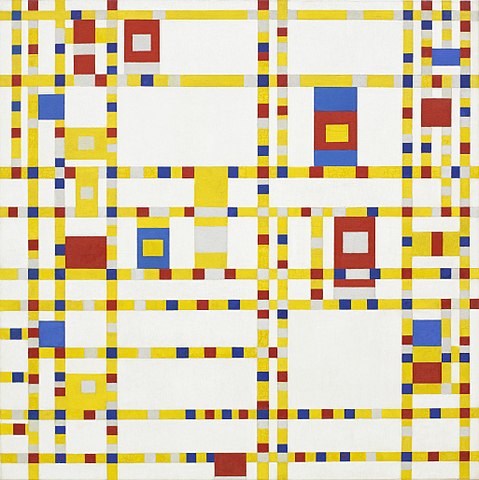 Broadway Piet Mondrian's artwork Boogie Woogie was finished in 1943, after he went to New York in 1940. The painting is split with much more squares than in his previous work.
Despite the fact that he spent the most of his career making abstract art, this picture is clearly influenced by real-world examples: the Manhattan city grid and boogie-woogie, an African-American Blues song that Mondrian liked.
Also Read: Square Paintings
The artwork was purchased for $800 by the Brazilian artist Maria Martins at the Valentine Gallery in New York City after both Martins and Mondrian showed there in 1943. Martins subsequently gave the artwork to New York City's Museum of Modern Art.
7.

Nude Descending a Staircase, No. 2

– Marcel Duchamp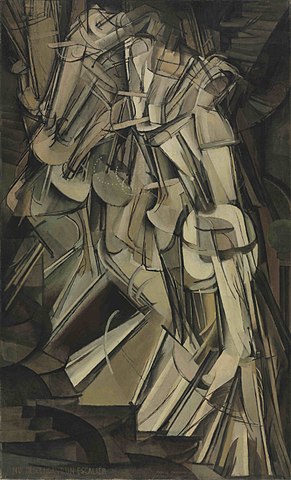 Marcel Duchamp's artwork Nude Descending a Staircase, No. 2 (French: Nu descendent un escalier n° 2) was completed in 1912.
The piece is generally considered as a Modernist classic and became one of the most well-known of its period. Before its debut at the Salon des Indépendants in Paris in 1912, it was rejected by the Cubists as being too Futurist.
The piece, an oil painting on canvas with dimensions of 147 cm 89.2 cm (57.9 in 35.1 in) in portrait, seems to show a person with abstract movement in its ochres and browns.
The figure's identifiable "body parts" are constructed of nested, conical, and cylindrical abstract pieces organized in such a manner as to indicate rhythm and express the movement of the figure melting into itself.
8.

Olympia

– Édouard Manet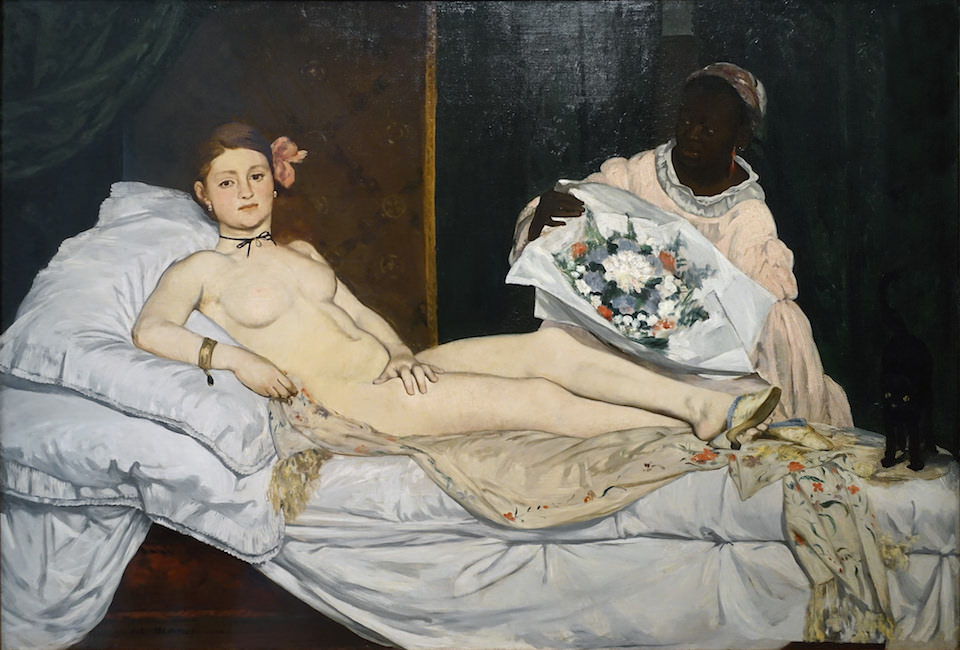 Olympia, by Edouard Manet, employed a daring and exotic approach to the naked form that was somewhat controversial at the time it was created.
Manet completed his piece in 1863, and it was clearly a tribute to Titian's Venus of Urbino and Francisco Goya's Maja Desnuda.
This picture, on the other hand, takes a more honest approach, depicting a scene that looks to be from the inner chambers of an operating brothel, which was a source of controversy at the time.
The artwork depicts a young lady standing in the same iconic fashion as some of history's most renowned nude works of art, yet her eyes and facial expression are completely different. Instead of a welcoming appearance, she exudes disinterest as she certainly returns her focus to the next guy who will buy her company for a little period of time.
This piece of art has been lauded by critics and art aficionados alike for providing a unique and honest look at something that is often considered taboo in many sections of Western culture.
9.

I and the Village

– Marc Chagall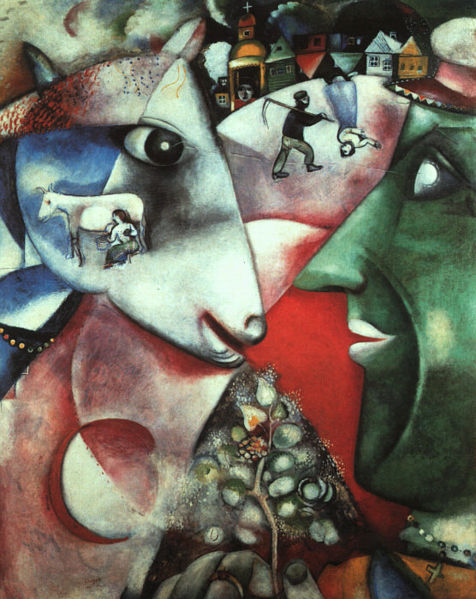 I and the Village is a 1911 oil on canvas work by Belarusian-French artist Marc Chagall. It is on display in New York's Museum of Modern Art.
The painting's value stems from its flawless blending of many aspects of Eastern European folklore and culture, both Belarusian and Yiddish.
The piece is Cubist in design and comprises several soft, dreamy images that overlap in a continuous realm. A green-faced guy in a hat glances at a goat or sheep with the picture of a smaller goat being milked on its cheek in the foreground.
A luminous tree is clutched in the man's black hand in the foreground.
The backdrop depicts a row of homes close to an Orthodox church, as well as an upside-down female violinist in front of a black-clothed guy with a scythe.
The green-faced guy is wearing a necklace with the St. Andrew's cross. As the title indicates, I and the Village is inspired by the artist's recollections of his birthplace and his affinity with it.
10.

American Gothic

– Grant Wood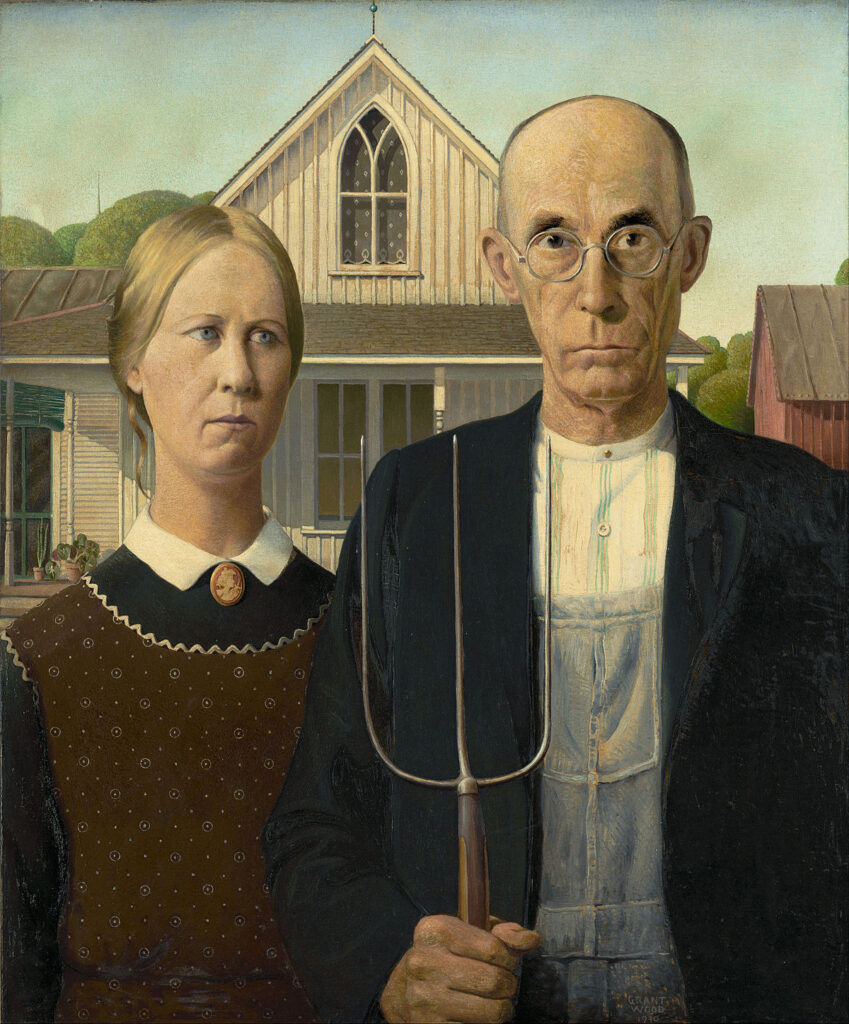 Grant Wood's painting American Gothic, which depicts two sad individuals standing in front of a humble home, is regarded as one of the most iconic works of American art.
Painted in 1930, the piece is a clear testament to the hardships that the people of the United States were forced to suffer during the Great Depression of the 1920s. It is the epitome of Social Realism painting. Wood's picture depicts a distinctively constructed mansion with a Gothic-style architectural look.
Wood utilized his dentist and his sister as a somber father and daughter standing intently in front of their home after making blueprints of the house.
The work exemplifies the diligent American spirit in which the people of the nation took great pride. Wood's work became an immediate classic and has since become one of the most recognizable works of art in American society.