Creating a painting of a storm requires a significant level of skill and talent. Artists from some of the most popular movements of the last 400 years have sought to depict tumultuous skies and blustery winds through a number of methods with varying amounts of success.
Many of the famous storm paintings that are displayed in museums around the world today usually portray a well-known stormy scene from Biblical stories or historical events. There have also been a few artists who have devoted years of their careers or even decades to producing storm paintings.
In this article, we will explore some of the most famous storm paintings in history and discuss the artists behind these works and why they created them.
Famous Storm Paintings
1.

The Storm on the Sea of Galilee

– Rembrandt van Rijn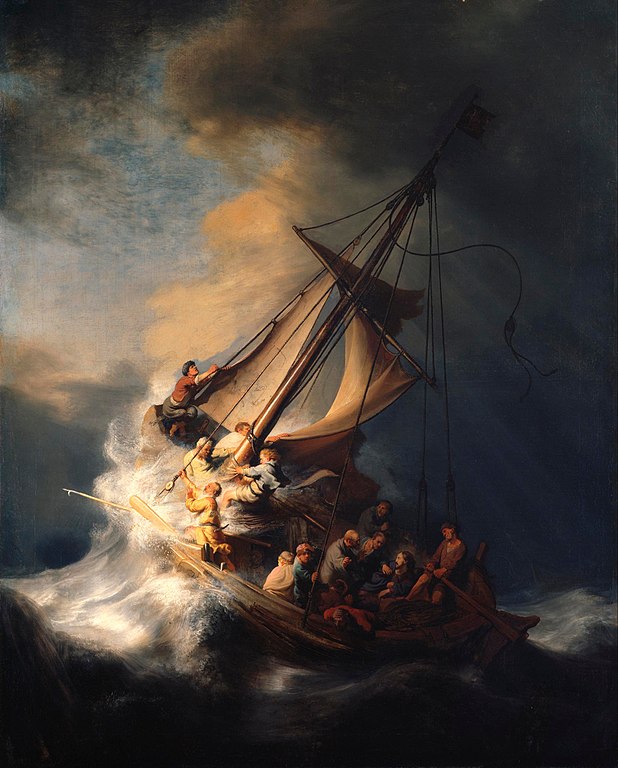 Rembrandt Harmenszoon van Rijn is remembered as one of the most famous painters from the Baroque movement that took place in the 17th century and early 18th century in Europe.
The Dutch artist is more commonly known as "Rembrandt" and is credited with producing some of the greatest masterpieces of this era, which many recall as the Dutch Golden Age.
Rembrandt is known to have produced a few masterful paintings that depict storms during his career, but one stands out among his and other artists' renderings as one of the most famous storm paintings ever created.
Also Read: Rembrandt Famous Paintings
The work is titled The Storm on the Sea of Galilee and portrays the famous Biblical story in which Jesus calmed a raging sea by speaking to the sky. Finished in 1633, the painting is the only maritime work done by Rembrandt and remains as the most well-known depiction of the popular account from the life of Christ that is found in the Gospel of Mark.
Also Read: Dutch Paintings
The painting was stolen in 1990 from the Isabella Stewart Gardner Museum in which 13 masterpieces were taken and have never been recovered. While the theft propelled this painting into a higher level of fame than it had before the event, Rembrandt's incredible portrayal of the scene is believed to be one of the more historically-accurate.
It features a small fishing boat that historians describe as being very similar in structure to what fishermen of ancient Israel often used, as well as rigging and sails that were also similar.
2.

The Storm

– Pierre Auguste Cot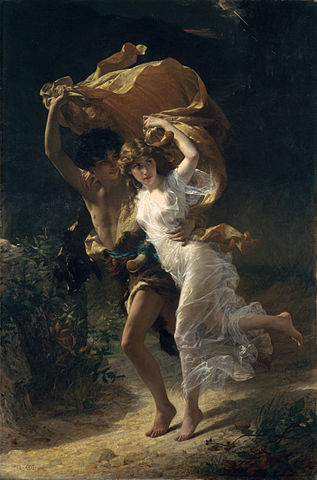 Pierre Auguste Cot is one of the most famous French painters from the 19th century who was not a part of the popular Impressionist movement. His style of painting was part of what many critics and historians refer to as the Classical movement that often portrayed scenes in a manner that was similar to earlier art from the 16th and 17th centuries.
One of Cot's most well-known paintings is titled The Spring, which features a young man and woman sitting on a swing in the middle of a lush forest.
The same two characters appear in another prominent work that was done by Cot known as The Storm. This storm painting was done 10 years after the earlier work featuring the spring season and is also considered to be among the greatest masterpieces done by the artist.
The painting features the two young lovers running for cover from an approaching storm. The young man and woman both have one hand clutching a billowing drapery while their other arm is wrapped around one another. Both figures seem to be wearing the same attire in this painting as the earlier work that was done a decade prior to its completion.
3.

Snow Storm: Steam-Boat off a Harbour's Mouth

– J. M. W. Turner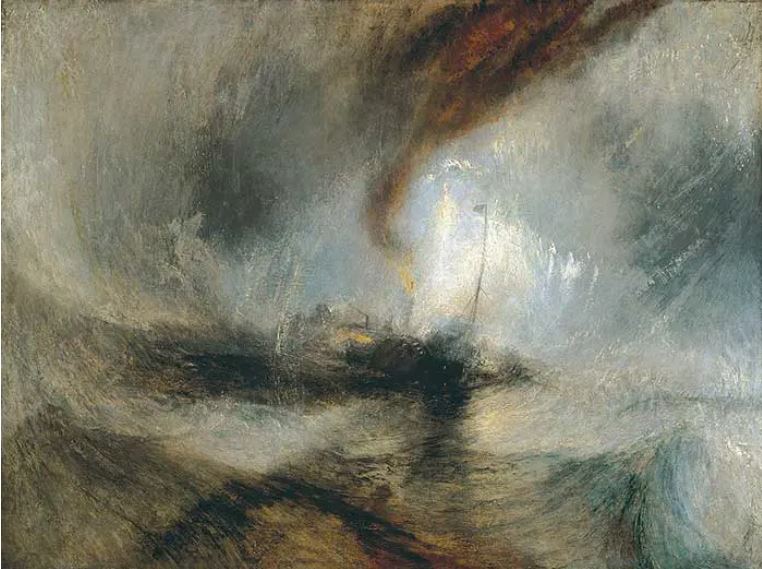 Joseph Mallord William Turner was a prominent English artist from the early 19th century who focused on creating many works that depict various degrees of changing weather.
A few of his most famous paintings depict fog or clouds forming around a mountain valley, but he created multiple works that portray wild snow storms on both sea and over land.
Also Read: Famous Cloud Paintings
Among his most famous storm paintings is a work titled Snow Storm: Steam-Boat off a Harbour's Mouth. This painting was done in 1812 and was done after a major storm that occurred while Turner was aboard a steam-boat that year.
The artist had previously sought to depict stormy scenes in different maritime paintings, but he was determined to gain a better perspective of what it actually looked like to be in the middle of such a dangerous weather event.
An inscription on the painting reads: The Author was in this Storm on the Night the "Ariel" left Harwich. Turner later described his experience, saying that he convinced the sailors to lash him to the mast so he could observe the storm in a first-person perspective.
The result of his experience was this painting, which famed critic John Ruskin described as one of the "grandest statements of sea-motion, mist and light, that has ever been put on canvas."
4.

The Slave Ship

– J. M. W. Turner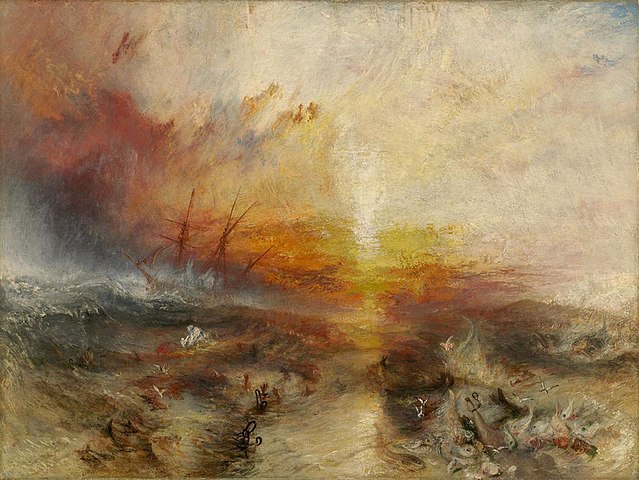 Another one of Turner's famous works depicting a raging storm was done by the artist in 1840. The painting is titled The Slave Ship and is considered to be one of the most highly-praised examples of maritime paintings from the Romantic movement, a style which Turner is considered to be one of the most celebrated artists.
This particular painting depicts churning waves and tumultuous waters in the foreground with a large slave ship visible in the background.
Also Read: Famous Paintings about Rain
This painting was done at a time when there were other significant efforts being made to abolish the slave trade in Europe and other regions.
A large, ominous storm could is seen in the left portion of the canvas, which indicates an oncoming typhoon. The ship's sails are furled, which would be standard practice when facing an approaching storm during this time period.
5.

Northeaster

– Winslow Homer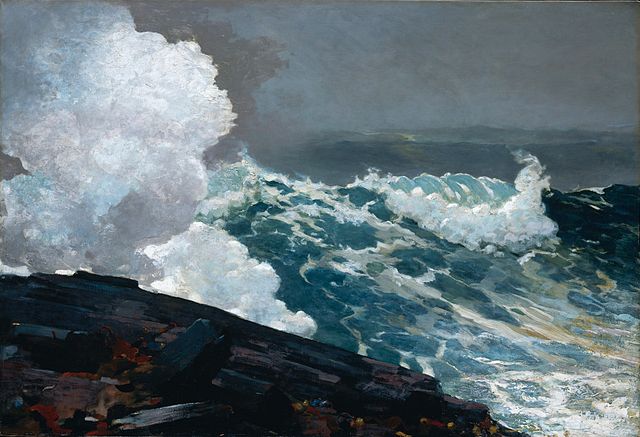 Winslow Homer is known as one of the most celebrated Realism painters from the late 19th century. Many of his works focus on maritime scenes that depict sailors or fishermen from the small fishing towns along the New England coastline.
Fishing was an extremely dangerous trade during this time as there were many instances of fast-approaching storms that would move in and wreck small fishing vessels.
The common name of these storms was the title of one of Homer's most famous paintings, which is known as Northeaster. This 1895 painting depicts a large wave crashing against a rocky shore in the foreground while a menacingly-dark cloud is seen in the background.
6.

Lost on the Grand Banks

– Winslow Homer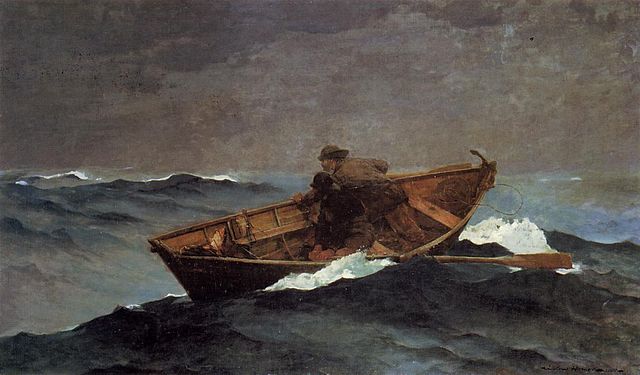 Homer completed another notable storm painting a decade prior to his Northeaster in 1885. This painting was very similar to a few others that the artist completed which depict fishermen in small boats desperately trying to make it to shore in the face of a dangerous, and often deadly, storm.
The work is titled Lost on the Grand Banks and this 1885 composition is one of Homer's more iconic works depicting fishermen along the New England coastline.
The painting depicts two men in the small vessel who have apparently thrown any heavy items in the boat overboard in an effort to remain afloat on the massive waves. The fishermen can be seen peering into the wind, hoping to glimpse land in the middle of a massive storm.
7.

The Green Wave

– Claude Monet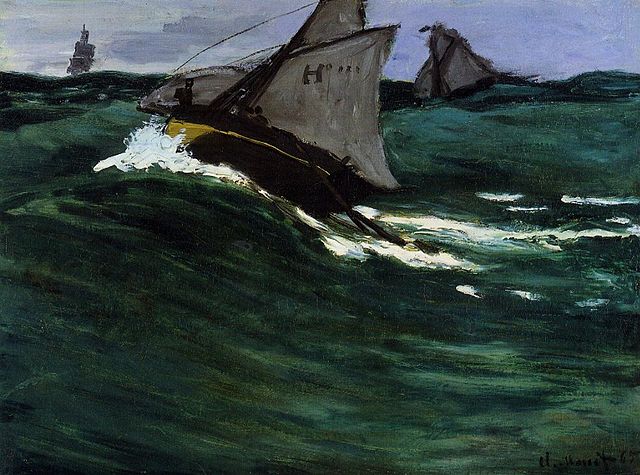 Claude Monet is considered to be one of the most important figures from the Impressionist movement. He first began to draw the attention of high-level critics and museums in his early 20's and it wasn't until 1865 that he would truly break through as one of the most talented artists in Paris at the time.
During this same year, he created one of his most notable maritime works that would later draw praise, as well as criticism.
This painting is titled The Green Wave and was completed in 1867, although Monet incorrectly dated the work as being finished in 1865 years after he completed it.
When it was first exhibited in 1879, some of the major critics of the day described it as a painting that was clearly influenced by Eduard Manet, another prominent artist of the Impressionist era. This painting depicts a boat cresting a large wave of greenish hue as others are seen in the background.
8.

Tiger in a Tropical Storm

– Henri Rousseau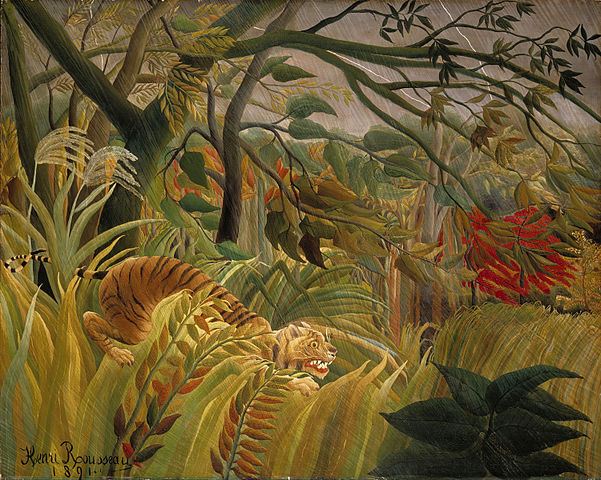 Henri Rousseau is an artist that is famous for his paintings that depict various exotic animals and jungles. Born in 1844, Rousseau's paintings were often ridiculed by some of the most prominent critics of his lifetime, but those same works are viewed as masterpieces today and are commended for the artist's use of color and composition.
Rousseau created a number of paintings portraying certain exotic animals in their native habitat, but none were more famous or iconic than his 1891 work titled Tiger in a Tropical Storm.
This painting, which is also known as Surprised!, is considered to be one of the artist's greatest works as it features distinct brushwork to create the wind's effects on the leaves and other foliage, as well as the colors set against the gray sky.
9.

The Ninth Wave

– Ivan Aivazovsky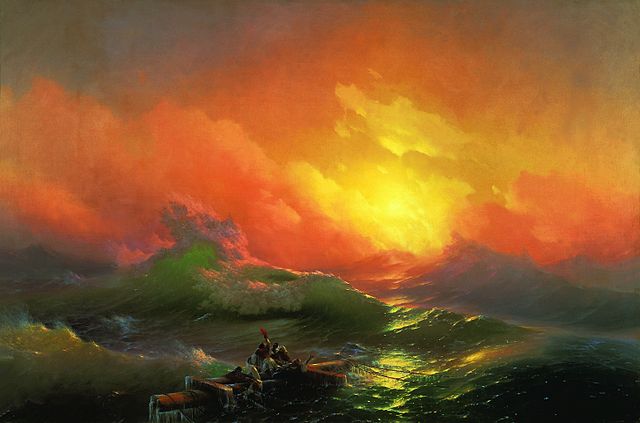 Ivan Aivazovsky was a Russian artist who lived during the 19th century and produced a number of works that are considered to be among the greatest maritime paintings in history.
He spent most of his life in coastal communities or on the sea and his paintings are often viewed as some of the most iconic seascapes in existence.
One of Aivazovsky's paintings is arguably the most well-known maritime painting ever created, but it doesn't feature a large, masted ship and crew. Instead, the work features a few sailors desperately clinging to a small piece of debris from a large ship.
The painting is titled The Ninth Wave and doesn't feature an actual storm, but the effects of a devastating storm at sea.
10.

A Storm in the Rocky Mountains, Mt. Rosalie

– Albert Bierstadt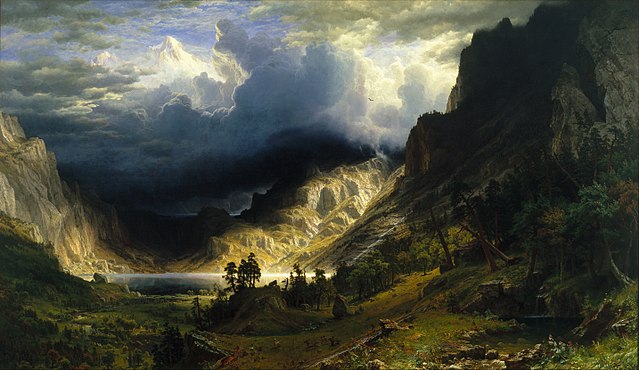 Albert Bierstadt was one of the most well-known American landscape painters during the 19th century. Born in Germany, Bierstadt spent most of his career traveling the country and working as a land surveyor for the United States government.
During this time, he visited some of the most scenic portions of the American frontier and often found himself in remote wilderness areas that offered breathtaking spectacles.
One of Bierstadt's most notable paintings is one that features a stormy scene in the Rocky Mountains. This 1866 painting is titled A Storm in the Rocky Mountains, Mt. Rosalie and depicts a rare instance in which sunlight illuminates a portion of the mountain landscape while a dark, ominous raincloud is featured in the background, along with a lone snowy peak towering above the clouds.
This work is one of many from Bierstandt that featured large, sweeping vistas depicting the American landscape.