Whilst the majority of famous German artists tend hail form the late 18th century on there are one or two standout artists that come from earlier times.
Modern day German artists are famed for their contribution to many of the most exciting art movements of the past 100 years but there are still some artists that hail from much earlier times.
Albrecht Dürer for example is one of the best Renaissance artists from outside of Italy and Hans Holbein the Younger a leading proponent of the Gothic era.
Famous German Artists
1.

Paul Klee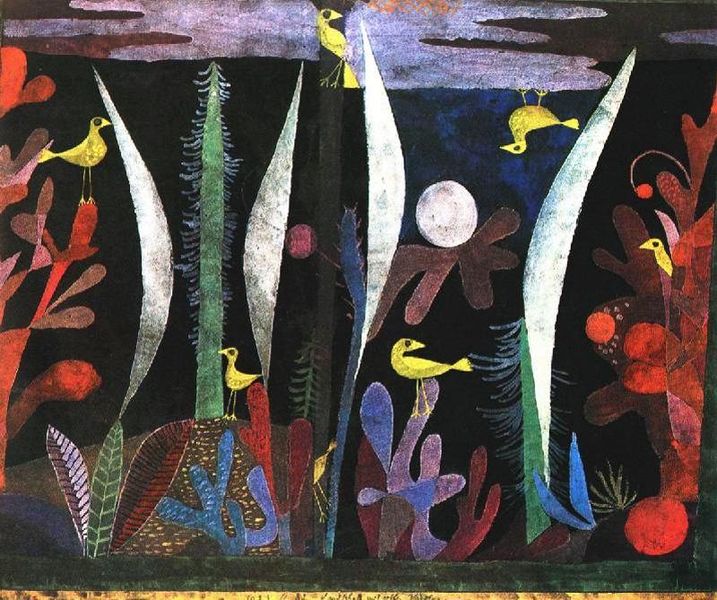 Born in Münchenbuchsee, Switzerland in 1879, Paul Klee is one of several German Expressionist painters representing Der Blaue Reiter group, an art movement characterized by dark or matte colors, thick lines, hints of Cubism and existential scenes.
Between 1931 and 1933, Klee worked at the Academy of Fine Arts in Düsseldorf, Germany until Hitler's Nationalist Socialist Party deemed Klee's art as "degenerate".
In 1937, the Nazis seized some of Klee's artwork being shown at an exhibition.
Threats of imprisonment forced Klee to move to Bern, Switzerland where his artwork became even more shadowy and somber.
Severe scleroderma, an autoimmune disease causing breathing difficulties and heart failure, eventually killed Klee. He died in 1940 in Locarno, Switzerland.
Famous works of Paul Klee:
Blossoms in the Night (1930)
A Young Lady's Adventure (1927)
Death and Fire (1940)
Fish Magic (1925)
2.

Max Ernst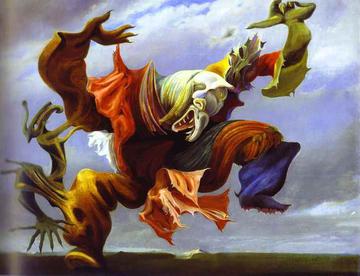 An important influencer in the Surrealism and Dada art movement of 1920s Europe, Max Ernst did not limit himself to oil painting, he is also a very well regarded collage artist.
His body of work consists of sculptures, collages and block prints inspired by ancient myths and personal memories.
Born in 1891 in Bruhl, Germany, Ernst fought in WWI for four years and returned home with what doctors would now diagnose as post-traumatic stress disorder.
He began creating Dadaist collages initially, producing one of his early pieces of art–Here Everything is Still Floating–that depicts a bomb falling from a military plane.
After World War II ended, Ernst immigrated to the U.S. to live with son and third wife where he continued painting, sculpting, illustrating books and creating collages.
Marc Chagall, Marcel Duchamp and Max Ernst are considered the originators of the Abstract Expressionism movement in post-war United States. Ernst died in 1976 of natural causes while living in Paris.
Famous works by Max Ernst
Napoleon in the Wilderness (1941)
Revolution by Night (1923)
Surrealism and Painting (1942)
The Sky Marries the Earth (1964)
3.

Caspar David Friedrich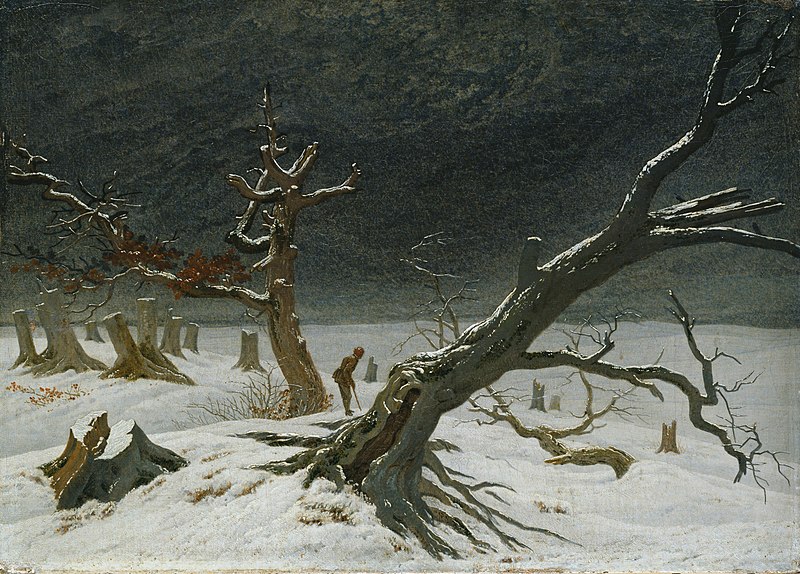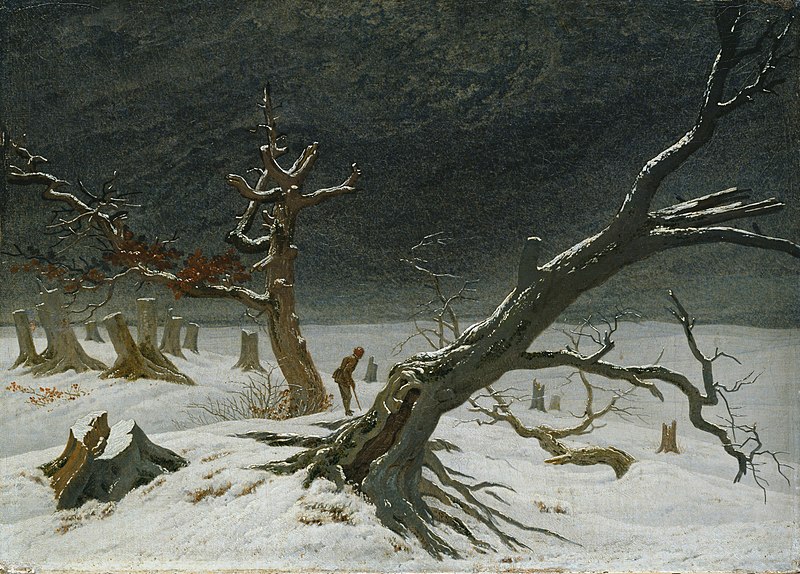 Born in 1774 in Greifswald, Pomerania (Germany), Friedrich is famous for painting allegorical landscapes influenced by the German Romantic art movement of the 19th century.
He emphasized nature's role in shaping emotions and perceptions by populating his paintings with thoughtful silhouettes of human figures standing in contrast to midnight skies, crumbling Gothic structures, trees devoid of leaves and heavy fog.
The Romantic art movement sought to demonstrate how one could show their faith in God by revealing the magnificence of nature and attenuated power of humans.
Unfortunately, Friedrich had many critics who deemed his paintings as vague and incomprehensible.
As a consequence of consist criticism, Freidrich's later works emphasized melancholy and death over life. Friedrich died in poverty in 1835 after suffering a stroke.
Famous works by Caspar David Friedrich
Monastery Graveyard in the Snow (1817-1818)
The Tree of Crows (1822)
Landscape with Oak Trees and Hunger (1811)
Riesengebirge (1835)
4.

Albrecht Dürer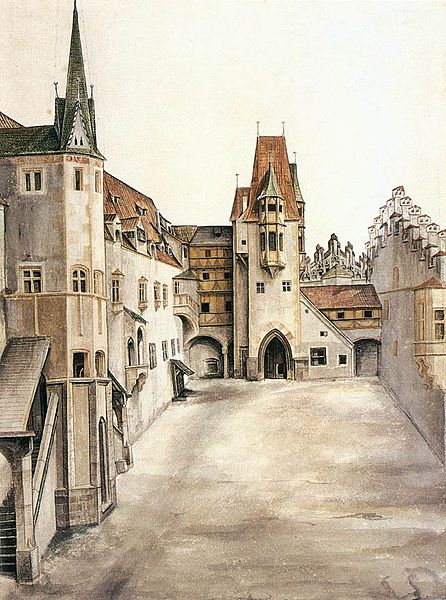 Paramount to inspiring the German Renaissance art movement of the 14th and 15th centuries, Albrecht Dürer (1471-1528) also excelled at producing superior woodcut prints and engravings for that time.
Dürer is famous for his exquisite altarpieces, watercolor paintings and intricate self-portraits that emphasized anatomical correctness of the human body and generating depth illusions through linearity on flat surfaces.
Many of Dürer's artwork depict religious scenes, such as his famous Adam and Eve (1507) and Virgin with the Iris (1508).
He wrote dozens of books on linear perspective, art theory and anatomical dimensions in art while creating paintings and exquisite engravings and prints.
After suffering an undetermined illness, he died and was buried in Johanniskirchhof churchyard in Nürnberg.
Famous Works by Albrecht Dürer
The Feast of the Rose Garlands (altarpiece, 1506)
Four Apostles (1526)
The Adoration of the Magi (1504)
5.

Gerhard Richter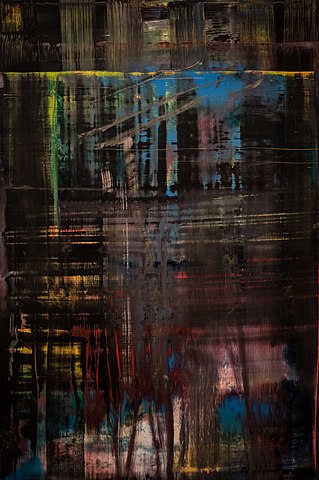 Born in Dresden, Saxony in 1932, Richter is famous (or infamous) for not relegating himself to one particular art movement.
Richter's aesthetic resistance to any one artistic ideology has been attributed to receiving art education and training while living in East Germany before the fall of Russian occupation.
An extremely prolific German artist, Richter produced paintings and photorealist pieces by incorporating copies of monocolor photographs in paintings.
The effect of infusing black-and-white photos in his artwork created a recognizable blurry smudginess to subjects and scenes indicative of his work.
Richter's photorealism paintings are done in gray monochromes and border on abstract surrealism without fully embracing it.
He has said his influencers include Roy Lichenstein and Caspar David Friedrich.
Richter's early work include portraits of murder victims, intellectuals and members of a terrorist group called the Red Army Faction.
His later work involves depictions of city scenes, landscapes and portraits.
Famous Works by Gerhard Richter
Moritz (2000)
Ema (1992)
Woman Descending the Staircase (1965)
Mouth (1963)
6.

Hans Hartung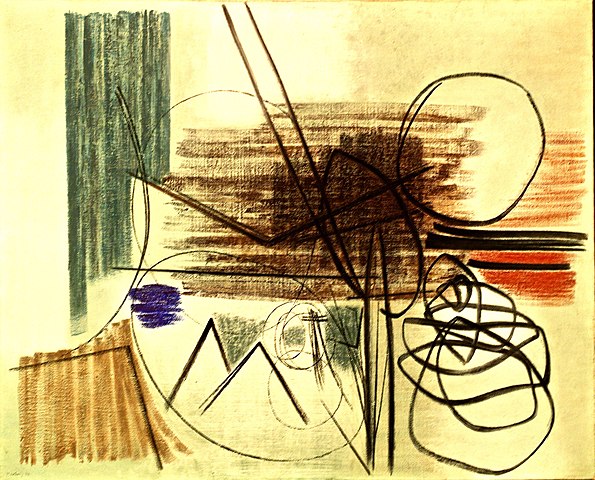 Born in Leipzig, Germany in 1904, Hartung's early influencers include Rembrandt, Emil Nolde and Lovis Corinth.
When he was 24 years old, he studied with Max Doerner in Munich for several years before exhibiting his paintings for the first time in Dresden in 1931.
Like Max Ernst, Hartung's artwork was deemed "degenerate" by Hitler's Nazi party, primarily because the Nazis viewed it as Cubist, an art ideology irreconcilable with Nazi dogma.
Hartung was almost arrested by the Nazis while selling his paintings but escaped and eventually fled to Paris in 1936.
By the 1950s, Hartung had been formally recognized for his idiosyncratic, monochrome paintings incorporating rhythmic, elongated scratchings and sweeping brushstrokes.
"Mod" artists of the 1960s adopted some of Hartung's abstract ideas, especially his use of solid colors and broken, bold lines.
Hartung died at the age of 85 in Antibes, France in 1989.
Famous Works by Hans Hartung
Untitled (1922)
Untitled (1973)
Untitle L102 (1963)
Etching #5 (1953)
7.

Otto Dix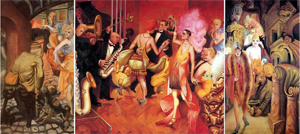 Born in Gera, Germany in 1891, Wilhelm Heinrich Otto Dix is one of the most famous of the German Expressionist painters to emerge from the Weimar Republic and Nazi Germany.
A volunteer soldier in WW1, Dix was awarded the Iron Cross and achieved the rank of non-commissioned officer.
Deeply impacted by the horrors of war, Dix's paintings are quintessential expressionist depictions of existential angst, alienation and suffering reinforced by the thick, black lines and passionately bold colors indicative of German Expressionism.
Hitler regarded Dix as one of the "degenerate" artists and had him removed from his teaching position at the Dresden Academy.
Like other artists trying to work in Nazi Germany, Dix had no choice but to join the Reich Chamber of Fine Arts or face possible imprisonment. After WWII, Dix lived in Dresden until 1966.
He earned numerous art awards, such as the Rembrandt Prize and the Grand Merit Cross of the Federal Republic of Germany. After a series of strokes, Dix died in 1969.
Famous Works by Otto Dix
Portrait of the Journalist Sylvia von Harden (1926)
The War (1929-1932)
Card Playing War Cripples (1920)
Seven Deadly Sins (1933)
8. Ernst Ludwig Kirchner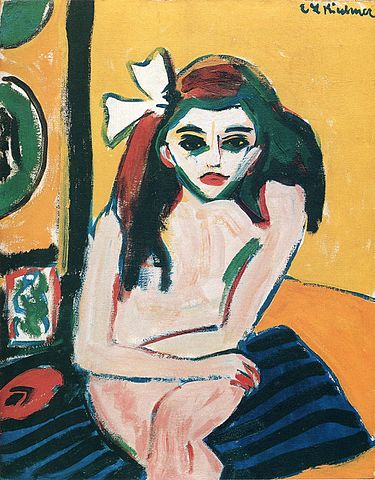 Born in 1880 in Aschaffenburg, Bavaria, Kirchner is a founder of the German Expressionist group "The Bridge" (Die Brucke) and a seminal influence on the Expressionist art movement.
He suffered a nervous breakdown after volunteering to fight in WWI and was quickly discharged from the Army. By 1915, he was an alcoholic and addicted to barbiturates.
He managed to continue painting while receiving treatment at a sanatorium. By 1920, Kirchner had developed a reputation as an outstanding new artist and exhibited his paintings throughout Switzerland and Germany in the early 1920.
Overlaid with aspects of surrealism, Fauvism and primitivism, Kirchner's paintings display the classic bold lines, dark hues and somber visages indicative of Weimar Republic Expressionism.
When the Nazis reported Kirchner's paintings as "degenerate", he fell into a deep depression and committed suicide in 1938.
Famous Works by Ernst Kirchner
Street, Berlin (1913)
Naked Playing People (1910)
Sitting Woman (1907)
Old Woman and Young Woman (woodblock print, 1921)
9.

Emil Nolde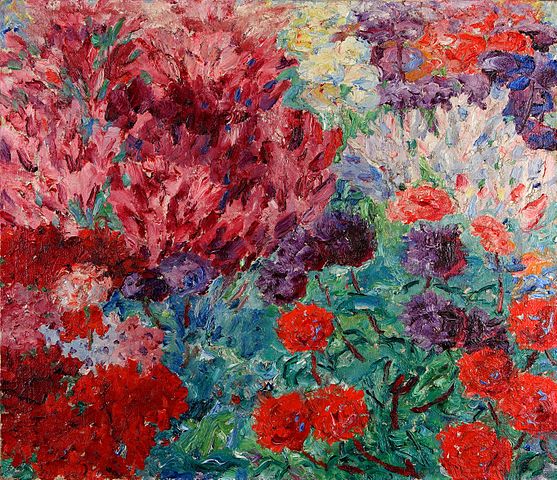 Born in 1867 near Nolde, Denmark, Emil Nolde was one of the first members of Die Brucke and an early Expressionist painter.
Nolde's artwork is characterized by the use of warm, passionate red, yellow and orange hues interacting with often melancholy scenes, vivid flowers and somber human faces.
Around 1905, Nolde began painting two-dimensional, religious scenes employing bright blues, yellows and red. Reportedly, Nolde had had a near death experience from drinking contaminated water, causing his shift from Impressionism to Expressionism.
He also created woodcut etchings during his religious phase that were darkly melancholy.
Although Nolde supported Hitler's ideology, the Nazis deemed his artwork modern and "degenerate" Secretly, he continued painting until the fall of Germany and entitled his cache of work Unpainted Pictures. Nolde died at the age of 89 in 1956
Famous Works by Emil Nolde
Christ and the Child (1910)
Prophet (1912 woodcut print)
Magicians (1935)
Dancer (1913)
10.

Hans Holbein the Younger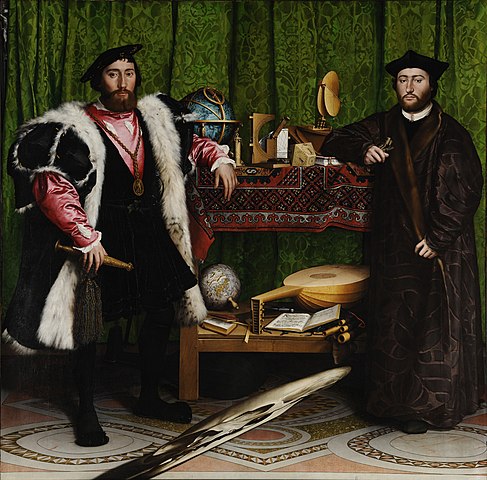 Born in 1497 in Germany, Holbein was a prolific painter, stained glass designer and woodcut printer of detailed portraits, religious scenes and Pro-protestant, Reformationist artwork spread extensively by utilizing the newly invented printing press.
His father, Hans Holbein the Elder was also a famous painter belonging to the Late Gothic art movement.
Influenced by his father and Renaissance humanism, Holbein the Younger developed a uniquely recognizable style of painting that is sometimes referred to as humanistic realism.
Although the superficial features of his portrait paintings are precisely rendered, Holbein excelled at deftly inserting substratums of allusion and symbolism that continue to fascinate modern art lovers today.
Holbein the Younger's most famous work of art is the woodcut print called "The Dance of Death".
Historians think Holbein died of the bubonic plague in the 17th century but there are no existing documents stating that was correctly his cause of death.
Famous Works by Hans Holbein the Younger
Portrait of Erasmus (1523)
Portrait of Sir Thomas Moore (1527)
Miniature Portrait of a Court Official's Wife (1534)
Portrait of Henry the VIII (1536)
11. Georg Baselitz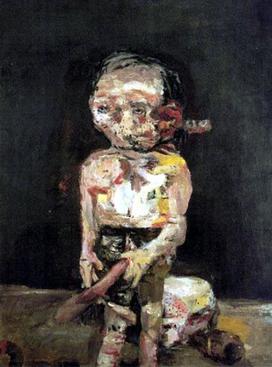 Georg Baselitz (born 23 January 1938) is a painter, sculptor, and graphic artist from Germany. He rose to prominence in the 1960s for his vivid, emotive paintings.
In 1969, he started painting his subjects upside down in an attempt to transcend the realistic, content-driven nature of his previous work and emphasize the artifice of painting.
He established his own, unique visual language by drawing from a wide range of inspirations, including Soviet-era graphic art, the Mannerism period, and African sculptures.
Hans-Georg Kern was born in Deutschbaselitz, Upper Lusatia, Germany. He grew up in the midst of World War II's misery and devastation, and the theme of destruction is central to his life and art.
These biographical situations repeat throughout his whole career. In this regard, the artist noted during an interview: "I was born into a demolished order, a demolished environment, a demolished people, and a demolished civilization. And I didn't want to restore order because I'd had enough of so-called order. I was forced to rethink everything, to be'naive,' to restart."
Baselitz's personal circumstances have become his guiding creative ideas by violating any provided directives and breaching normal perception rules.
To this day, he inverts all of his paintings, which has become the distinguishing aspect of his art.