Expressionism is a modernist trend that began in Northern Europe around the turn of the twentieth century, first in poetry and then art.
Its distinguishing feature is to depict the world purely from a subjective point of view, distorting it dramatically for emotional impact in order to elicit feelings or thoughts. Expressionist painters aimed to convey the significance of emotional experiences rather than physical truth.
Before the First World War, expressionism emerged as an avant-garde style. It was still popular throughout the Weimar Republic, especially in Berlin. Expressionist architecture, painting, literature, theater, dance, cinema, and music were all part of the movement.
Although the word expressionist may be used to artworks from any period, it is most often associated with twentieth-century art.
It is thought to have begun with Vincent Van Gogh and subsequently evolved into a significant stream of contemporary art that included Edvard Munch, fauvism and Henri Matisse, Georges Rouault, the Brücke and Blaue Reiter groups, Egon Schiele, Oskar Kokoschka, Paul Klee, and Max Beckmann, among many others.
The word is often connected with contemporary German art (also known as German expressionism), notably the Brücke and Blaue Reiter groups.
After WWII, an abstract style of expressionism known as abstract expressionism emerged in America.
Famous Expressionist Painters
1. Edvard Munch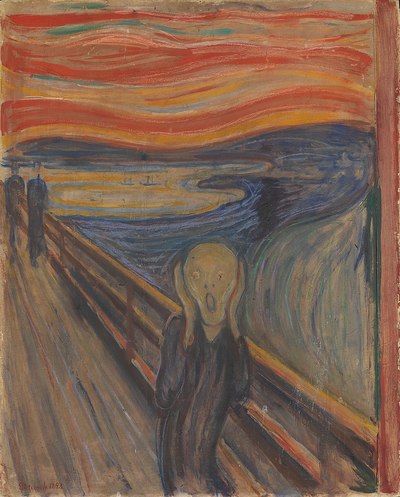 Edvard Munch was a Norwegian painter who lived from December 12, 1863 to January 23, 1944. The Scream (1893), his most famous piece, has become an iconic picture in the art world.
His boyhood was marred by sickness, loss, and the fear of inheriting a mental disorder that ran in his family. Munch started to live a bohemian life while studying at the Royal School of Art and Design in Kristiania (Oslo) under the influence of the nihilist Hans Jgaer, who encouraged him to depict his own emotional and psychological condition ('soul painting'). His individual style arose as a result of this.
In Paris, he studied a lot from Paul Gauguin, Vincent van Gogh, and Henri de Toulouse-Lautrec, particularly about color.
In Berlin, he met the Swedish playwright August Strindberg, whom he painted, as he began a significant sequence of works he subsequently called The Frieze of Life, representing a number of highly felt subjects like as love, anxiety, jealously, and betrayal, immersed in atmosphere.
Kristiania was the inspiration for The Scream. Munch was out strolling at twilight when he heard "the great, limitless wail of nature."
The pained face in the image is frequently associated with contemporary angst. Between 1893 and 1910, he created two painted versions, two pastel versions, and a number of prints. One of the pastels would later sell at auction for the fourth highest nominal amount paid for a painting.
His mental condition remained insecure as his celebrity and money soared. He briefly pondered marriage but was unable to commit. After a mental crisis in 1908 caused him to stop drinking heavily, he was encouraged by his growing acceptance by the people of Kristiania and exposure in the city's museums.
In his senior years, he worked in peace and seclusion. Despite the fact that his writings were outlawed in Nazi-occupied Europe, the majority of them survived World War II, ensuring his legacy.
2. Wassily Kandinsky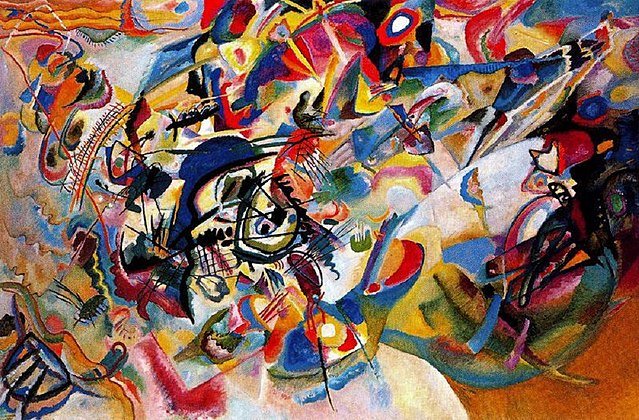 Kandinsky, Wassily Wassilyevich (16 December 1866 – 13 December 1944), was a Russian painter and art theorist. Kandinsky is widely regarded as one of the forefathers of abstract painting in Western art, maybe second only to Hilma af Klint.
He was born in Moscow and raised in Odessa, where he graduated from the Grekov Odessa Art School. He enrolled at Moscow University to study law and economics.
Kandinsky started painting studies (life-drawing, sketching, and anatomy) at the age of 30 after being awarded a professorship (chair of Roman Law) at the University of Dorpat (now Tartu, Estonia).
Kandinsky moved to Munich in 1896, where he studied first at Anton Abe's private school and later at the Academy of Fine Arts. After the commencement of World War I in 1914, he returned to Moscow. Following the Russian Revolution, Kandinsky "became an insider in Anatoly Lunacharsky's cultural administration" and helped construct the Museum of the Culture of Painting.
However, "his spiritual attitude… was alien to the arguing materialism of Soviet society at the time," and chances beckoned in Germany, where he went in 1920.
From 1922 until the Nazis disbanded the Bauhaus school of art and architecture in 1933, he taught there.
He subsequently relocated to France, where he spent the remainder of his life, becoming a French citizen in 1939 and creating some of his most notable work. He died three days before his 78th birthday in Neuilly-sur-Seine in 1944.
3. Ernst Ludwig Kirchner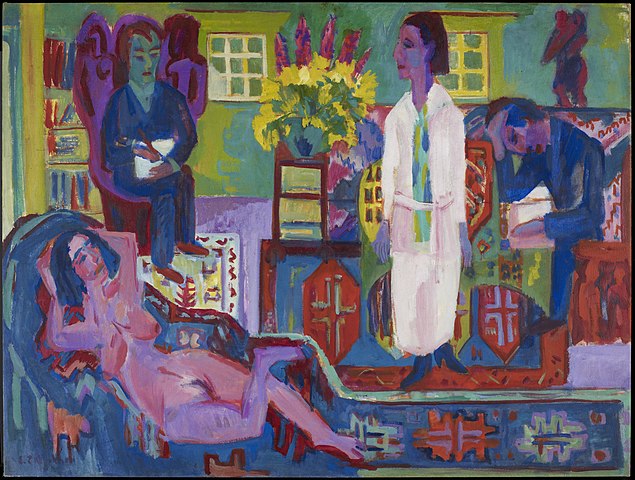 Ernst Ludwig Kirchner (May 6, 1880 – June 15, 1938) was a German expressionist painter and printer who was a founding member of the artists group Die Brücke or "The Bridge," a pivotal group in the development of Expressionism in twentieth-century art.
He joined for army duty during World War I, but was shortly released due to a nervous breakdown. In 1933, the Nazis labeled his art as "degenerate," and in 1937, more than 600 of his pieces were sold or burned.
4. Franz Marc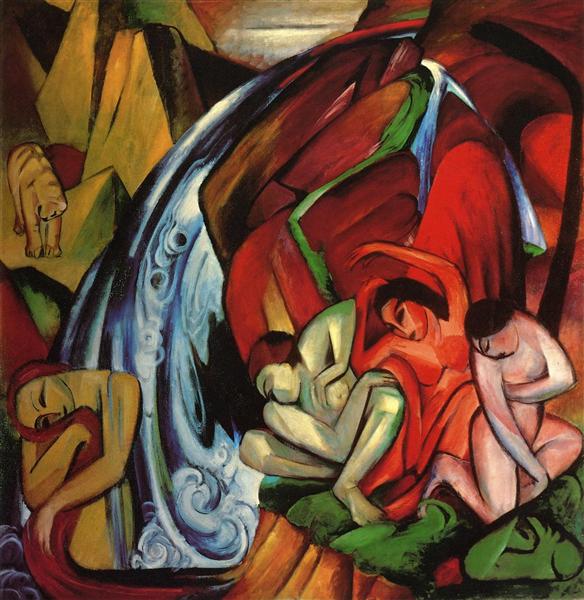 Franz Moritz Wilhelm Marc (February 8, 1880 – March 4, 1916) was a German painter and printer who was a prominent player in German Expressionism.
He was a founding member of Der Blaue Reiter (The Blue Rider), a periodical whose name became associated with the group of artists who contributed to it.
His mature paintings mostly show animals and are notable for their vibrant colors. In the start of World War I, he was recruited into the German army and killed two years later at the Battle of Verdun.
As part of their repression of contemporary art in the 1930s, the Nazis labeled him a degenerate artist.
However, the majority of his work survived WWII, ensuring his legacy. His art is presently on display at a number of prestigious galleries and institutions.
When his great paintings go up for sale, they fetch significant prices, including a record of £12,340,500 ($24,376,190) for Weidende Pferde III (Grazing Horses III).
5. Egon Schiele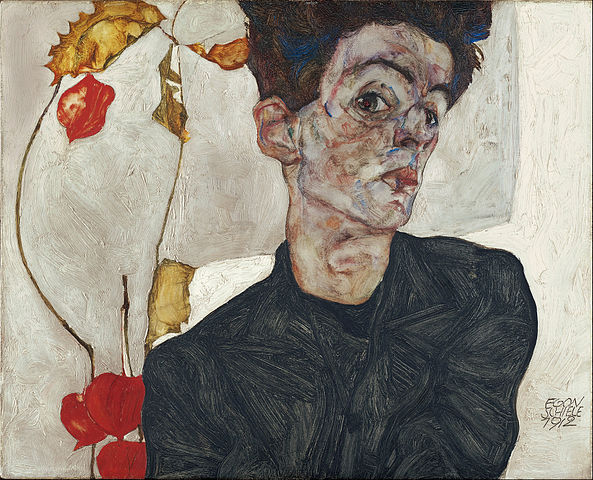 Egon Leo Adolf Ludwig Schiele was an Austrian Expressionist painter who lived from 12 June 1890 to 31 October 1918.
Schiele, a protégé of Gustav Klimt, was a famous figurative painter of the early twentieth century. His work is notable for its intensity and raw sensuality, as well as the artist's numerous self-portraits, including naked self-portraits.
Schiele's paintings and sketches are distinguished by their twisted body forms and expressive line, establishing the artist as an early exponent of Expressionism.
6. Paul Klee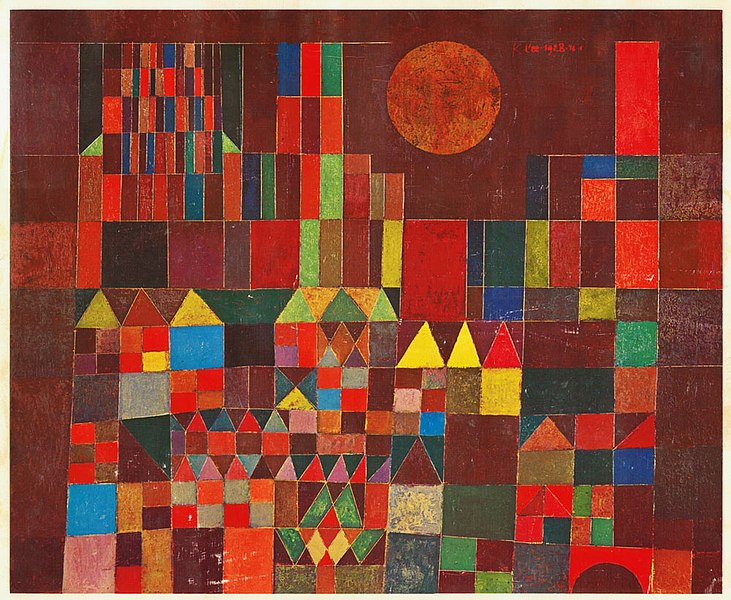 Paul Klee (18 December 1879 – 29 June 1940) was a German artist of Swiss origin. His distinct style was inspired by art trends such as expressionism, cubism, and surrealism.
Klee was a natural draftsman who experimented with and eventually deeply explored color theory, writing extensively about it; his lectures Writings on Form and Design Theory (Schriften zur Form und Gestaltungslehre), published in English as the Paul Klee Notebooks, are regarded as equally important for modern art as Leonardo da Vinci's A Treatise on Painting for the Renaissance.
Both he and his colleague, Russian painter Wassily Kandinsky, taught at Germany's Bauhaus school of art, design, and architecture.
His paintings exhibit his sarcastic wit and often infantile viewpoint, as well as his unique moods and views and musicality.
7. Emil Nolde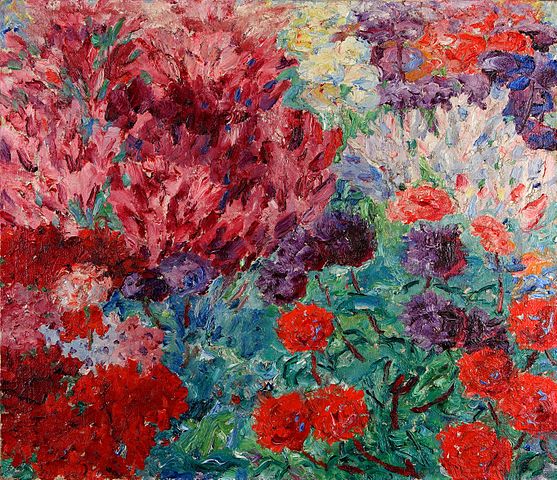 Emil Nolde (born Hans Emil Hansen; 7 August 1867 – 13 April 1956) was a painter and printer of German-Danish origin.
He was a founding member of Die Brücke and one of the first oil and watercolor artists of the early twentieth century to experiment with color.
He is well-known for his expressive color palette and brushwork. Golden yellows and deep reds are commonly used in his work, lending a radiant appearance to otherwise dark tones. His paintings depict vibrant blooms and striking stormscapes.
Nolde's great fascination with the theme of flowers mirrored his admiration for Vincent van Gogh's paintings.
Despite the fact that his work was featured in the 1937 Entartete Kunst show, Nolde was a racist, anti-semite, and fervent admirer of Nazi Germany.
8. Anita Malfatti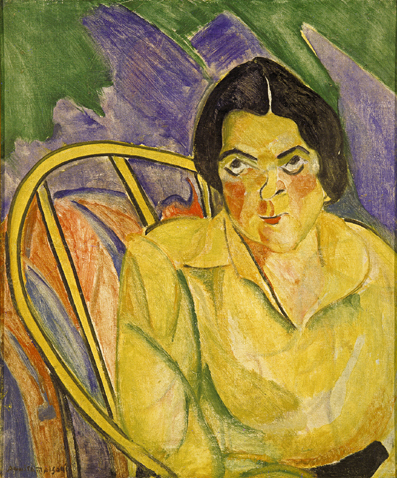 Anita Catarina Malfatti (December 2, 1889 – November 6, 1964) is credited as being the first Brazilian artist to bring European and American Modernism to Brazil.
Her solo exhibition in Sao Paulo from 1917 to 1918 was controversial at the time, and her expressionist style and subject were revolutionary for the complacently old-fashioned art expectations of Brazilians seeking a national identity in art, but who were unprepared for the influences Malfatti would bring to the country.
Malfatti's presence was also felt strongly during the Week of Modern Art (Semana de Arte Moderna) in 1922, when she and the Group of Five made significant revolutionary changes in the organization and attitude to modern art in Brazil.
9. Otto Dix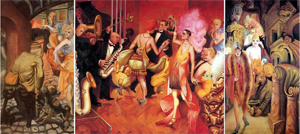 Wilhelm Heinrich Otto Dix (December 2, 1891 – July 25, 1969)[1] was a German painter and printer best known for his merciless and ruthlessly realistic representations of German society under the Weimar Republic and wartime savagery.
He is usually regarded as one of the most prominent painters of the Neue Sachlichkeit, alongside George Grosz and Max Beckmann.
When the First World War broke out, Dix enlisted in the German Army. In Dresden, he was assigned to a field artillery unit.
He was posted as a non-commissioned officer to a machine-gun regiment on the Western front in the fall of 1915, and he participated in the Battle of the Somme.
His regiment was deployed to the Eastern front in November 1917 until the conclusion of hostilities with Russia, and he was stationed in Flanders in February 1918.
He fought in the German spring assault when he returned to the Western Front. He was awarded the Iron Cross (second class) and was promoted to the rank of vizefeldwebel.
The images of the battle had a tremendous impact on Dix, who subsequently recalled a recurrent nightmare in which he crept through ruined buildings.
Many of his following works reflected his terrible experiences, notably Der Krieg, a portfolio of fifty etchings released in 1924. Following that, he returned to the battlefield with The War Triptych, which he painted between 1929 and 1932.
10. Piet Mondrian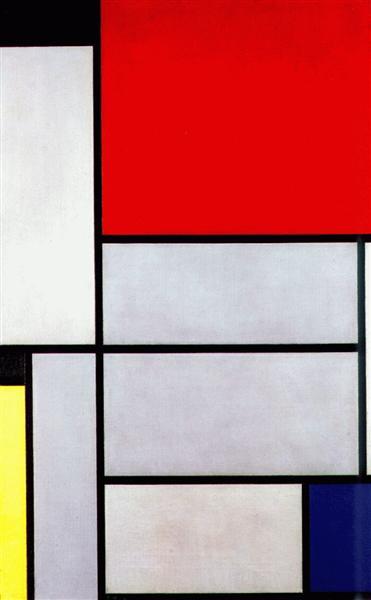 Pieter Cornelis Mondriaan (7 March 1872 – 1 February 1944) was a Dutch painter and art theorist who is considered as one of the twentieth century's best painters.
He is regarded as one of the forefathers of twentieth-century abstract art, having transitioned from figurative painting to an increasingly abstract manner, until his creative language was reduced to mere geometric components.
Mondrian's work had a huge impact on twentieth-century art, influencing not only the course of abstract painting and numerous major styles and art movements (e.g. Color Field painting, Abstract Expressionism, and Minimalism), but also fields other than painting, such as design, architecture, and fashion.
11. August Macke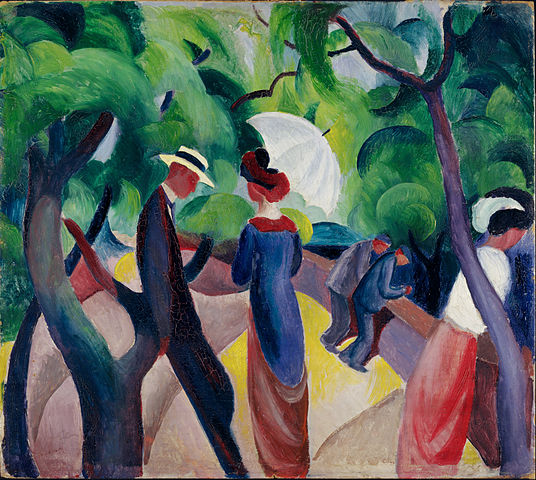 August Robert Ludwig Macke was a German Expressionist painter who lived from 3 January 1887 to 26 September 1914. He was a key member of the German Expressionist ensemble Der Blaue Reiter (The Blue Rider).
He lived during a highly dynamic period in German art, seeing the birth of the major German Expressionist groups as well as the advent of the succeeding avant-garde movements that were emerging across Europe.
As a contemporary artist, Macke understood how to incorporate aspects of the avant-garde that piqued his attention into his work. He was one of the young German painters who perished in the First World War, along with his friends Franz Marc and Otto Soltau.
12. Marc Chagall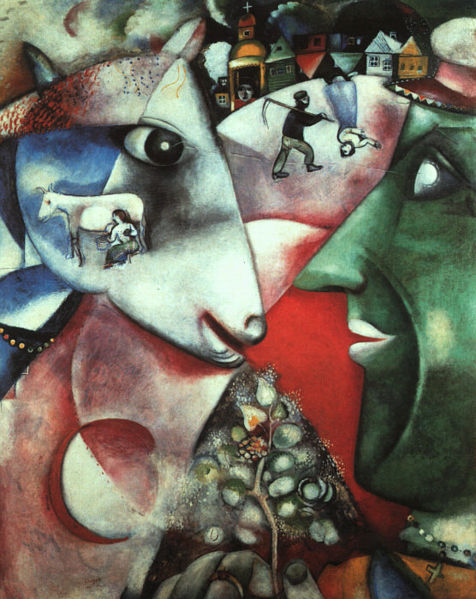 Marc Chagall was a French artist who lived from 6 July 1887 to 28 March 1985. He was an early modernist who worked in a variety of creative mediums, including painting, drawings, book illustrations, stained glass, stage sets, ceramics, tapestries, and fine art prints.
He was of Belarusian Jewish heritage and was born in modern-day Belarus, which was then part of the Russian Empire. Prior to WWI, he traveled between Saint Petersburg, Paris, and Berlin.
Also Read: Famous Jewish Artists
During this time, he developed his own blend and style of contemporary art based on his perceptions of Eastern Europe and Jewish folk culture.
He spent the war years in Soviet Belarus, where he established the Vitebsk Arts College and became one of the country's most prominent painters and members of the modernist avant-garde before returning to Paris in 1923.
13. Francis Bacon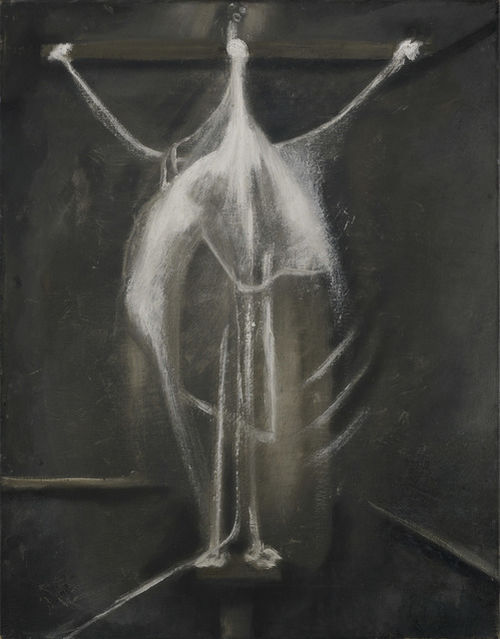 Francis Bacon (28 October 1909 – 28 April 1992) was a British figurative painter of Irish origin who was noted for his raw, frightening images.
His themes, which centered on the human form, included crucifixions, portraits of popes, self-pictures, and portraits of intimate friends, with abstracted individuals often alone in geometrical constructions.
Bacon, while rejecting numerous categorization of his work, said that he aimed to depict "the savagery of actuality." With his own style, he established himself as one of the modern art's heavyweights.
Bacon said that he viewed pictures "in series," and his work, which includes over 590 surviving works as well as many that he destroyed, often concentrated on a single topic for extended periods of time, frequently in triptych or diptych configurations.
14. Amedeo Modigliani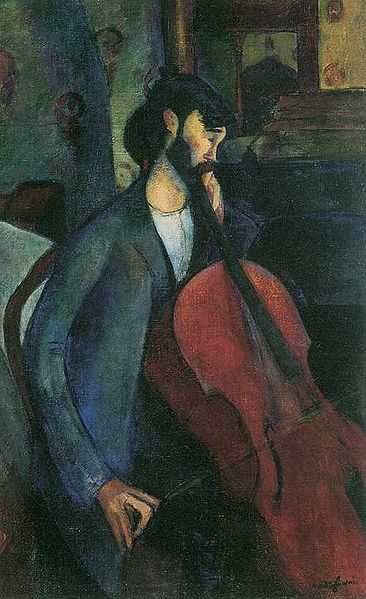 Amedeo Clemente Modigliani (July 12, 1884 – January 24, 1920) was an Italian painter and sculptor who mostly worked in France.
He is best known for portraits and nudes in a contemporary style typified by a surreal elongation of features, necks, and bodies, which were not well appreciated during his lifetime but have since become highly sought-after.
Modigliani spent his childhood in Italy, where he studied antique and Renaissance art. In 1906, he relocated to Paris, where he met artists like as Pablo Picasso and Constantin Brâncuși.
Modigliani was showing highly stylized sculptures alongside Cubists from the Section d'Or group at the Salon d'Automne by 1912.
Modigliani's output consists of both paintings and sketches. From 1909 until 1914, he focused mostly on sculpting. Portraits and complete figures were his major subjects, both in pictures and sculptures.
Modigliani had limited success while living, but he became very famous after his death. He died in Paris at the age of 35 from tubercular meningitis.
15. Gabriele Münter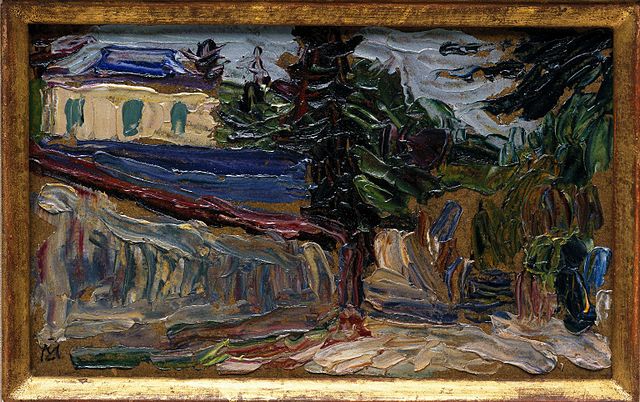 Gabriele Münter (19 February 1877 – 19 May 1962) was a German expressionist painter who was at the forefront of the early twentieth-century Munich avant-garde.
She was a founder member of the expressionist group Der Blaue Reiter and studied and lived with the painter Wassily Kandinsky.
Münter was significantly influenced by German Expressionism and worked in a variety of materials, including wood- and linocuts.
She maintained a notebook and used a high-tech camera to chronicle her travels. She was acquainted with several of the most well-known painters of the day, and she mentioned in one of her notebooks that she wished to learn from the avant-garde artists of France.
Münter was a member of a small group of painters who were instrumental in changing late Impressionist, Neo-Impressionist, and Jugendstil (or Art Nouveau) painting into the more radical, non-naturalistic art today known as Expressionism.
Münter grew up with a strong interest in landscapes. With gently subdued hues, compressed visual space, and flattened shapes, Münter's landscape paintings utilize a radical Jugendstil simplicity and provocative symbolism.
She was fascinated by the world of children; employing vivid prints of children and toys, Münter demonstrates accuracy and simplicity of form in her rejection of symbolic meaning.