Impressionism is a 19th-century art trend distinguished by tiny, thin, yet discernible brush strokes and an open composition.
The fundamental focus of the impressionists was on the realistic representation of light in its changing properties, commonplace subject matter, uncommon visual perspectives, and the incorporation of movement as a key part of human perception and experience.
Rather of painting in a studio, the impressionists discovered that they could capture the fleeting and fleeting effects of sunlight by working swiftly in front of their subjects in the open air (en plein air) rather than in a studio.
As a consequence, there was a higher awareness of light and color, as well as the changing pattern of the natural world. Brushwork grew faster and more fragmented in order to capture the ephemeral character of light.
It is in the painting of impressionist landscapes that the art style found its strength as one of the first truly modern art movements.
Famous Impressionist Landscape Paintings
1. Impression, Sunrise – Claude Monet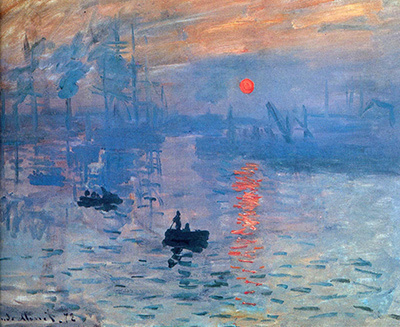 Claude Monet is often regarded as the greatest renowned French artist of all time, and his most significant work is Impression, Sunrise.
Monet is most recognized for creating the paintings that sparked the Impressionist art movement in the mid-nineteenth century.
This piece, completed in 1872, depicts a seascape view from Le Havre, France, where Monet is reputed to have spent a significant amount of time throughout his lifetime.
The picture is well-known for its subdued but entrancing hues, which show a peaceful daybreak over a busy port city at the time Monet painted it. The bigger ships and barges are scarcely visible against the early mist.
Also Read: Paintings in Paris
A few lone boats are prominently highlighted in the painting's center, alluding to a feeling of simplicity that Monet either saw or desired.
It was displayed with a number of other works by lesser-known artists at the time, but appeared to elicit considerable curiosity from the audience.
The painting has long been regarded as one of Monet's most celebrated works and one of the best French works of all time.
2. The Bridge at Villeneuve-la-Garenne – Alfred Sisley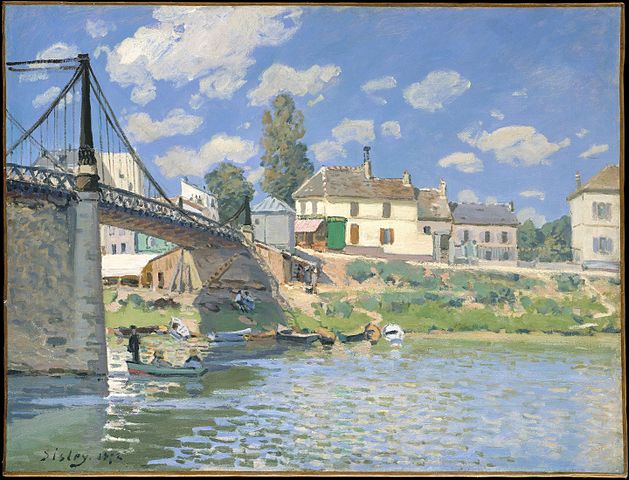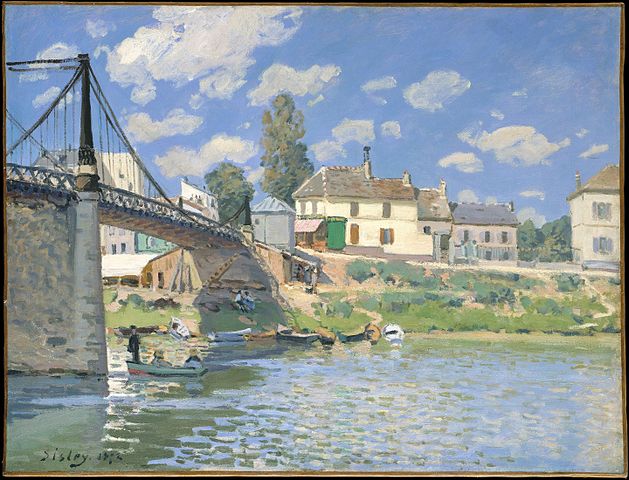 Alfred Sisley (30 October 1839 – 29 January 1899) was an Impressionist landscape painter who was born in France and lived there for the most of his life, yet was actually a British national born in Paris to affluent British parents.
He was the most dedicated of the Impressionists to painting landscapes en plein air (i.e., outdoors). He only sometimes dabbled in impressionist portrait painting and, unlike Renoir and Pissarro, thought that landscapes satisfied his creative demands.
Recently constructed, cutting-edge bridges, indicative of modernity, feature in many of Sisley's bridge paintings from the 1870s and early 1880s.
The cast-iron and stone suspension bridge that was built in 1844 to link the town of Villeneuve-la-Garenne with the Paris neighborhood of Saint-Denis is shown in this close-up, sharply tilted perspective.
Sisley brightened the atmosphere by portraying tourists on the Seine and along the riverbank. Flat strokes of high-keyed color depict the ephemeral appearance of sunlight on water.
3. Poplars (Autumn) – Claude Monet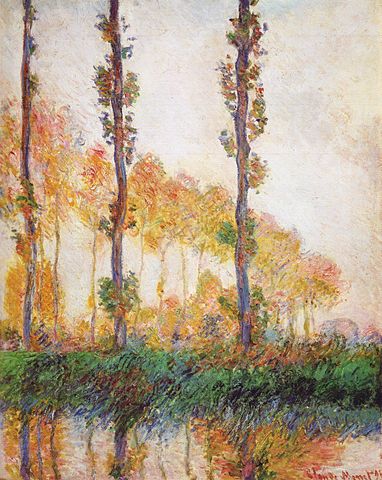 Claude Monet painted the Poplars series throughout the summer and autumn of 1891. The trees were in a marsh along the Epte River's banks, a few kilometers upstream from Monet's house and studio.
To get to his floating painting studio, which was anchored in a neighboring canal, he took a small boat up the adjoining waterway until it reached the main channel.
Also Read: Famous Tree Paintings
The trees, which originally belonged to the commune of Limetz, were auctioned off before Monet finished all of his paintings.
Monet was obliged to acquire the trees at one time since he wasn't completed with his paintings. After completing the series, he returned the trees to the timber merchant who had requested them.
4. Pont Boieldieu in Rouen, Rainy Weather – Camille Pissarro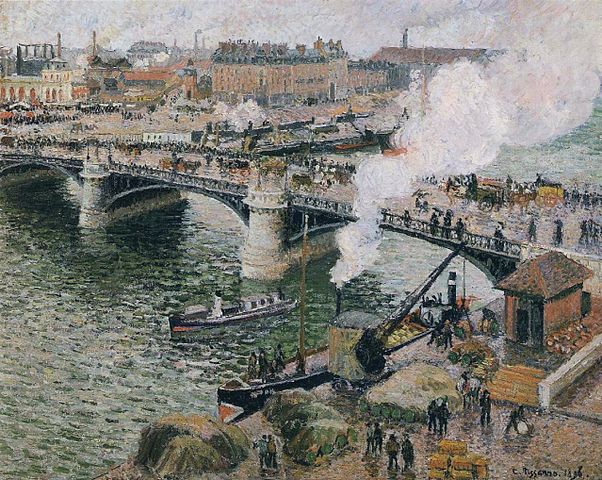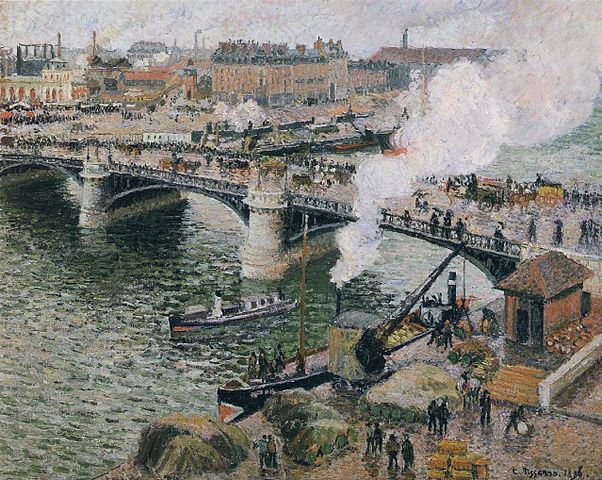 Camille Pissarro's 1896 work Rainy Weather at the Pont Boieldieu in Rouen is in the collection of the Art Gallery of Ontario.
It is one of a sequence of paintings Pissarro created of the Pont Boeldieu and the industrial quays that surround it. Pissarro visited Rouen in 1896, hoping to capture the industrial modernity of the city.
He had already visited the city in 1883 and had created a series of photographs of it at the time. From January to April 1896, during his first journey in 1896, he stayed at the Hôtel de Paris in Rouen, where he created this picture. His room overlooked the Seine, and it was painted from this vantage point.
Pissarro's interest in pushing beyond typical landscape paintings of lush rural landscapes is evident in this piece. His Rouen series, on the other hand, concentrates on the hustle and bustle of contemporary city life.
The Rouen paintings would be followed by a sequence of metropolitan Paris works. At terms of style, Pont Boieldieu's Rainy Weather in Rouen represents a return to Impressionism after a decade of dabbling with Post-Impressionism and Pointillism.
5. Footbridge at Argenteuil – Alfred Sisley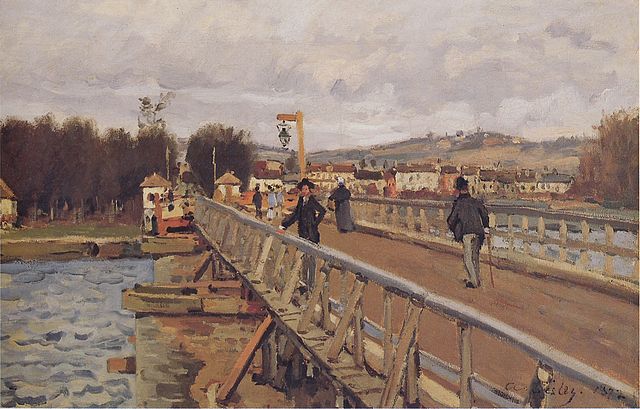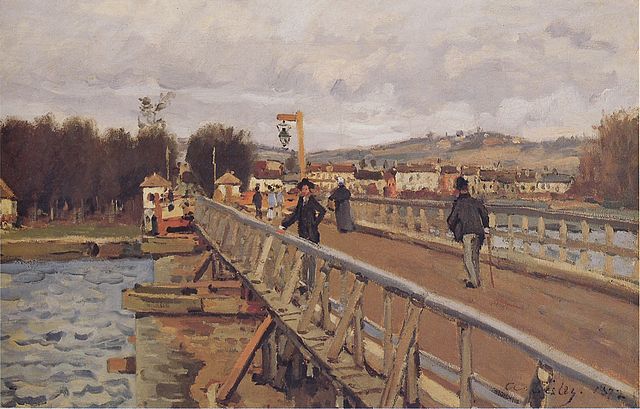 Alfred Sisley's Footbridge at Argenteuil is an oil on canvas landscape painting in 1872. Sisley was clearly busy, since he created a number of riverscapes and seascapes in the same year, both in England and France, as well as numerous comparable works in subsequent years.
Argenteuil, a little neighborhood of Paris on the Seine, was the single most significant venue for the genesis of impressionism.
This working town beckons as a handy weekend trip destination, barely 15 minutes by rail from the Gare Saint-Lazare.
Claude Monet arrived at Argenteuil in 1871, and he was later followed by Auguste Renoir, Édouard Manet, Alfred Sisley, Eugène Boudin, and Gustave Caillebotte.
6.

Water Lily Pond

– Claude Monet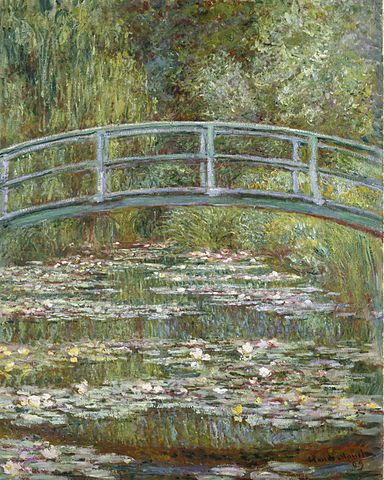 Claude Monet (1840–1926) created a series of roughly 250 oil paintings titled Water Lilies.
The paintings represent his flower garden at his house in Giverny, and they were the major focus of his creative output for the final thirty years of his life. Many of the paintings were created when Monet was suffering from cataracts.
Monet spent a lot of time and effort developing and maintaining the garden, which would become the subject of hundreds of his paintings.
The paintings may be seen in museums all throughout the globe and they are often exhibited as part of traveling tours so keep a eye out for them at large art museums in your area.
7. The Funeral – Édouard Manet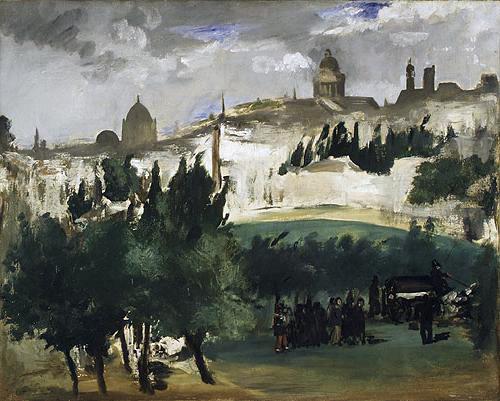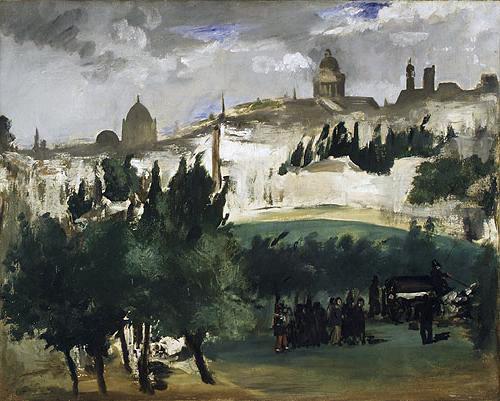 The Funeral is an 1867–1870 oil on canvas work by Édouard Manet that is presently housed in New York's Metropolitan Museum of Art.
Although it is unfinished, its style is quite similar to that of The Effect of Snow on Petit-Montrouge and The Exposition Universelle of 1867. It is also known as Burial at the Glacière (Enterrement à la Glacière), which Denis Rouart and Daniel Wildenstein gave it in their postmortem inventory of Manet's works.
The painting was most likely inspired by Manet's attendance at the burial of his friend Charles Baudelaire on September 2, 1867.
The weather was gloomy that day, the sky was dark, and the cortège was tiny because, according to Charles Asselineau, many individuals had left Paris and would not be able to return in time. When they returned, there were around a hundred people in the chapel and in the Montparnasse Cemetery.
8. Mouth of the Seine at Honfleur, Evening – Georges Seurat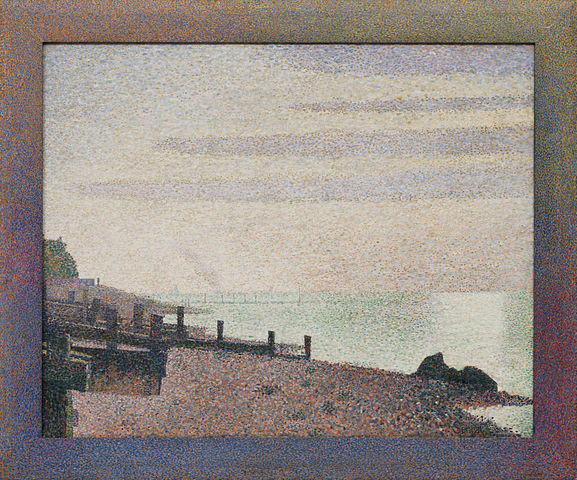 Seurat famous for his pointillism paintings spent the summer of 1886 at Honfleur, a tourist town on the northern French coast with stormy waves and craggy shorelines that had long drawn painters.
Seurat utilized his studies in optical theory to create pointillism, a methodical approach for creating shape out of microscopic dots of pure color. These dots may condense into forms and remain independent particles in the viewer's vision, resulting in a mystical shimmer.
Seurat created a frame around the picture to soften the transition between the painting's realm and reality. The specks in the frame get brighter in the top right, lengthening the beams of the setting sun.
9. Grainstacks at the End of Summer, Morning Effect – Claude Monet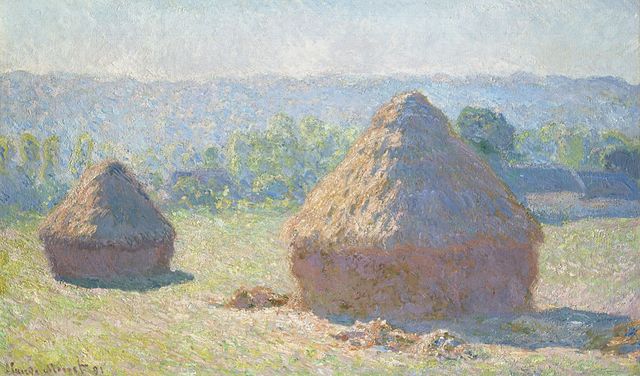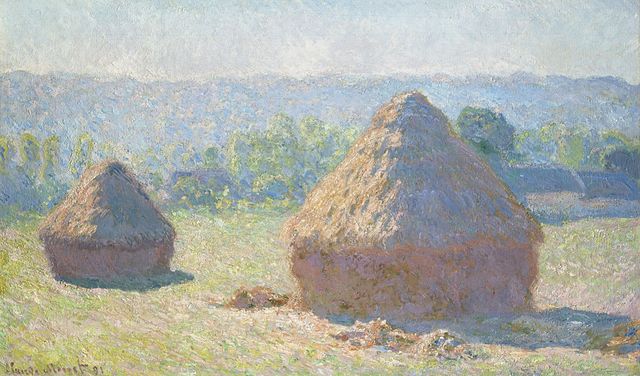 The usual English term for Claude Monet's sequence of impressionist paintings is Haystacks. Stacks of harvested wheat (or maybe barley or oats) are the main topic of each picture in the series.
The title relates mostly to a twenty-five canvas series that Monet started around the end of the summer of 1890 and lasted into the following spring, but Monet also created five earlier works based on the same stack subject.
Also Read: Park Paintings
The series is noteworthy for the way Monet reproduced the same subject to illustrate the changing light and atmosphere at various times of day, seasons, and weather conditions.
Monsieur Quéruel, Monet's farmer neighbor, owned the stacks. Monet requested his stepdaughter, Blanche Hoschedé, to bring him two canvases, one for sunny and one for cloudy weather, after seeing how the light shifted on M. Quéruel's stacks.
But Monet rapidly discovered that he couldn't capture the ever-changing light and mood on just two canvases: as a consequence, his eager assistant was swiftly delivering as many canvases as her cart could carry.
10.

Pont Neuf

– Pierre-Auguste Renoir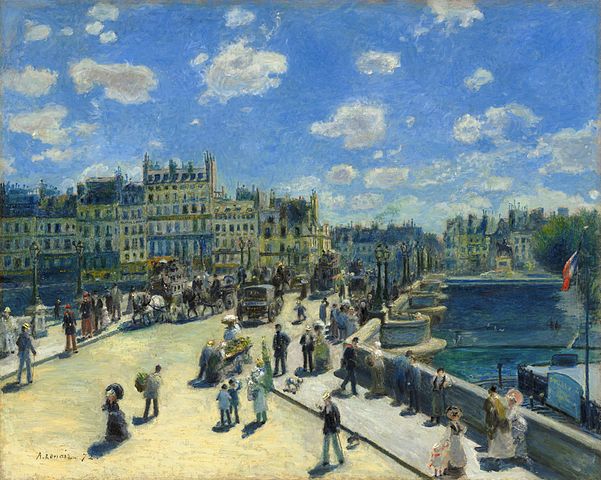 Auguste Renoir painted Le Pont-Neuf in 1872. It is on display in the National Gallery of Art in Washington, D.C. It is a representation of Paris's Pont Neuf.
The artwork depicts the Pont-Neuf in Paris, one of the city's oldest bridges, in a seductive picture from above, drenched in the radiant light of a summer morning.
Renoir used color strongly and unapologetic-ally. His hand is unmistakable at first sight, despite the fact that he is not yet totally impressionist.
The figures are painted with a few rapid brushstrokes, the features and garments are transformed into pure specks of light and color, and the whole ambiance is given a nice blue tone.