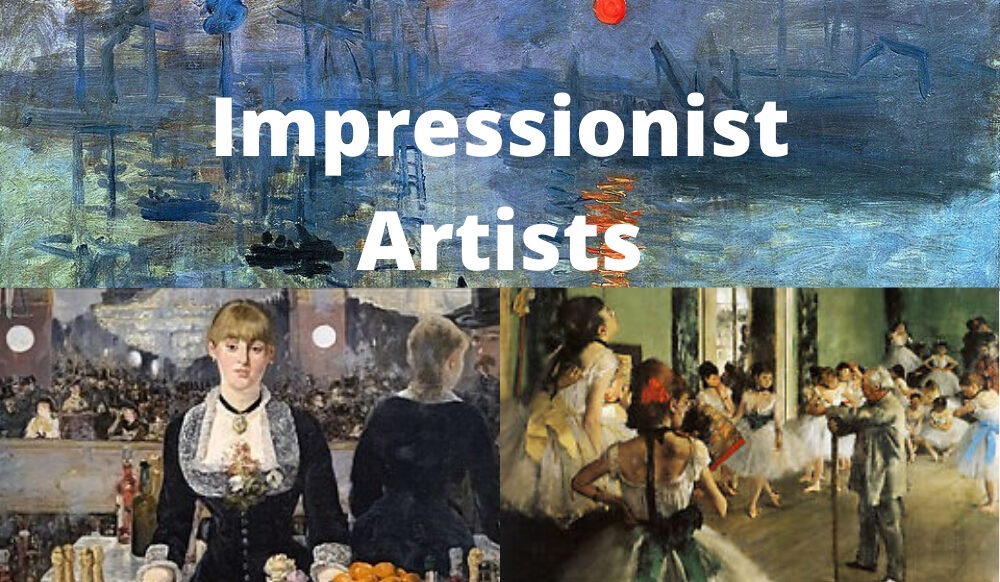 7 Famous Impressionist Artists
Initially the famous impressionist artists in this list were strongly rejected by the art critics of the day.
Impressionism was a massive departure from the more traditional realistic works of the day.
More and more everyday scenes and people became their subject matter as opposed to the more conventional paintings and portraits of upper class patrons.
The style was exemplified by brighter colors and a very little black used by the artists, different changes in color and tone gave form and structure to individual objects rather than distinct lines.
Below you will find a list of the most famous impressionist artists and their lives.
Famous Impressionist Artists
1.
Claude Monet
Claude Monet, born in 1840 Paris, was an ambitious french painter and often regarded as one of the most important founders of impressionism. In fact, the term impressionism was coined from one of his most famous paintings Impression, Sunrise.
During his youth, he became locally known for his charcoal caricatures, but it wasn't until Eugene Boudin became his mentor that he learned oil painting and outdoor techniques.
After traveling for many years throughout his childhood, Monet eventually returned to Paris. During this time, he met many fellow eventual impressionist painters such as Édouard Manet whom he befriended.
While in Paris, he was drafted for the military, but his aunt was able to get him released from the army with the condition that he complete a course at an art school. After many years of hardship and success, Monet died from lung cancer at 86, requesting a small and intimate funeral.
His most famous early work was The Woman in the Green Dress, painted after his wife, Camille Doncieux, whom he often used as a model.
Most of Monet's famous paintings, however, focused on landscapes and seascapes, particularly of the French countryside.
He would paint the same scene many times over in order to capture the passing of time and the changes in light and color.
Among the impressionist he is considered to be the most famous painters of the style.
2.
Édouard Manet
Édouard Manet was pivotal in the shift from realism to impressionism. While always revering realism, his controversial and bold impressionist works drew great criticism and admiration among artists of his time.
Born in 1832 to a wealthy family in Paris, he aspired to become an artist from an early age, and, with encouragement from his uncle, he was mentored by Thomas Couture.
To further educate himself, he traveled to Italy, Germany, and the Netherlands which heavily impacted his style and artistic concept.
At first, Manet painted contemporary themes, but later moved on to historical and religious depictions.
His first painting that received recognition was The Spanish Singer. It was featured in the Paris exhibit known as The Salon where it was criticized as "slapdash", but later his bold choices in subjects earned him greater controversies and notoriety.
His works like The Luncheon on the Grass and Olympia depicted naked women and received heavy backlash for being immoral and vulgar by many of his conservative contemporaries.
Most of his later works were still-life's and drew little criticism, although his last painting, A Bar at the Folies-Bergere, depicts a scene in a nightclub of the same name and has stirred conversation for over one-hundred years.
3.
Egdar Degas
Although Edgar Degas is now known as a French impressionist, he rejected the term and instead thought of himself as a realist.
Born in Paris in 1834 to a wealthy family, Degas was an ambitious artist from a young age. Although he suffered from failing eyesight all his life, he pursued a career in history painting with years of rigorous training.
By the time he was eighteen he had converted an entire room in his house into a personal studio. After years of historic works, he shifted his focus in his thirties to contemporary subjects where he earned great praise for his works.
Some of the most famous impressionist paintings that the general public would associate with impressionism would be Degas's Ballerina series.
Much of his contemporary works depicted ballerinas and dance scenes, the most notable being The Dance Class and Musicians in the Orchestra, although he was also partial to horse racing and jockeys.
His paintings were particularly lauded for their depth of psychological complexity in portraying human isolation, a subject he had much experience in.
Degas believed a painter could not have a personal life and isolated himself from the outside world. Eventually his friends abandoned him and, due to his failing eyesight, spent the last years of his life wandering the streets practically blind.
4.
Pierre-Auguste Renoir
Pierre-Auguste Renoir was born in 1841 to a poor family in Limoges, France but later moved to Paris near the Louvre. He embraced a brighter palette, focusing on intimate and candid subjects.
Aside from portraits, he often painted the female nude body, but, in his later years, turned to domestic and rural scenes.
As a teenager, Renoir started an apprenticeship to a porcelain painter while studying drawing at a free art school. In 1864, The Paris Salon first accepted his work La Esmerelda.
After another piece was accepted at The Salon, he had enough recognition to commission portraits for individuals in order to help support himself. Oftentimes, in order to remain financially stable, he would depend on family, friends, and patrons to help support him.
In 1870 Renoir was drafted into the army, but, thanks to him contracting dysentery, he never saw battle. After the war, he returned to Paris and continued painting, eventually gaining much notoriety for portraits he did.
Unfortunately, in his later years he developed rheumatism which disfigured his hands and made painting difficult for him. He continued to paint with a brush strapped to his fingers until his death in 1919.
5.
Camille Pissarro
Camille Pissarro was born on the island of St. Thomas in 1830. At the age of twelve, he was sent to boarding school near Paris where he was encouraged to draw and paint. When he returned, he worked at his father's business, working on his art in his free time, always of nature scenes.
Later, he moved to Venezuela where he found inspiration from its landscapes and villages. Eventually he moved to Paris but only lasted a year before moving to the French countryside.
During the war, he fled to London, only to return and find many of his works destroyed by soldiers. Once back, he continued to paint, developing and abandoning neo-impressionism throughout his adulthood.
Pissarro found the only things worth painting were village life and landscapes. Instead of glorifying the scenes he painted, he preferred to objectively chronicle.
Towards the end of his life, Pissarro developed an eye infection that made him unable to paint outside unless it was warm. Instead, he continued to paint from hotel room windows that were high enough to see a broad view of the landscape out the window until he died in 1903.
6.
Mary Cassatt
Mary Cassatt was a life-long equal rights advocate, resenting the exclusion of women in the arts. Most of her work focused on the social and private lives of women, particularly of mothers with their children.
Cassatt was born in Pennsylvania in 1844 to a well-to-do family. She traveled extensively during her childhood, leading to her exposure to drawing while abroad.
At the age of fifteen, she enrolled at Pennsylvania Academy of Fine Arts and studied painting, to her father's dismay. In her adult life, she moved to France and, due to females not yet welcome in most areas of artistic professions, she studied privately as a copyist.
Once the war in France started, Cassatt returned to the United States and lived with her family where her father refused to assist in her aspirations.
After the war, she returned to France and had one of her works accepted into The Paris Salon shortly after.
After some professional success, she experienced a slump in her career when she was then invited to join the Impressionists in their exhibit. It brought her much more success which she enjoyed for the remainder of her life.
7.
Alfred Sisley
Alfred Sisley was born to an affluent Breton family in Paris, France in 1839. After dropping out of business school in London, he pursued art school. There, he met Claude Monet and Pierre-Auguste Renoir and would paint with them outside.
Due to the unwelcome novel style of his work, the paintings he did rarely sold and were not displayed for a long time in The Paris Salon. It wasn't until 1868 that his first piece was accepted by The Salon, and he did not receive wide success or financial stability from it.
During the war in France, Sisley's father's business failed and his family lost all their money, requiring Sisley to depend on his artwork sales for sustenance.
Unfortunately, his paintings did not significantly rise in financial value until after his death and he experienced poverty until he died of throat cancer in 1899.
Throughout his life, Sisley was a strict adherent to painting his works outside. Almost exclusively he painted landscapes, more than any other impressionist painter, with the occasional deviation to figure painting.
---
This collections of famous impressionist artists and painters although not exhaustive covers the main protagonists in the movement.