The Impressionists painted in a manner comparable to that of the preceding Realism period, which showed situations with as much precision as possible in terms of colors, forms, perspectives, and other characteristics.
Realist artists worked diligently to capture their surroundings, whereas the Impressionist style was established to emphasize the pleasant parts of life and society over negative occurrences or interactions.
While Impressionist artists focused on the world around them, they strove to portray their themes in a manner that highlighted the most beautiful parts of social life and the natural environment.
Numerous Impressionists painted images of nature or people interacting in a natural context. Other painters concentrated on cityscapes and scenes from mid-to-late-nineteenth-century Parisian life.
While their main focus was on landscapes they still produced hundreds of Impressionist portraits often of family members and friends.
Famous Impressionist Portraits
1. Little Girl in a Blue Armchair – Mary Cassatt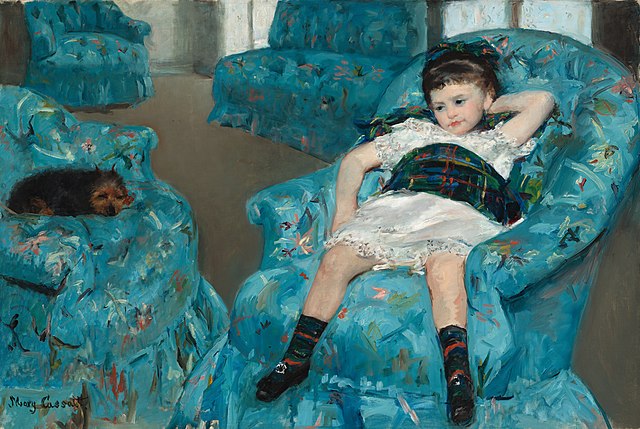 Little Girl in a Blue Armchair is an 1878 oil painting by Mary Cassatt, an American painter, printmaker, and pastelist.
The picture is in the collection of the National Gallery of Art in Washington, D.C.
Edgar Degas made some adjustments to it. Degas' contribution has been authenticated by recent cleaning and infrared imaging at the National Gallery of Art.
Also Read: Mary Cassatt Paintings
By 1877, Cassatt had fallen out with the official French art establishment and had both of her Salon applications for that year rejected.
So, when Edgar Degas encouraged her to join the Impressionists the next year, a group also dissatisfied with the Salon system, she joined with zeal.
2. Place de la Concorde – Edgar Degas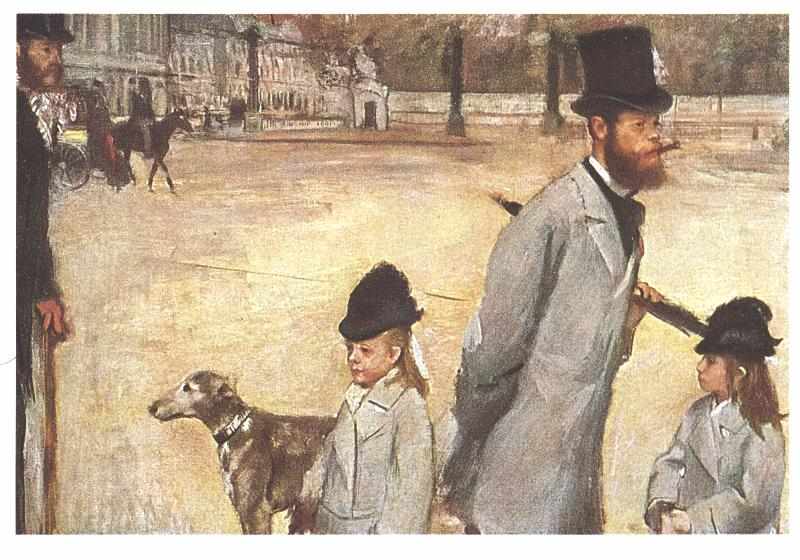 Edgar Degas's 1879 oil painting Place de la Concorde or Viscount Lepic and his Daughters Crossing the Place de la Concorde. It features Ludovic-Napoléon Lepic, his children, his dog, and a lone guy on the left in Paris's Place de la Concorde. In the backdrop, behind a stone wall, are the Tuileries Gardens.
Numerous art historians feel that photography affected the vast quantity of negative space, the cropping, and the way the people face in random directions.
For four decades after World War II, the artwork was presumed lost, until Russian officials placed it on display in Russia's Hermitage Museum, where it remains to this day.
During the Soviet occupation of Germany, the Soviets took the piece from German art patron Otto Gerstenberg's collection and subsequently transferred it to the Hermitage.
In a second work, Degas also depicted Ludovic Lepic and His Daughters.
3. La Loge – Pierre-Auguste Renoir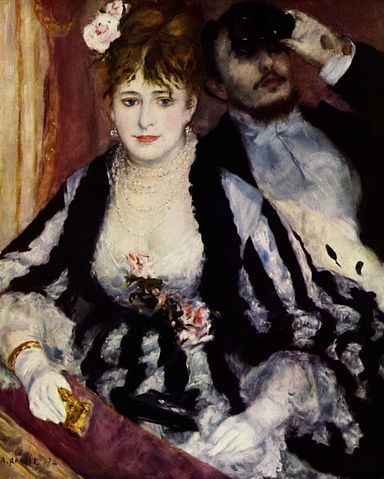 Pierre-Auguste Renoir's 1874 oil painting La Loge. It is part of the Courtauld Institute of Art's collection in London.
The picture portrays a young couple sitting in a box at a Parisian theater. Nini Lopez, Renoir's new model who would appear in fourteen of his works over the following several years, modeled for the lady.
His brother Edmond, a journalist and art critic, was the guy. Going to the theatre was about being seen as much as it was about enjoying the play, and as the lady makes her presence known, her partner scans the crowd via his opera-glasses.
In 1874, La Loge was featured in the Impressionists' first group show, which elicited mixed reactions. It was then presented in London at an exhibition organized by his dealer Paul Durand-Ruel, making it one of the first Impressionist paintings to be shown in England, however neither showing sold. The next year, it was purchased for 425 francs by the merchant 'Père' Martin.
4. Berthe Morisot with a Bouquet of Violets – Édouard Manet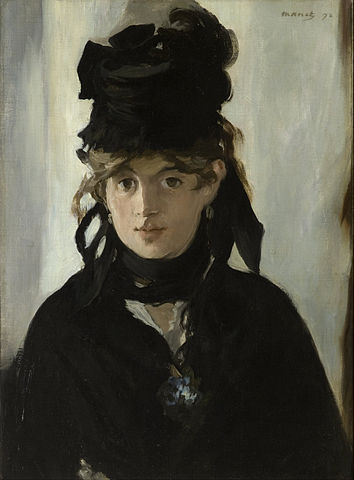 Édouard Manet painted Berthe Morisot with a Bouquet of Violets in 1872. It features fellow painter Berthe Morisot in a black mourning gown, holding a bouquet of violets that is barely visible.
The picture is in the collection of the Musée d'Orsay in Paris and is known as Portrait of Berthe Morisot, Berthe Morisot in a black hat, or Young lady in a black hat. The identical picture was also the subject of an etching and two lithographs by Manet.
It's a black-and-white research. Morisot is lighted from one side, which is unusual for Manet's portraits, which often have even lighting, so that she is brilliantly illuminated on her right side and in deep shade on her left.
She is dressed in a black mourning gown and cap, with her face encircled by black ribbons and scarves against a brighter backdrop, and she has an earring in each ear.
The violet blossoms are just visible as Morisot's dress's neckline drops towards her chest. Violets were also seen in Manet's 1866 painting Woman with a Parrot.
5. Girl with Peaches – Valentin Serov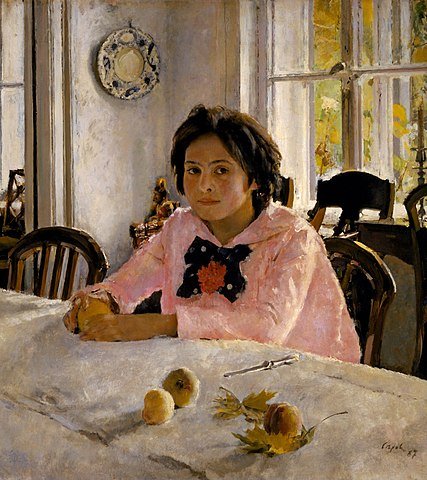 Valentin Serov, a Russian painter, created Girl with Peaches in 1887.
It is regarded as one of Serov's best works, as well as one of his most well-known. Igor Grabar, a Russian art historian and friend of Serov's, described it as "the pinnacle of Russian painting."
Although the painting's style (and Serov's early style in general) has many characteristics with the French Impressionists, Serov did not become familiar with their work until after he had completed it.
6. Nana – Édouard Manet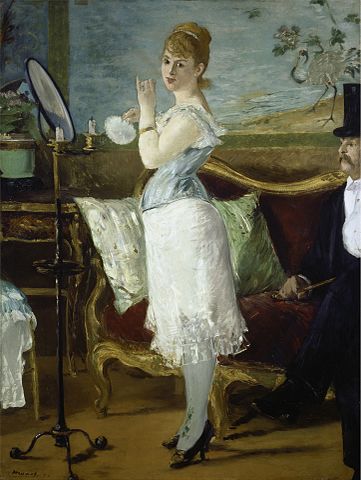 Nana is a work by the French artist Édouard Manet. It was finished in 1877 and declined at the Salon de Paris the following year.
Manet chose to display his picture in the window of a store on the Boulevard des Capucines, one of Paris' principal thoroughfares. Because of Manet's reputation in Paris, the picture drew attention and people throughout its display. The sculpture is now on display in the Kunsthalle Hamburg in Hamburg, Germany.
The picture depicts a young and lovely lady standing in front of a mirror with two extinguished candles, her face turned to the viewer. Her gown is unfinished; she wears a white chemise, a blue corset, silk stockings, and high-heeled shoes.
The interior design implies it is a boudoir. A couch with two cushions is located behind the lady. On the right side of the artwork, you can see a well-dressed guy sitting on the couch. A chair, a table, and a flowerpot may be found on the left side.
7. Self-Portrait with Palette – Édouard Manet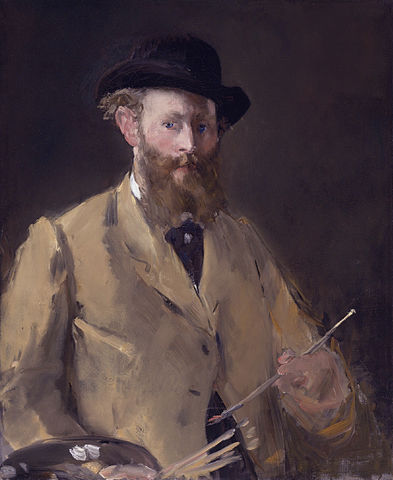 Self-Portrait with Palette (French: Autoportrait à la palette) is an oil-on-canvas work by the French artist Édouard Manet, completed between 1878 and 1879. This late impressionistic piece is one of two self-portraits he created.
Manet's picture was inspired by Velasquez's self-portrait in Las Meninas, which, despite its resemblance to the previous artist's work, is quite contemporary in its attention on the artist's personality and fluid paint handling.
This picture has been acquired by a long line of renowned collectors. It was most recently sold for $29.48 million at Sotheby's on June 22, 2010.
According to X-ray research, Manet painted his Self-Portrait with Palette over a profile portrait of his wife Suzanne Manet. She was shown in this painting in a stance similar to that in the work Madame Manet at the Piano (1868, Musée d'Orsay).
The Self-Portrait with Palette is Manet's sole self-portrait in which he portrays himself as an artist. He appeared in a number of other works, nearly typically as one of several individuals in a huge composition. Fishing (1860/61), Music at the Tuileries (1862), and The Ball of the Opera are among these compositions (1873).
Manet's only other pure self-portrait is the full-length Self-Portrait with Cap (1878–79). The two paintings' chronological closeness indicates a direct link; as a result, they have been seen as two phases of a work in progress.
8. Portrait of Jean Renoir – Pierre-Auguste Renoir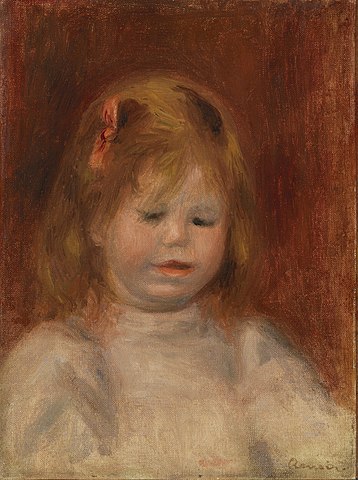 Renoir painted several pictures of his wife and ordinary family life, including their children and Aline's niece Gabrielle Renard, their nurse.
The Renoirs had three sons: Pierre Renoir (1885-1952), a theater and cinema actor, Jean Renoir (1894-1979), a notable director, and Claude Renoir (1901-1969), a ceramic artist.
9. Self-Portrait with a Beret – Claude Monet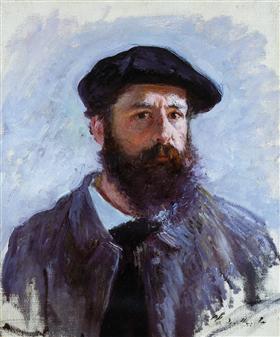 Claude Monet is widely recognized as the most prominent figure in the Impressionist movement, which began in France in the late 1800s and has since established him as one of the world's most renowned painters.
Many of his works, especially those representing diverse cities and Impressionist landscapes, are considered masterpieces that exemplify the most important aspects of Impressionism.
He also painted several self-portraits during his life.
Claude Monet's self-portrait from 1886 displays the Impressionist artist's characteristic beret and beard.
In Self Portrait with a Beret, Monet's distinctive blurred brushstrokes, compositional use of untreated canvas, and finely represented light-dark balance are all visible.
10. Portrait of Theodore Roosevelt – John Singer Sargent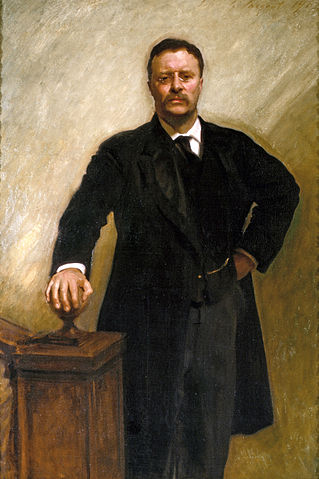 John Singer Sargent, a well-known artist, produced this picture of Theodore Roosevelt in 1903. Architect Charles McKim, who was in charge of significant repairs to the White House at the time, commissioned Sargent to paint Roosevelt's picture.
Also Read: Famous John Singer Sargent Paintings
Roosevelt's patience was tested when it came to selecting a suitable location for painting with sufficient lighting. The artist agreed that there was no space on the first level. When they started up the stairwell, Roosevelt informed Sargent that he didn't believe the artist understood what he wanted.
Sargent said that he did not believe Roosevelt understood what it took to pose for a photograph. Roosevelt, who had just recently arrived at the landing, turned around, placed his palm on the newel, and said, "Don't I!" Sargent saw a chance and instructed the President not to move; this would be the stance and location for the sittings.
Despite the artist's subsequent complaint that Roosevelt would only agree to brief sittings, the president was quite pleased with the ultimate product.