The 20th century heralded a significant shift in the art world and the most famous 20th century artists leave behind a massive collection of famous art that spans many different movements.
Their contribution to the advancement of art cannot be underestimated.
Not only did the simple medium brush and canvas see a plethora of new art styles, but also mixed media and the digital age changed both how we view what constitutes art and the process of creating 'art'.
Below is a list of 20th century artists that have had a profound impact on the world of art.
Famous 20th Century Artists
1.

Pablo Picasso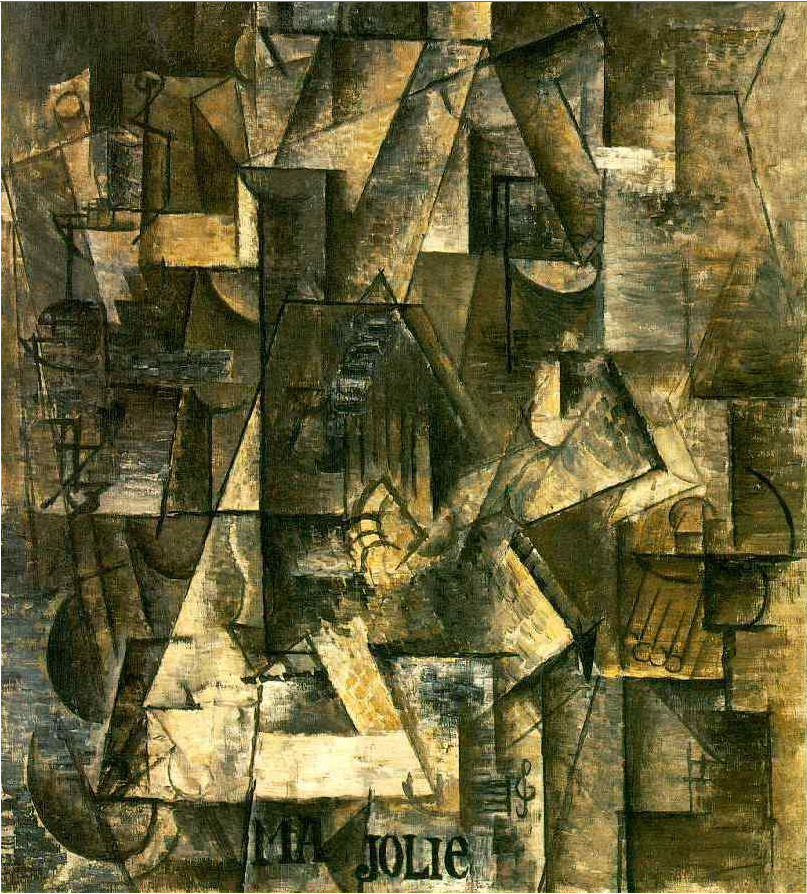 Pablo Picasso is the most significant painter of the 20th Century. His influence is seen in all major art movements of the 20th Century.
Without him, modern art would be very different. Picasso's father was a respected artist in his own right and began teaching his son how to paint when Picasso was seven years old.
At the age of 13, Picasso attended the School of Fine Arts in Barcelona where his father taught art classes.
Picasso began painting in a classical style early on his career, but began working in his signature style of Cubist painting early on.
He and other cubists promoted Cubism to the art world only to be denounced for its non-traditional style.
Picasso reveled in being a rebel in the art world and went on to paint up until the time of his death in 1973.
The artist changed his painting style multiple times throughout his life, yet he never ceased being relevant.
2.

Andy Warhol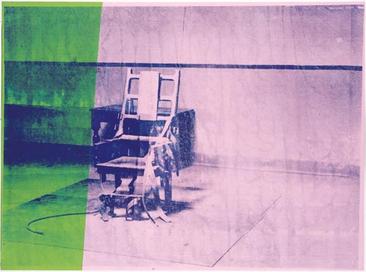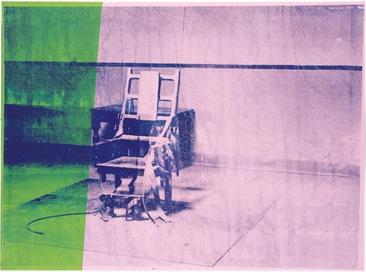 Andy Warhol, born Andrew Warhola in 1928, spent his childhood dealing with the effects of Sydenham chorea, also known as St. Vitus dance.
This neurological condition occasionally kept Warhol home from school where he read magazines about Hollywood and perused the comics which influenced his later work.
Warhol took free art classes offered by the Carnegie Institute which led to his father realizing that his son had artistic talent and saved money to send his son to the Carnegie Institute of Technology.
Warhol began his career as an illustrator in 1950, and won many awards for his work on behalf of clients such as Bonwit Teller, Tiffany & Col, Vogue, and more.
It wasn't until 1961 when Warhol created his Coca-Cola pop art painting. The painting of the soft drink bottle was quickly followed up by the infamous Campbell's Soup Cans painting.
His silk screened works launched him into the world of celebrity artists which led to him making sculptures, movies, photographs and more.
3.

Banksy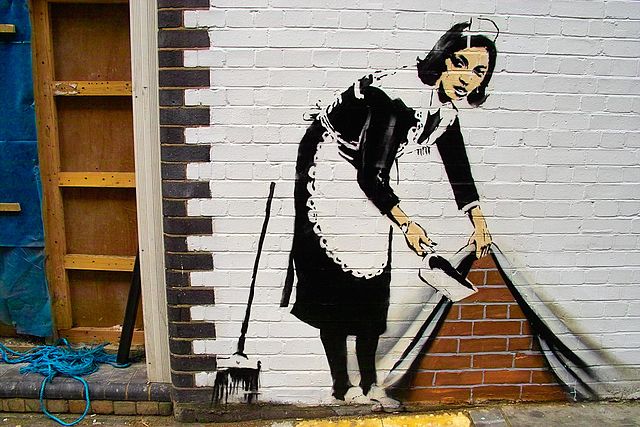 The world may never know the true identity of this renegade British artist while he's still alive.
Born in Bristol, U.K. in either 1973 or 1974, no one is quite sure which year is correct, Banksy started making art at 14, eventually getting expelled from school and served jail time for petty crime in the early 1990's.
His experience with spending time behind bars gave Banksy a strong desire to protect his identity as he went on to leave his stenciled graffiti in locations around the world.
The art world started to take notice of Banksy's tongue-in-cheek work around 2001. Not one to conform, Banksy sparred with art critics and made it difficult for art collectors to get their hands on his work.
Also Read: Famous 21st Century Artists
He also created an anti-utopia theme park called Dismaland and a hotel in Palestine with rooms that face the wall.
In 2018, Banksy performed his most breath-taking stunt to date when he shredded a painting that had just sold for around $1 million at Sotheby's.
4.

Jackson Pollock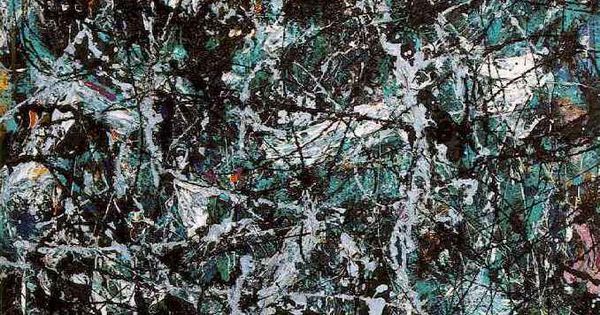 Jackson Pollock is best known for his abstract works of art that consist of paint poured onto canvases.
Born in 1912 in Cody, Wyoming, he traveled the U.S. with his adoptive father who worked as a land surveyor for the U.S. Government.
In 1930, he moved to New York City with his brother Charles. Both of them studied art under Thomas Hart Benton at the Art Students League of New York, and both went on to work for the WPA Federal Art Project.
Pollock entered his most famous period of work when he left therapy and connected with artist Lee Krasner. He started experimenting with dripping paint onto canvases with various tools to achieve the effect he desired.
Pollock went on to create artwork that's strongly associated with the Mid-Century Modern design aesthetic and became one of the greatest painters of all time. In 1956, at the age of 44, Pollock died in an alcohol-related auto accident.
5.

Georgia O'Keeffe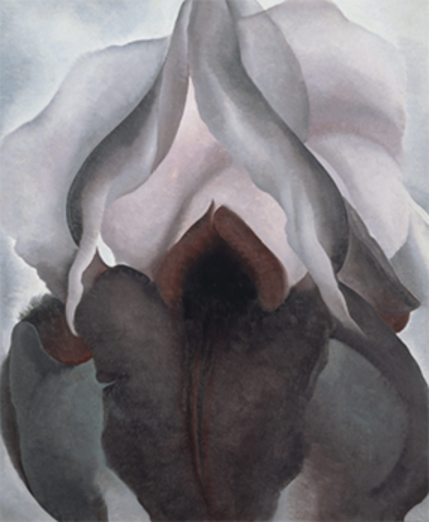 Georgia O'Keeffe is widely regarded as a premier modern American artist who seamlessly blended multiple styles of art into her own distinct style.
Born in 1887, O'Keeffe began her art training in 1905 at the School of the Art Institute of Chicago, then at the Art Students League of New York.
Not satisfied with the emphasis on copying existing works, O'Keeffe found guidance from Arthur Wesley Dow who taught her how to introduce her own personal style to her work.
In 1918, O'Keeffe moved to New York at the behest of photographer Alfred Stieglitz whom she eventually married. While in New York, she started to develop her signature style of painting large flowers full of color and sensuous lines which contrasted strongly with her architectural paintings.
In 1929, O'Keeffe started spending time in New Mexico and began using the desert landscapes as inspiration for her art.
6.

Salvador Dali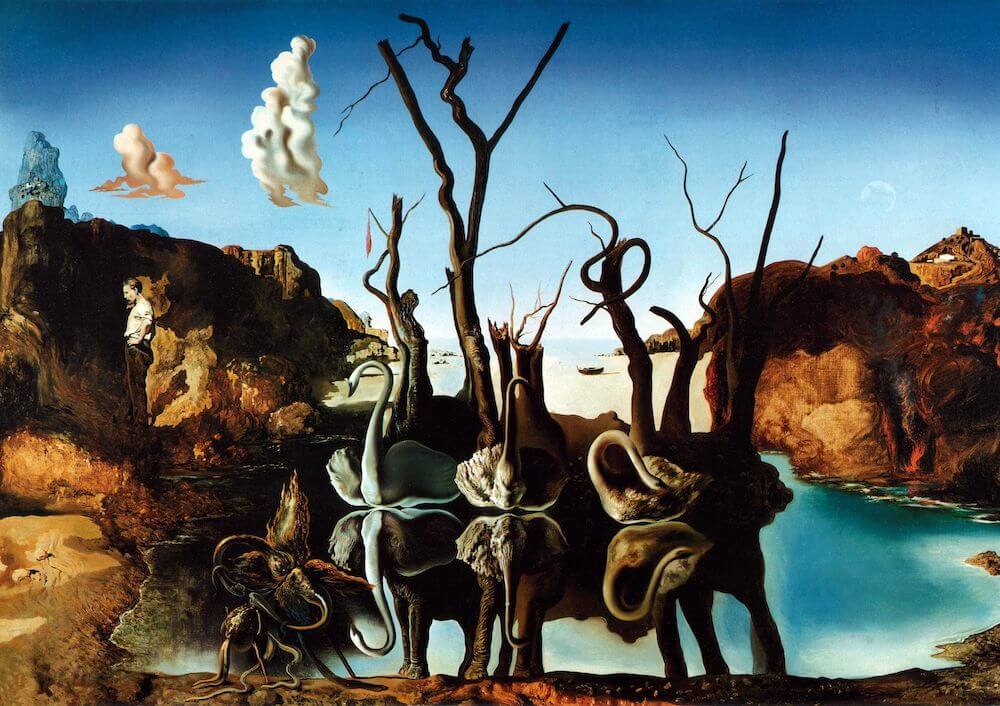 Salvador Dali was one of the most influential artists of the 20th Century. Born in Figueres, Spain in 1904, Dali's interest in art began during his childhood summers spent in the village of Cadeques where he learned painting from a family friend, Ramon Pinchot.
Pinchot was friends with Pablo Picasso and taught Dali how to paint in an avant-garde style. It was Pinchot who persuaded Dali's father to allow his son to attend the San Fernando Academy of Art in Madrid.
However, Dali was not one to submit to authority and traditional morals. He developed an extreme style of artwork that led to him getting kicked out of the Catalan art community.
Dali landed in Paris and was invited to join the Surrealist artists inner circle. Dali quickly gained notoriety, but conflicts with the Surrealist circle made him leave the group and strike out on his own.
He became an international celebrity and maintained that status until his passing in 1989.
7.

Frida Kahlo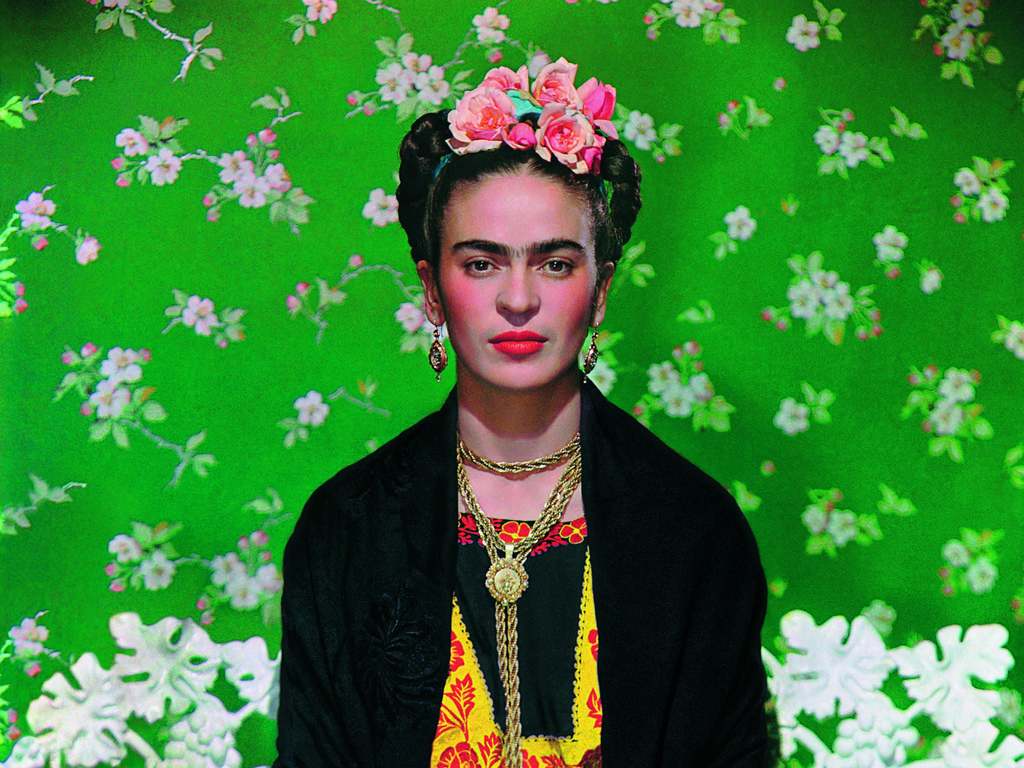 Frida Kahlo spent her artistic career painting mostly self-portraits, portraits and artwork informed by her life in Mexico.
Born in 1907 to a German father and a Mexican mother, Frida spent her formative years dabbling in art, but never thought of becoming a painter as a career.
At the age of 18, she suffered a severe injury in a bus accident which left her bedridden. She took up painting to pass the time and her parents encouraged her to teach herself further.
Kahlo married Mexican artist Diego Rivera in 1929 and began to draw upon inspiration from Mexican folk culture for her self-portraits.
Her style drew the attention of Surrealist artist Andre Breton who arranged for her first exhibition in New York City.
Kahlo enjoyed success throughout her career and taught at the Escuela Nacional de Pintura, Escultura y Grabado. Her career ended with her premature death at the age of 47 in 1954.
8.

Marcel Duchamp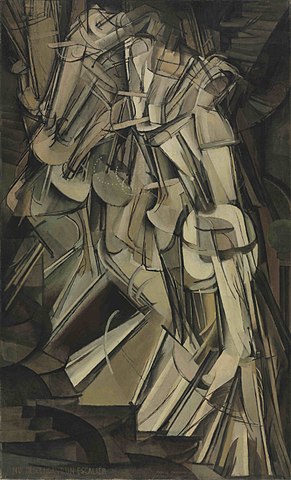 Marcel Duchamp was always his his own man, artistically speaking. Born in Normandy, France, in 1887, Duchamp practiced art at home, influenced by his grandfather's engraving works.
In 1904, Duchamp arrived in Paris after a period of drawing cartoons for magazines. Many famous 20th Century painters were contemporaries of Duchamp and adhered to a school of art.
Duchamp cared nothing for style and saw himself as an artistic experimenter.
Duchamp broke out on the scene with his painting of Nude Descending a Staircase, No. 2 in 1912. The French art world found the piece shocking, yet when the painting was exhibited in New York City in 1913, the American art world and public embraced the work.
Duchamp was never comfortable with how his work was received and painted infrequently throughout the rest of his life.
9.

Jeff Koons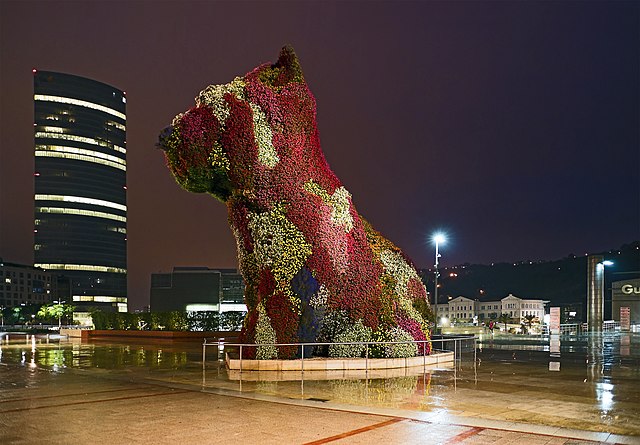 Jeff Koons is an American artist whose work is primarily influenced by popular culture. Born in 1955 in York, Pennsylvania, Koons began painting at a young age.
When he was nine, he was copying old master paintings which eventually wound up in the windows of his father's furniture and interior decorating business.
Koons studied at the School of the Art Institute of Chicago where he met artist Ed Paschke who would become a major influence on Koons' work.
Koons worked for a time as a commodities broker in order to be able to independently finance his art.
His most famous work consists of larger-than-life balloon animal sculptures in stainless steel and bright colors. Some of his other work includes displaying vacuum cleaners in a museum as if they were being sold in a store.
Another famous work consists of fully inflated basketballs suspended in a tank of salt water. Koons continues to create unusual and odd pieces of artwork in New York City.
10.

Anish Kapoor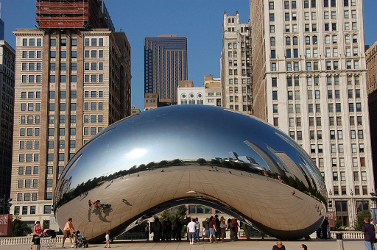 Anish Kapoor is a British/Indian sculptor who's most well-known piece is the Cloud Gate, AKA the bean, located in Chicago's Millennium Park.
Born in 1954 in Mumbai, Kapoor moved to London to study art in the 1970s. His early fame came in the 1980s when he became known for his organic, morphing sculptures made out of materials such as stone and aluminum, then painted with bright pigments to accentuate their forms.
In 1995, Kapoor moved to the use of stainless steel for his sculptures. He found the use of the material, when highly polished, added a new dimension to the work and helped dominate the space where a sculpture was located.
Most of his pieces are are intended for outdoor placements in order to draw in the viewer and get them to explore the piece instead of looking at it from only one angle.
11. Jean-Michel Basquiat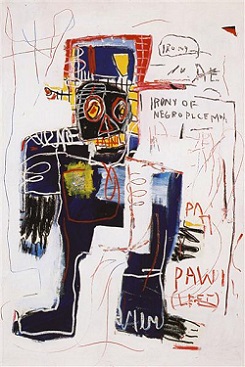 He was born in 1960 in Brooklyn, New York as Jean-Michel Basquiat. In spite of his mother's overwhelming encouragement, Basquiat left home at the age of 17 to pursue his artistic pursuits on his own.
Although Basquiat had no professional experience in art, the originality of his work melded a unique balance of graffiti and abstract expressionist paintings.
Because of his anxiety, he would often sketch self-portraits. In addition, he had a strong interest in African and Hispanic culture, which he demonstrated in several of his projects.
Despite the fact that he overdosed and died at the age of 27, he was a close friend of Andy Warhol's and left behind a body of work that would definitely influence generations of artists to come.
He appeared on the cover of the New York Times Magazine just before he died.
---
We hope you have enjoyed our list of 20th century artists and painters!