Throughout human history, much of our art can be traced back to depictions of nature in some form or another. Many of the most popular styles of painting have all touched on natural scenes including animals, landscapes, trees, flowers and nearly anything else found in the wild beauty of Earth.
Some of the greatest artists in history have sought to portray nature in various methods including some that adhere to a high level of realism, or watercolor paintings that focus heavily on the natural hues of different creatures and plant life.
Nature has often served as an avenue of inspiration for many popular painters at some point during their lives.
Few artists have possessed the ability to capture nature in all its rare splendor, but some managed to create works that highlight some of the most awe-inspiring aspects of nature. Here are 10 of the most famous nature paintings in history.
Famous Nature Paintings
1.

Water Lilies

– Claude Monet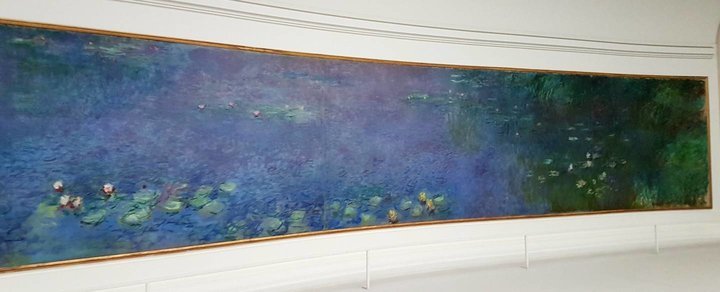 Claude Money devoted a large portion of his career as an artist to painting various scenes of his own flower garden, which he took great pride in and maintained.
His work titled Water Lilies was painted in 1906 as part of an extended series of famous paintings that depict the many different scenes of natural splendor in the garden.
Monet began painting works that featured different angles from his garden with some focusing on the artist's small pond and footbridge. Through the years, Monet sought to delve deeper into exactly what made these scenes so appealing with their colorful allure.
Also Read: Nature Artists
Water Lilies is a specific painting that is totally devoted to the water in his garden and the many different lily pads that are scattered throughout the pond.
These works were highly praised by art critics and enthusiasts for their deeply colorful portrayal of serene natural observations. Monet was able to capture the garden in all its beauty with compositions that are nearly unrivaled when one considers the most famous nature paintings in history.
2.

Tiger in a Tropical Storm (Surprised!)

– Henri Rousseau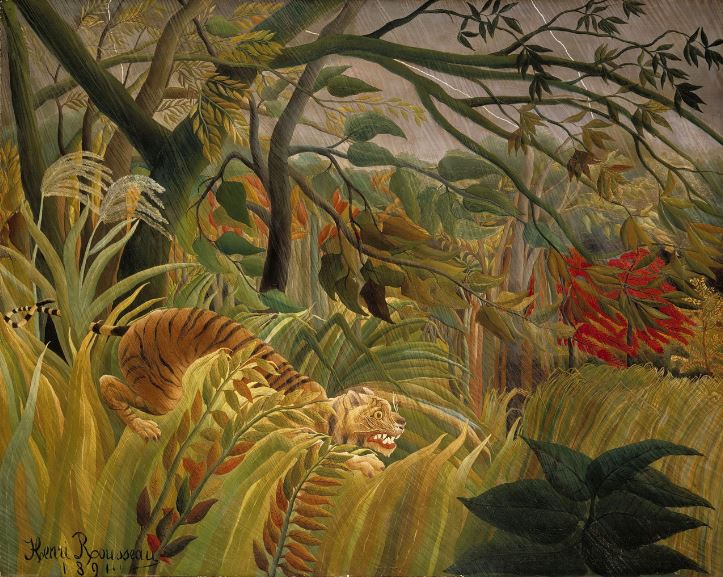 Henri Rousseau began his art career on the outside of the circle of popular artists and critics in his day.
His work titled Tiger in a Tropical Storm (Surprised!) was one of his early paintings and was derided by some critics as being too childish. However, some art lovers saw the many different colorful layers as one that deserved admiration when it was first displayed in 1891.
The painting features a tiger in the midst of a powerful storm, readying itself to pounce on an unknown victim. Rousseau would later comment that the tiger was preparing to attack a group of explorers. His use of many different green tones shows the lush, complex nature of the jungle.
Many art enthusiasts since then have lauded Rousseau's work as it takes a different angle on the often-portrayed jungle. Rousseau used silver paint to represent the raindrops that are shown to be streaming in with an exceptionally strong wind.
His work was viewed with controversy throughout his lifetime, but since his death Rousseau has risen to the top of artists who had a special adoration for nature scenes.
3.

Irises

– Van Gogh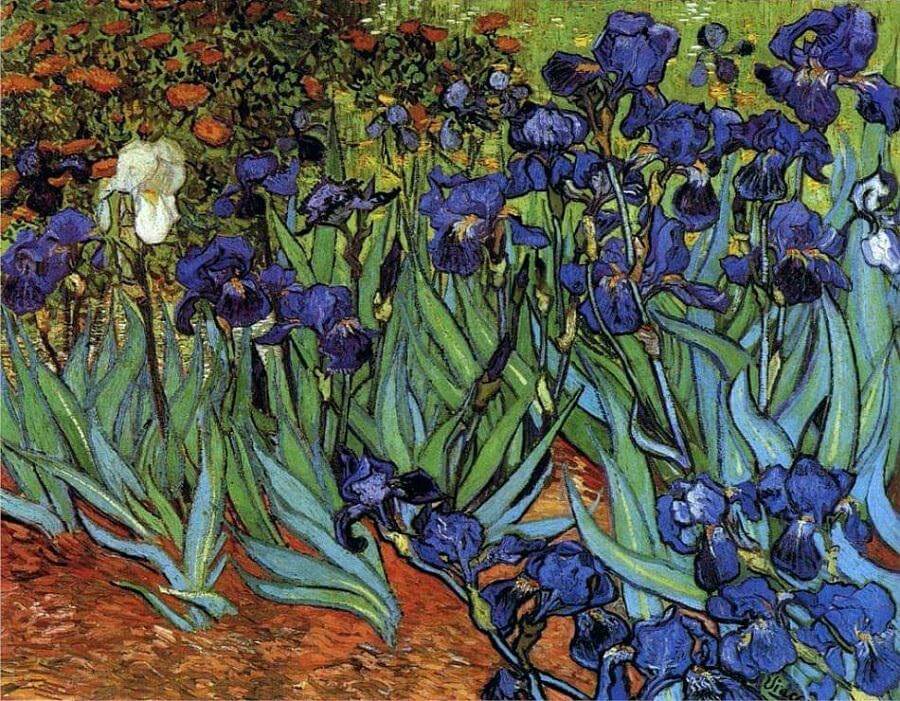 Vincent Van Gogh was one of the few artists who had the ability to draw out every bit of significance from the different colors and hues of natural objects. Many of his works focused on flowers, but his painting titled Irises was exceptionally famous among those who enjoy nature paintings.
Also Read: Garden Paintings
Irises was painted in 1889 after Van Gogh had endured an especially dark time in his personal struggle with mental illness. He often engaged in self mutilation, famously cutting off his ear in one instance, before being admitted to an asylum in Saint-Rémy, France. There, he would paint more than 100 works, many focusing on the institution's garden.
His work titled Irises was done just a year before the artist's death and was submitted to the Salon des Indépendants by his brother.
4.

The Oxbow (The Connecticut River Near Northampton)

– Thomas Cole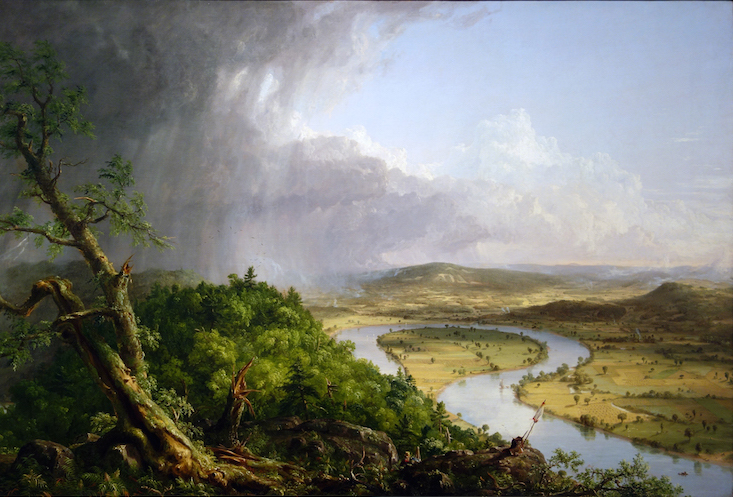 Thomas Cole painted what many consider to be one of the most famous landscape paintings in history in 1836.
During a time when people in the America were largely unfamiliar with what lied ahead on the western frontier, Cole's work beckoned the young, fledgling nation to look beyond the tales of savages inhabiting the natural world outside the known borders of their reality and to embrace the stunning beauty of the natural world before them.
He painted a scene from Mount Holyoke overlooking the Connecticut River known as The Oxbow. The painting features the lush magnificent landscape in all its grandeur with a storm approaching the calm valley below.
This work was highly popular from the moment it was first exhibited for the artist's ability to show the true beauty that so many people appreciated about the region.
5.

Road Near Mont Sainte-Victoire

– Paul Cezanne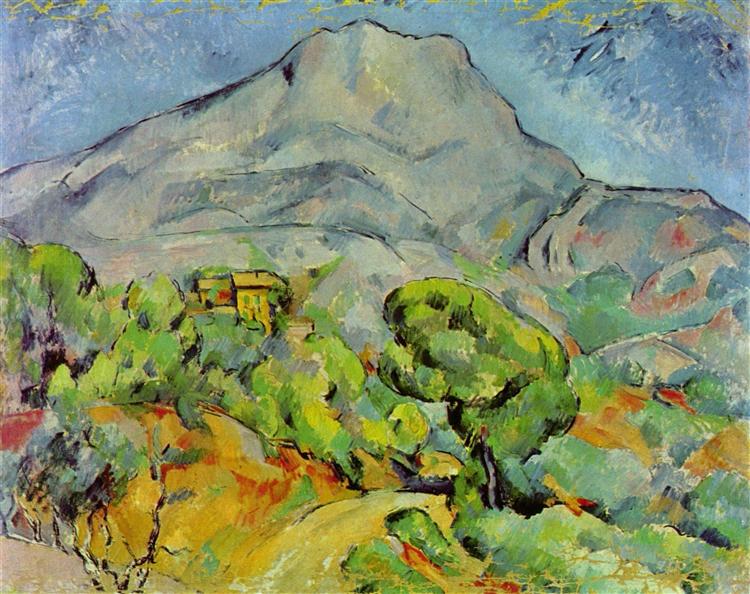 Paul Cezanne was legendary among painters in the Post-Impressionist movement and would be part of the reason that sparked Cubism as well.
He painted Road Near Mont Sainte-Victoire sometime between 1902 and 1904 and was widely heralded for his unique interpretation of natural shapes and angles, painting them in different geometric patterns.
Cezanne painted a number of works focused on the Mont Sainte-Victoire, but this one managed to draw considerable amounts of attention thanks to the artist's use of vibrant green colors set amidst the quiet blue tones of the mountain background.
6.

Looking Down Yosemite Valley

– Albert Bierstadt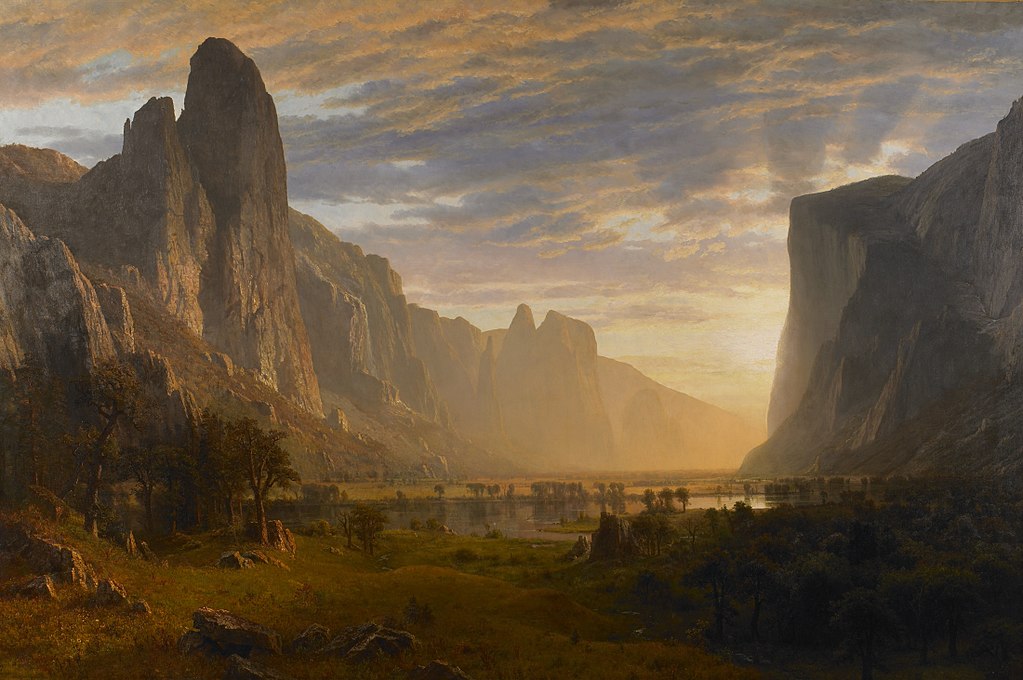 Few places on Earth are as awe-inspiring as California's Yosemite Valley. Albert Bierstadt was one of the only landscape artists who has ever managed to capture a scene that closely resembles the valley's immaculate vistas.
His work titled Looking Down Yosemite Valley was finished in 1865 and features a scene that's framed with monumental rock formations on either side of a wide, sweeping valley below.
The work was highly touted for its incredibly realistic portrayal of Yosemite's natural beauty, especially the manner in which the setting sun shines from around the edge of the sheer rock face on the right of the painting.
7. The Great Wave off Kanagawa – Katsushika Hokusai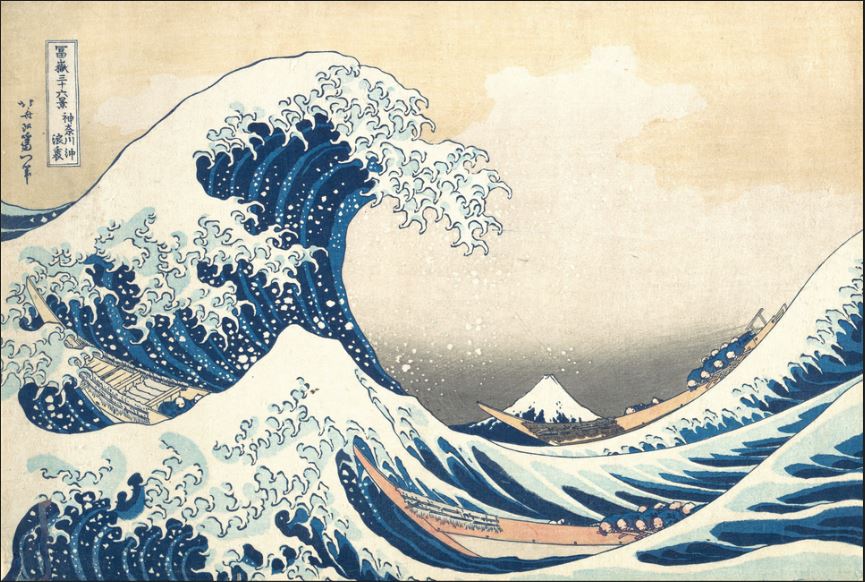 One of the most iconic works of Japanese art is Katsushika Hokusai's work titled The Great Wave off Kanagawa. Painted sometime between 1830 and 1833, Hokusai's work focuses solely on the raging seas near the country's famous Mount Fugi.
The painting was part of a wider series of works the artist dubbed Thirty-Six Views of Mount Fuji.
Hokusai depicts the famous landscape with a rare perspective that focuses more on the rolling waves on the nearby sea. Mount Fuji is curiously noticed in the background, it's white snow-capped peak visible as a giant wave rolls in and breaks.
Hokusai's work is famous for the artist's ability to capture the complex nature of the ocean waves in a perspective that was rarely seen by anyone who seldom ventures out on the ocean.
8.

The Flamingos

– Henri Rousseau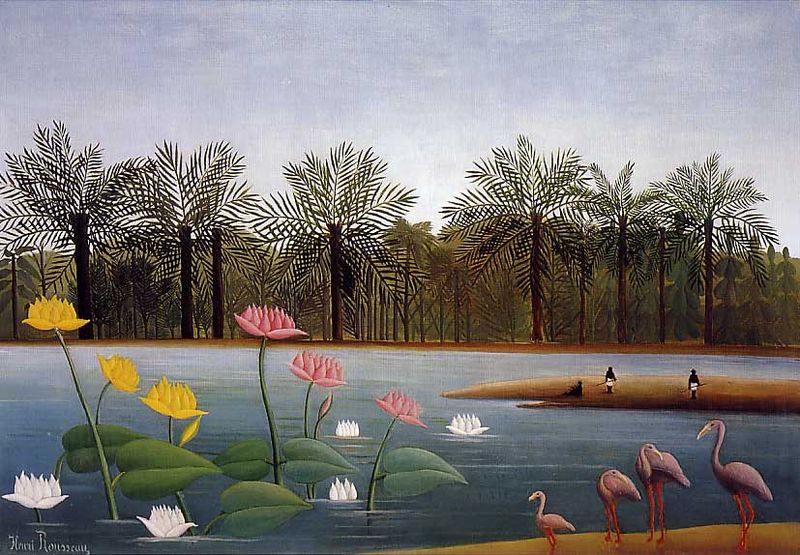 Known for producing works that focused on exotic scenes and animals, Henri Rousseau's work known as The Flamingos has long been considered one of his most famous nature scenes. Painted in 1907, Rousseau's landscape depicts a calm scene on the banks of a tropical waterway.
Also Read: Famous Bird Paintings
The artists never divulged if the location depicted in this work were real and many of his greatest fans think he may have been inspired by his exploits in the French Army while in Mexico.
The painting features a landscape that is divided into different layers that focus on the flowers near the banks of the water with a line of towering palm trees in the distance. Flamingos are seen casually enjoying the water along the banks in a variety of different poses.
9.

Black Mesa Landscape, New Mexico

– Georgia O'Keeffe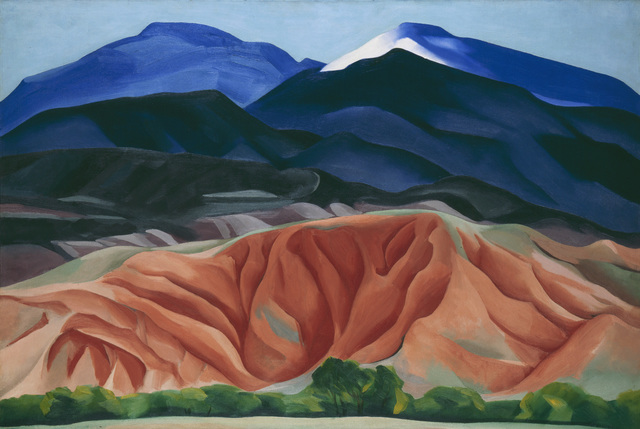 Georgia O'Keeffe is famously known as one of the greatest painters in American history, but her work titled Black Mesa Landscape, New Mexico drew worldwide acclaim for its striking colors and soft undertones.
O'Keeffe painted the work in 1930 and she would later be renown for her ability to capture various scenes and objects related to the American southwest.
Also Read: Botanical Painters
The painting features a scene from the Black Mesa region of New Mexico, which is known for its rugged, unforgiving landscape.
O'Keeffe's painting certainly catches the eye of the viewer due to her use of bright, reddish hues in the foreground while the background consists of large mountains that seem to rise from the bottom of the canvas.
10.

Roseate Spoonbill

– John James Audubon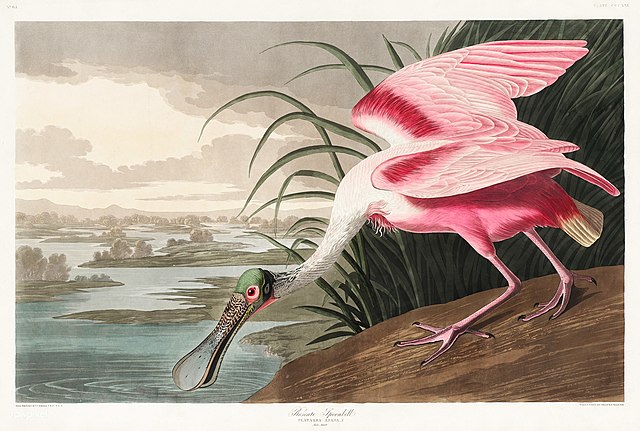 John James Audubon developed a reputation among bird watching and art enthusiasts alike as many of his most famous works centered on nature scenes involving various avian creatures.
His work titled Roseate Spoonbill incorporated vivid green colors of the spoonbill's beak that moves into the bird's bright pink feathering. The painting is set against a soft blue, watery background that features sparse rock formations.
Also Read: Colorful Paintings
Audubon managed to highlight the sharpness of the bird' pink plumes by depicting the creature as standing in front of lush green grass along the waterside.
The work was part of a series titled Birds of America, which was exhibited in 1826 and immediately caught the attention of prominent scientists in his day. Thanks to Audubon's work, 25 new species of birds were discovered.