The human form has long fascinated many artists throughout the thousands of years in recent history.
Going back as far as the early Renaissance, artists were collaborating with medical professionals to examine the human body and gain a better understanding of how they could more accurately portray it to their viewers.
Over the centuries, different cultures and art movements perfected the ability to depict the image of men in their artwork.
Cultures all across the world have sought to both celebrate and immortalize their leaders through painting as it was essentially a way to 'capture' the person's appearance for future generations to view and appreciate.
Famous Paintings of Men
In this article, we will cover some of the most famous paintings of men ever created, while also examining the motivations behind the artist when it came to painting these pieces.
1. Portrait of a Man in Red Chalk(Self-Portrait) – Leonardo da Vinci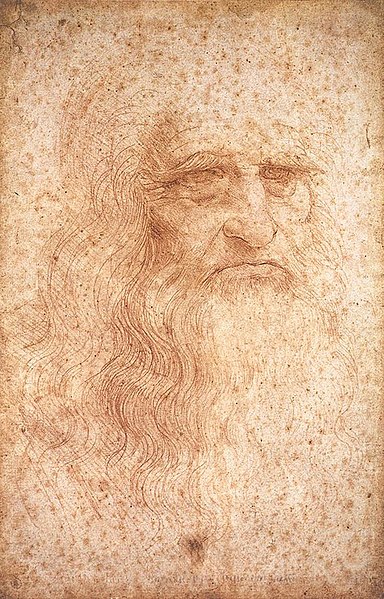 Leonardo da Vinci is remembered as a master of the human form. One of da Vinci's works, known as the Vitruvian Man, has long been celebrated as perhaps the most important drawing of human anatomy ever done.
However, there is another work that was done in red chalk that is also widely celebrated for its depiction of man.
The drawing is known as Portrait of a Man in Red Chalk(Self-Portrait) and is believed by many art critics and historians to be a self-portrait of da Vinci himself.
Also Read: Drawing Ideas
The portrait was done on paper with red chalk, which was one of the more popular materials used by da Vinci and other artists to sketch out their works before painting or sculpting the final product.
This work is believed to have been done in 1512 when da Vinci would have been an aged man.
The drawing is essentially a snapshot of an elderly man who displays a face with deeply marked lines across his forehead, as well as what appears to be missing front teeth, which was common among elderly individuals during this time.
The brownish-looking splotches on the drawing are from the accumulation of iron salts due to the paper being stored in a somewhat moist environment for many years.
2. Lansdowne Portrait – Gilbert Stuart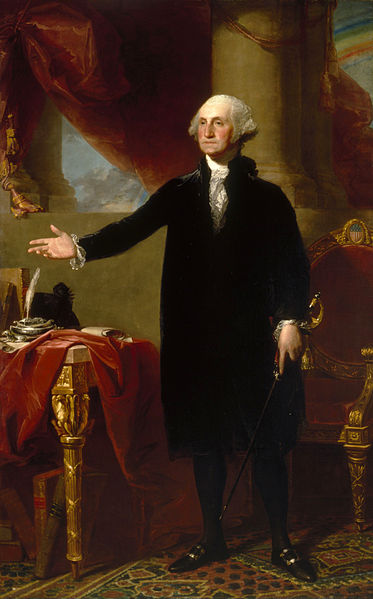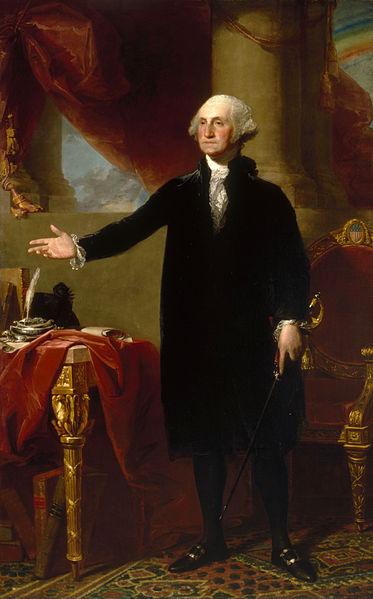 One of the most iconic work in American history is Gilbert Stuart's portrait of George Washington that's known as Lansdowne Portrait.
This painting was done on a somewhat large canvas and one version still hangs in the National Portrait Gallery in Washington, D.C.
The work was completed in 1796, but many casual viewers are unaware of the pressure that Stuart was under to complete the painting at this time.
The portrait features a full-bodied presentation of Washington, who had just been elected president of the newly-formed United States government.
Washington was working hard to shore up British and American relations to avoid another war in which British forces would possibly have the upper hand if it decided to commit the bulk of its military forces to the campaign.
The painting was meant as a gift to British Prime Minister William Petty, 1st Marquess of Lansdowne, which is where the work drew its namesake from.
Stuart had a very short amount of time to sit with Washington and spent the bulk of the meeting focusing on painting the president's head and face.
He would later go back and finish the body using another model, but little is known about who actually stood in as the model for Washington's body for this particular work.
3.

Self-portrait with Felt Hat

– Vincent van Gogh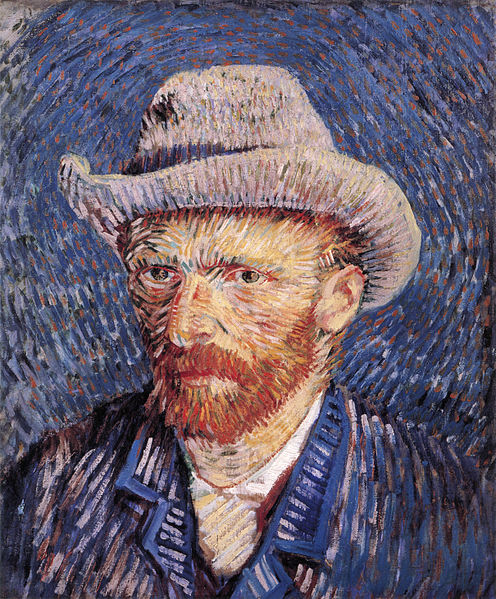 Vincent Van Gogh is regarded as one of the greatest painters in history as many of his works featured an uncanny ability to bring out the vivid beauty and colors in most natural scenes or even portraits.
He painted a number of self-portraits in his career, but one of the most famous is known as Self-portrait with Felt Hat.
Completed in 1887, this work depicts Van Gogh as wearing a felt hat, which was somewhat popular and stylish at the time.
He rarely depicted himself wearing any sort of hat, but this one in particular seemed to provide a unique sense of composition that would become one of his most well-known self-portraits.
The painting featured Van Gogh's characteristic layered brushstrokes that seem to almost give a sense of life to the work.
He also used a deep blue background and portrayed himself as wearing a blue overcoat, which is believed to have been symbolic of the depressed state he often found himself in during this time.
4.

Portrait of Abraham Lincoln

– George Henry Story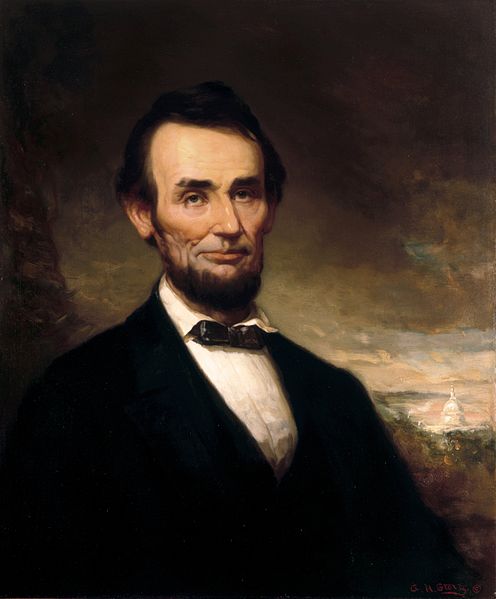 Another one of the most well-known paintings in American history was done by George Henry Story. The work features Abraham Lincoln, who was president of the United States at this time in his life.
Story began his career as a skilled wood-carver, but would gain a considerable reputation as a painter after studying abroad in Europe during his youth.
Story was tasked with assisting in posing the President for his first official presidential photograph. During this process, Story sat and made detailed sketches of Lincoln that he would later use to paint this portrait from memory.
The result was an incredibly realistic depiction of Lincoln and wasn't completed until 1916, well after the President's assassination decades earlier.
Story sat with Lincoln on three occasions while he posed in various positions for photographers.
During this process, Story would quietly draw the subtle changes in Lincoln's expression as he handled governmental affairs for brief moments before again being seated and looking at the camera.
5.

Portrait of an Old Man

– Rembrandt van Rijn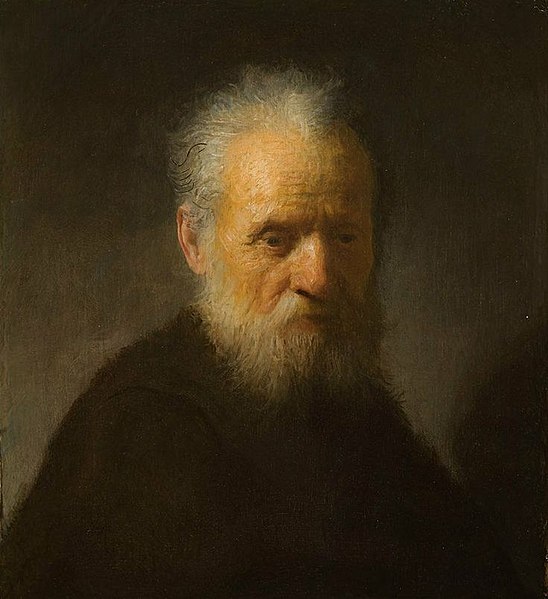 Rembrandt van Rijn is remembered as one of the most celebrated Dutch artists in history and one who was a central figure of the Dutch Golden Age and the Baroque period.
His paintings feature impressive levels of realism and he was known for making very careful brushstrokes in order to perfect the image of his subjects.
One of his most well-known works is referred to as Portrait of an Old Man. This painting was done in 1632 and features a weathered old man who is unidentified.
The man stares downward toward the ground as if he is remembering something from the past.
It is believed that Rembrandt posed him in this manner to capture the essence of life and how quickly it can pass by and remain as nothing but a memory to an old man.
6.

Portrait of Mendeleev

– Ilya Repin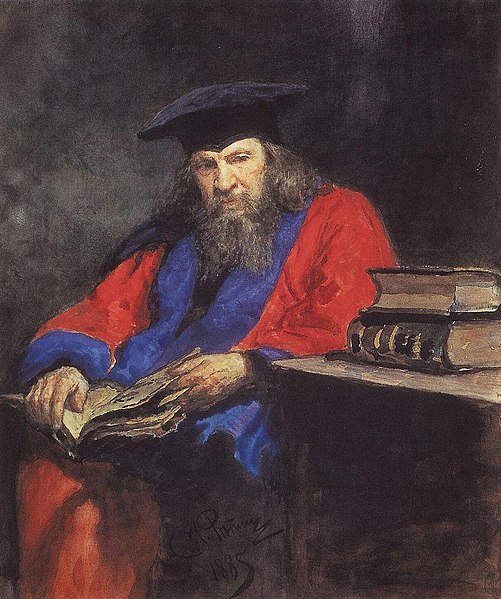 Ilya Repin was a famous Russian artist who rose to prominence during the Realism era when it was common for painters to focus on capturing the world around them as it truly appeared, instead of as they believed it should. This resulted in some works that can be viewed as less than flattering in many ways.
One of Repin's paintings is considered to be among the most iconic paintings of men as it shows the portrait of a man in a much more realistic, reflective pose.
The work is titled Portrait of Mendeleev and was done in 1885. It has an astounding level of realistic detail despite being done in watercolor, which was common during this time period.
The painting is of famous Russian chemist Dmitry Ivanovich Mendeleev. He is credited with discovering and forming the basic laws of chemistry.
In this portrait, Mendeleev is seen slouching in a chair wearing a cap and gown.
He's seen holding a book which he has certain pages marked with his fingers as if to indicate that he's in the middle of studying the book's contents.
7.

Portrait of Woodrow Wilson

– John Singer Sargent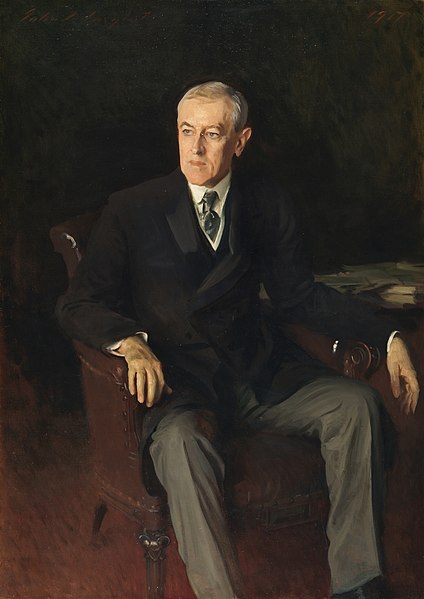 Woodrow Wilson was the 28th president of the United States and is remembered as a progressive leader who pulled the country through the perils of World War I.
His decision-making and role in working with other world leaders solidified his legacy as one of the most important leaders in American history.
John Singer Sargent captured one of the most important portraits of Wilson.
Completed in 1917, Sargent's painting featured an incredible level of realism to the point that the portrait almost appears to be a color photograph.
The oil on canvas painting features Wilson wearing a dark suit and he is seated in front of a darkened background, which perhaps symbolizes the dark and dangerous task he had to accomplish to bring victory to the Allied forces in the first World War.
8.

Thomas Jefferson

– Rembrandt Peale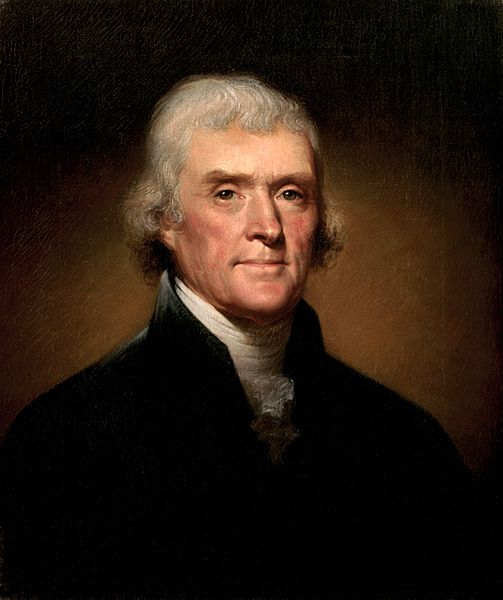 Thomas Jefferson is remembered as one of the most influential leaders of the United States and was heavily-involved in the formation of the first government in America.
He is credited with writing the Declaration of Independence and one portrait of him is perhaps more famous than any other.
Rembrandt Peale created a portrait of Jefferson in 1800, just a few years after the United States had officially defeated and cast out British forces from the former colonies.
Jefferson is depicted as having a look of perseverance and determination that he was known for and many art historians comment that Peale truly captured the essence of Jefferson's character in this work.
9.

The Desperate Man

– Gustave Courbet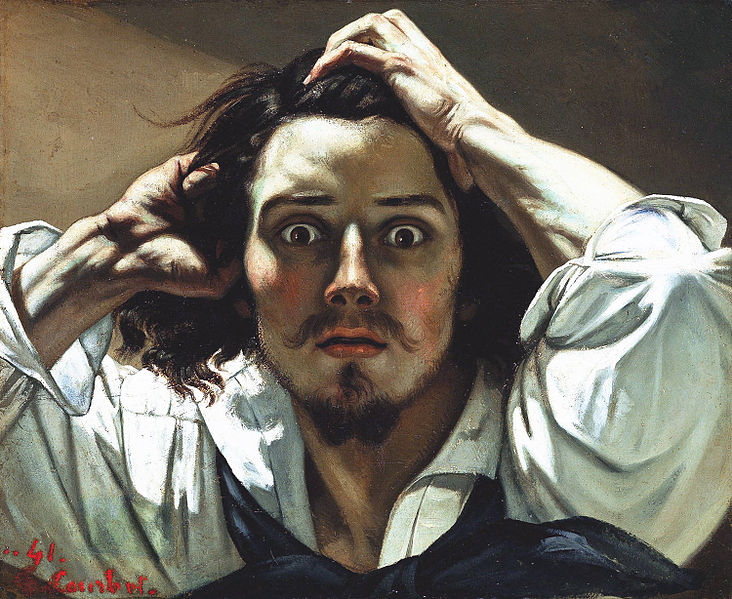 One of the most iconic and famous paintings of men ever created is a unique work that was done by Gustave Courbet.
This painting was created in 1845 and actually features Courbet himself with a frazzled, desperate look that seems to be fixed on the viewer.
Courbet's work features an incredible amount of realistic detail and in many ways appears to convey a sense of desperation onto the viewer.
This painting is one of the more early works from Courbet, but it is one that is among the most easily-recognized from the masterful painter who worked during the 19th century.
10.

Napoleon Crossing the Alps

– Jacques-Louis David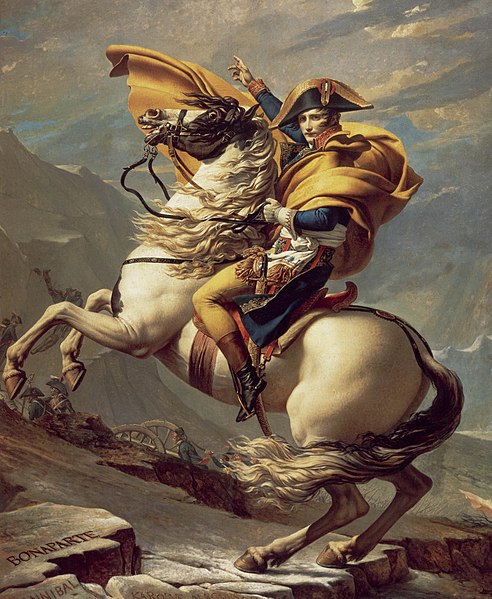 Few men in history were as powerful and successful as Napoleon Bonaparte of France. He managed to conquer nearly all of Europe during his reign as Emperor of France.
He is also the central figure in one of the most famous paintings in French history.
Jacques-Louis David produced his most celebrated work in 1801 as a way to celebrate the accomplishments of Napoleon in a successful campaign against a formidable opponent.
The painting depicts Napoleon mounted upon a rearing horse, pointing toward a high mountain range ahead, which is known to be the Alps.
The painting commemorates Napoleon's efforts to lead his troops through the Alps into Italy to reinforce his troops that had been stationed in the country before retaking territories that had been seized by Austrian troops.
The commission for this painting was part of a treaty that was brokered between the French and Charles IV of Spain.
11. The Floor Scrapers – Gustave Caillebotte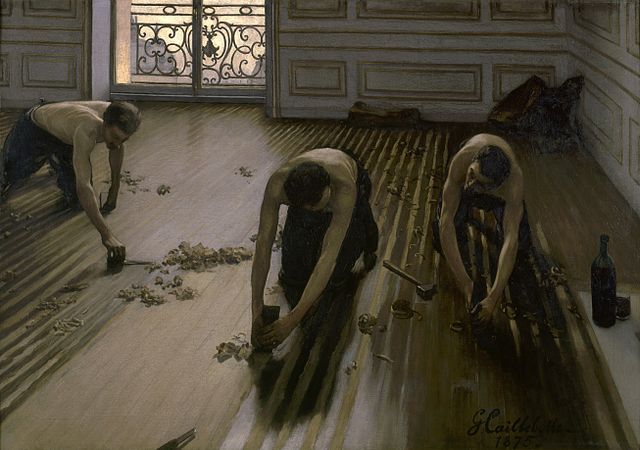 The Floor Scrapers was painted by Gustave Caillebotte in 1875 and one of the few artworks of the style to make strong use of perspective and natural light.
The piece of art was not very well received by the art establishment of the day as it was rejected from the Paris Salon in 1875.
The reason it was rejected was the subject matter of the scene.
Three topless working class men are the focus of the painting and at the time both working class people executing their trade and the thought of a male being seen topless was considered vulgar by critics and the public alike.
12. The Blue Boy – Thomas Gainsborough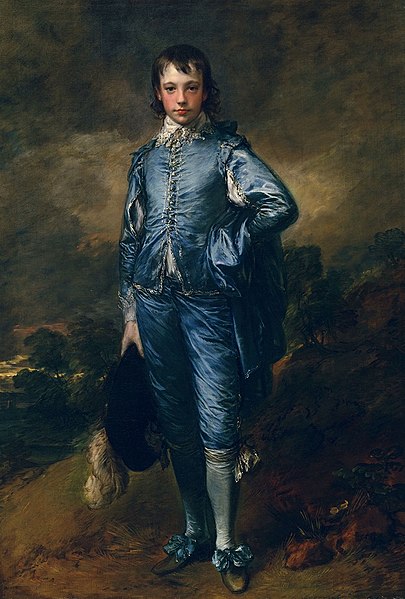 The Blue Boy (about 1770) is a full-length oil portrait by Thomas Gainsborough that is housed in The Huntington in San Marino, California.
Because of his early possession of the painting, The Blue Boy was long assumed to be a picture of Jonathan Buttall (1752-1805), the son of a prosperous hardware trader.
This identification has never been verified, and as Susan Sloman suggested in 2013, Gainsborough's nephew, Gainsborough Dupont, is the most likely sitter (1754–1797).
It is both a historical costume study and a portrait; the youth is dressed in 17th-century garb as an homage to Anthony van Dyck, and the portrait is strikingly similar to Van Dyck's portraits of young boys.
13. Portrait of Professor Benjamin H. Rand – Thomas Eakins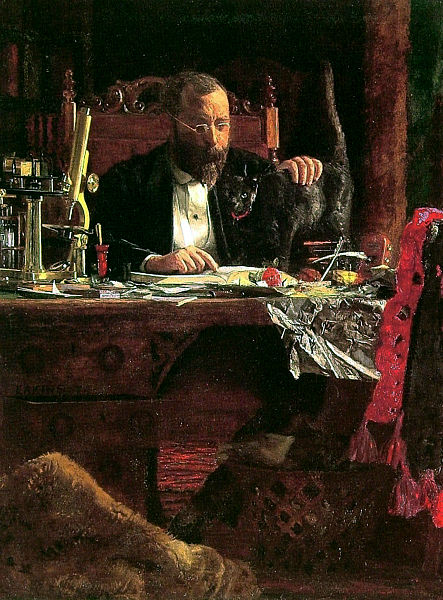 Thomas Eakins painted a portrait of Professor Benjamin H. Rand in 1874. It's an oil painting on canvas of Benjamin H. Rand, a doctor at Jefferson Medical College who taught Eakins anatomy. Rand is reading a book and petting a cat in the painting.
The portrait was Eakins' first of someone other than his family. It serves as a prologue to his most important picture, The Gross Clinic (1875). When Rand retired, he gave it to Jefferson Medical College.
It was purchased in April 2007 for an estimated US$20 million by Alice L. Walton and will be housed at the Crystal Bridges Museum of American Art.